One of the most important things to consider when heading out into nature overnight is what are the best sleeping bags for camping? In this article we'll review the best options by category.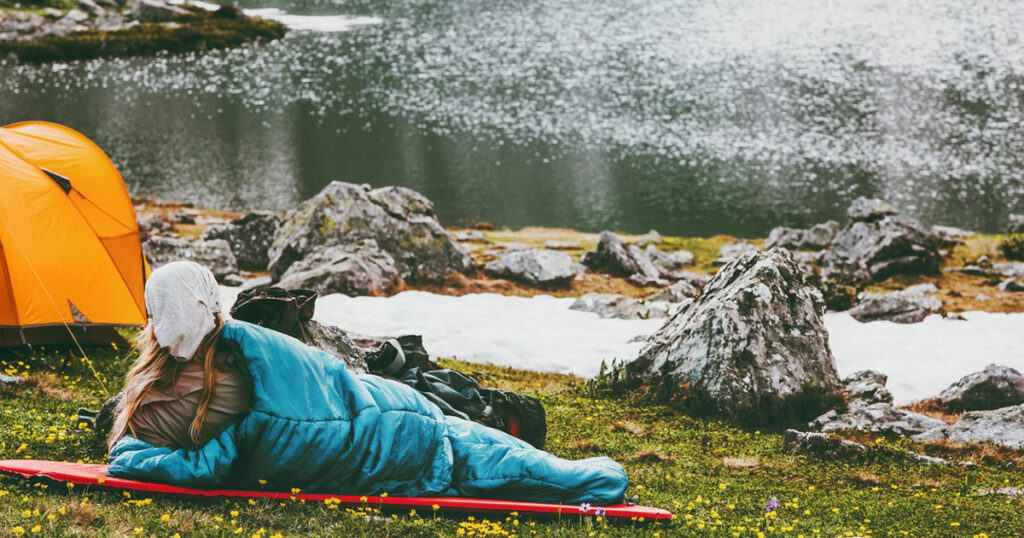 There are many different types of sleeping bags to choose from but they all have their own benefits and some have a few drawbacks.
In this article, we will be discussing the best sleeping bag for camping and what to look for in a good one. We will also be giving you a list of some of the best-selling sleeping bags on Amazon that are currently available for purchase.
Want to see the full camping checklist? Visit the Camping Essentials article for loads of ideas, a complete checklist by need, and our recommendations.
---
What is a Sleeping Bag?
A sleeping bag is an item that people use when they camp outdoors or go hiking. It can either be used as protection from the elements or warmth during sleep at night. It's typically made with cotton or synthetic materials, such as polyester or nylon, and filled with down feathers or synthetic insulation
---
How to Choose the Right Sleeping Bag
A sleeping bag might just be one of the most important pieces of gear you'll bring on your camping trip. Sleeping bags can be used in a range of temperatures, and they're usually the only thing that *actually* keeps you warm at night. The right sleeping bag will make your camping experience much more comfortable, it's worth investing in one that suits your needs.
There are many factors to consider when buying a sleeping bag, including insulation type, weight, size, and price. Here are some tips for choosing the best sleeping bag for your next camping trip:
Choose an insulation type based on what will work best in your climate: down is great for cold weather and synthetic fill is better for warmer temperatures.
Consider how much weight you want to carry: heavier bags provide better insulation but take up more space in your pack.
Consider the size: Do you like extra room or do you like a tight (mummy-like) fit while sleeping?
---
Buying Guide for Best Sleeping Bags
The sleeping bag is one of the most important pieces of gear for a camper. It will keep you warm and cozy at night, and provide a sense of security when you need it.
There are many different styles and types of sleeping bags to choose from, so it can be difficult to decide which one is best for you. This guide will walk you through the best sleeping bags for camping on the market today (by category), now you can make an informed purchase decision.
To gauge what's best in each segment we'll look at customer satisfaction, reviews, guarantees, price, and our experience.
---
Best Large Sleeping Bag
If you're not a fan of a tight/small sleeping bag, and you're sleeping alone, you're going to need to find an option that's bigger (but maybe not 2 person big). This sleeping bag gets incredible reviews, is big, is great for moderately cold temperatures, and is cheap.
Adult sleeping bag for camping in temperatures as low as 15 degrees F
Big and tall design can accommodate most people up to 6 feet 6 inches tall
Thermolock draft tube helps prevent heat from escaping through the zipper
Coletherm hollow polyester insulation provides superior heat retention
Adjustable hood allows you to personalize warmth and ventilation
---
Best Sleeping Bag for Cold Weather
If you're serious about camping and are going to be out in extreme cold weather, this sleeping bag will provide you with the best comfort. However, it comes at a price, sleeping bags like this are expensive (but worth it if the need is there)!
Filled and finished in California with 800-fill-power goose down
Shell made with Pertex Shield® ripstop fabric and a breathable, waterproof and windproof membrane
Cross-baffle construction prevents down-shifting and colds spots
Down-filled draft tubes
Internal cinch cords for 6-baffle hood and draft collar let you make adjustments without letting heat escape
Center zipper offers easy access; 2 side zippers offer ventilation
Multibaffle, wrap-around footbox with reinforced lining increases warmth
Stuff sack included
---
Best Double Sleeping Bag for Camping
We've been using this sleeping bag for years and it's been reliable, comfortable, and it's massive. If you're sleeping with your partner in colder weather consider this beast! If you've got the room, this sleeping bag is an absolute must have.
Soft lining, zipper and shoulder draft tubes keep the warm air in; it unzips on each side and the bottom for easy access; and it has innovative fiber fill for warmth.

This bag is gigantic. This double sleeping bag is longer and wider than a queen-size mattress at 94×62 inches (239×157 cm).
Fluff your sleeping bag and use a camp pad to sleep warmer; Hang loops for long-term storage to maintain maximum loft
Shell: Taffeta
Liner: Brushed Poly-Flannel
Fill: Hollow Fiber Fill
Pack Size: 27″ x 14″ x 14″ (69 x 36 x 36 cm)
Pack Weight: 14 -16.5 lbs (6.4 -7.5 kg)
---
Best Budget Camping Sleeping Bag
If you're not camping every weekend but you still want to be comfy at night, you'll probably be looking for the best budget friendly sleeping bag you can find. Price and customer reviews play the biggest roll in making the decision on the best budget sleeping bag.
For temperatures 30⁰ F to 50⁰ F
Fits most heights up to 5 ft. 11 in.; Dimensions: 33 x 75 in
Fiberlock Construction prevents insulation from shifting, extending life of your sleeping bag
The No-Snag patented zipper plows fabric away from the zipper to prevent snags, Quick Cord System makes fastening a cinch without tying
Thermolock System reduces heat loss through the zippers, Machine washable for easy cleaning
---
Best Overall Beginner Sleeping Bag
Trying to find a sleeping bag that fits most all criteria? Lightweight, comfortable, and won't break the bank – this might be just the right fit for you (there are multiple sizes and temperature ratings available). And if you're wanting to get into camping but don't want to spend too much setting up your gear, this beginner (yet VERY nice) sleeping bag is exactly what you'll want.
This sleeping bag is perfect for the beginner backpacker or general camper who demands comfort while still expecting quality at a good price.
This sleeping bag (the LEEF) comes in short, regular, and long, so you can rest in comfort.
In addition to three sizes, the LEEF comes in three temperature ratings. Based on your style of camping, you can choose from 0 degrees, 20 degrees, or 30 degrees.
Take comfort in TETON'S lifetime warranty.
---
Best Crossover Camping and Backpacking Bag
If you're looking for the perfect backpacking sleeping bag, this is it. It's slightly more expensive than alternatives but the quality and materials are worth the price. If you're serious about staying warm and comfortable in the backcountry, you've found the best backpacking sleeping bag.
Available in 3 sizes!
Inner and outer nylon shell with vertical baffles that allow the adjustment of the 800 fill power insulation to move where the fill is needed the most.
0 Degree Sleeping Bag: Perfect cold weather sleeping bag features WR 800 fill power goose down insulation with a revolutionary microscopic ClusterLoft base to keep you warm from 0 – 30 F
Designed for thru-hiking, backpacking and camping, this ultralight sleeping bag boasts superior weight-to-warmth ratio.
Hydrophobic Water Repellent: DWR-Coated camping sleeping bags for adults feature 400T 20 D ripstop nylon fabric liner, 2 large YKK zippers with anti-snag sliders, velcro, drawstring & vertical baffles
Don't sacrifice comfort! The short mummy sleeping bag will fit a 5ft 6in person; Warm but ultralight, 4 season winter sleeping bag
Hyke & Byke Sleeping Bags: USA-based brand offers premium quality camping gear collection of adult & kids sleeping bags, camping tents & sleeping pods for all your adventures in the great outdoors
---
A Comprehensive List of The Best Camping Sleeping Bags Reviewed 2022
In this article, we provided you with a comprehensive list of the best camping sleeping bags reviewed for 2022. Each of these sleeping bags serves a slightly different purpose. Determine what type of camping you're going to be doing, your budget, how cold it'll get, and how heavy you can go.
Here's a recap of our top picks by category.
Pin it