This is the definitive guide for ALL camping essentials. In this post we'll review every item that makes camping more enjoyable (what you need, want, or maybe never even thought of).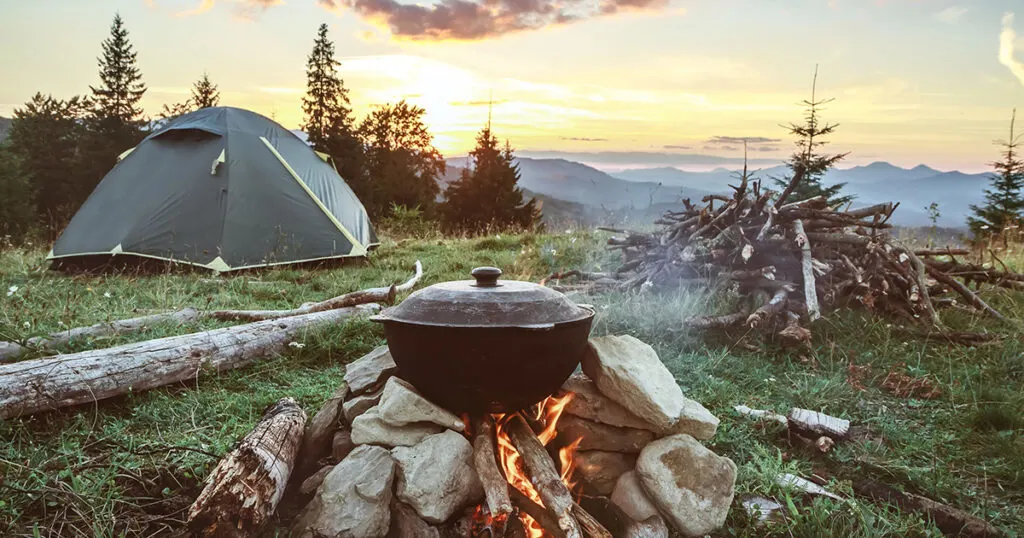 You'll also see my top 10 camping essentials checklist, backpacking essential gear list, and a review of every single campsite item you may want to consider bringing.
Navigating this page (jump to any section by clicking a link from the list below)
Top 10 Camping Essentials
Top 10 Camping Essentials
Here are the top 10 camping essentials in order of importance. Each of these items are listed in detail in the sections below.
The Right Clothing
The Right Food
Toilet Paper
---
(Camp Setup) Camping Essentials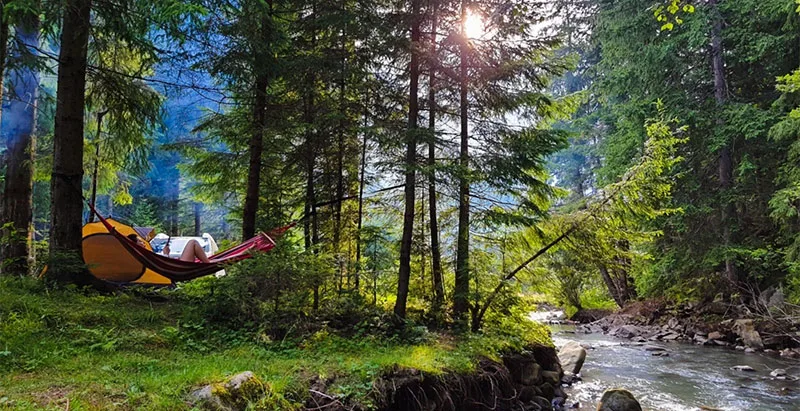 These items are all for standard car camping, dispersed camping, or campground camping. If you're interested in a backpacking checklist, click here.
Shop our Recommended (Camp Setup) Camping Essentials
---
Camping Shelter (Tent)
For this post, we'll assume you're camping in a tent. If you're in a truck camper, travel trailer, bus, van, or some other mobile camping method, your shelter is already thought out.
You're going to want a waterproof tent, tent spikes, repair kit, and ground mat.
Canopy w/ Removable Walls
A high quality canopy with anchors (weights or tie downs) will make a difference with how much you enjoy your camping experience (protection from: rain, snow, wind, hot, direct sunlight). Stay dry, have a place for cooking food, keep the bugs out (if you're in an area with a mosquito problem – you'll want netting), enjoy the shade, and avoid the cold and persistent wind.
Tarp & Paracord
If you're unable to purchase or obtain a canopy, a tarp from a home improvement store works well. In fact, even if you have a great canopy, having a tarp provides added functionality and protection from the elements to your campsite experience.
If you're sleeping in a hammock, you can use it as cover. You can create a kitchen a area under cover if you have the right layout of trees or your vehicle positioning.
The paracord helps you secure your tarp shelter (tying it down and securing it).
Camping Chairs
Comfy camp chairs come in many different shapes and sizes. Think through how you want to relax and pick a seat that'll accommodate.
Hammock
A hammock is not a must have but it's amazing when you're relaxing around camp or taking a break during your backcountry hike. One of the best naps you'll ever have will be in hammock after a long hike. Cool breeze in the air, shade overhead, and you just lightly swinging back and forth with the sound of the wind navigating through the pines.
Compact Folding Table
If you're not at a campground with a picnic table, the compact folding table is a must have. You don't really want to prepare your food on the ground (trust me). Having a folding table while camping makes food prep much easier.
Camp Rug
The camp rug is a luxury and not a necessity. However, depending on where you're camping it might come in handy.
Firewood
A campfire is a great way to get warm before bed and without the wood, you're going to be out of luck.
Safe Campfire
If you live in an area like us (Colorado) that's prone to wildfires it's essential that you adhere to all local guidelines in relation to campfires. There are just too many ways a fire can get out of control. We live on the containment line of the Cameron Peak fire (2020) – the fire hit our property, wrapped around our house and we're lucky… we only lost a handful of trees and some piles of wood.
Your best bet when deciding to have a campfire is the Ignik FireCan Portable Propane Fire Pit. It's a safe and portable option and we love it.
Pin it?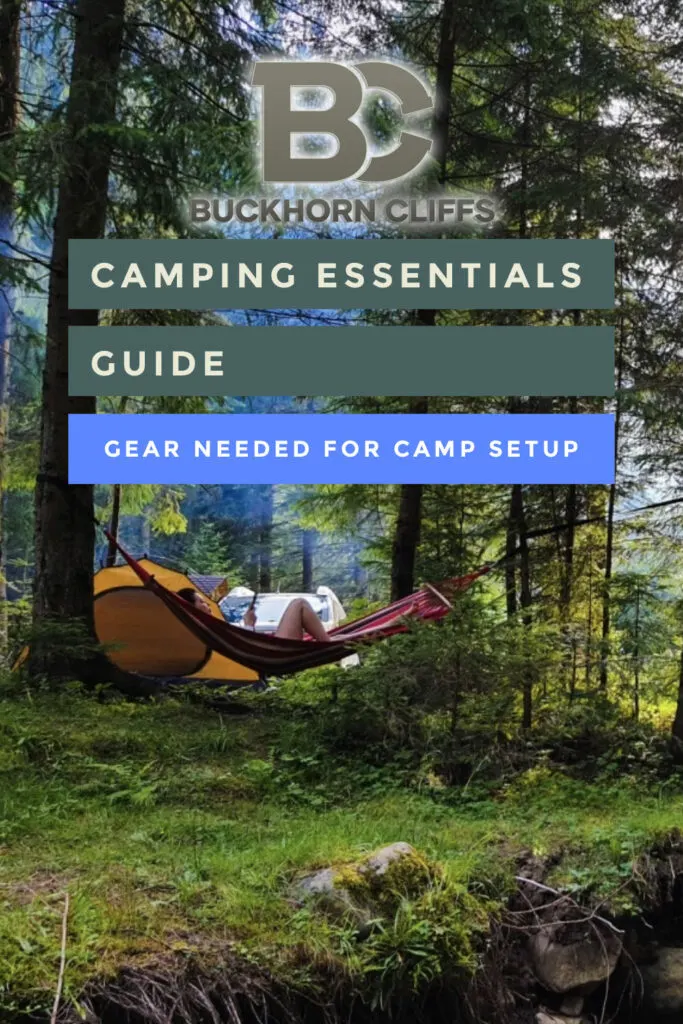 ---
Kitchen Camping Essentials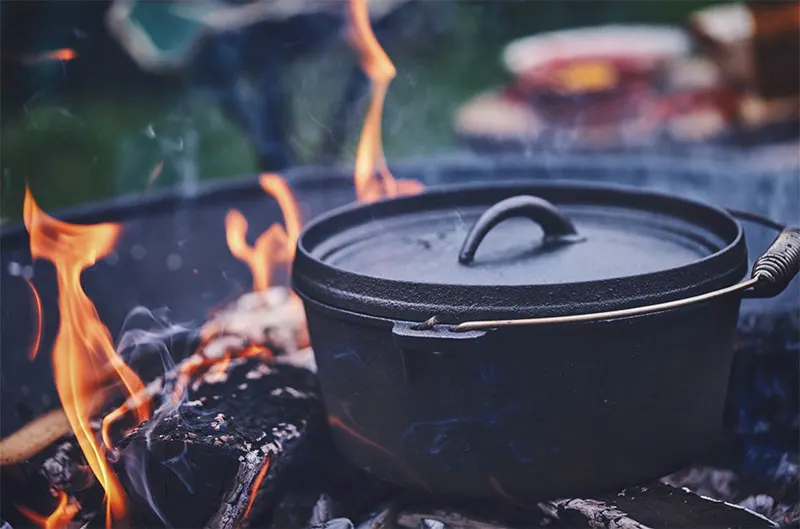 The right food and preparation when camping will make your experience better. Really plan out your food scenario to get the most out of your time in nature.
Shop our Recommended Kitchen Camping Essentials
---
Camp Stove & Fuel Source
The camp stove is a purchase you'll need to make once and it'll be around and ready when needed (even in emergency situations). Cooking over an open fire is a really great experience but it's tough to get it right and most people burn their food.
If you want hot food while camping, a simple camp stove will make a world of difference.
There are different types of camp stoves for different types of camping. For backpacking, you'll need a mini-portable, or pocket camp stove. These mini stoves are high up on my list for convenient camping essentials.
For camping at a campsite the 2 burner stove is a must have.
Cooler with Ice
A high quality cooler allows you to stay out camping longer. If you're camping near your car (and if you have the room) a bigger cooler is preferred.
Food & Snacks
Take time planning your meals and snacks. If you're not backpacking, bring more than you think you'll need.
Drinking Water
If you're near a water source bring your water purification device. However, plan on bringing 2 gallons of water per person per day. This amount of water will allow you to be on the safe side and you're not going to have to worry about running out.
Plates and Utensils
The hybrid bowl/plate with the little thumb rest to easily hold your "plate" in one hand (to me) is a must have when camping.
There are a wide array of options for utensils. Pick one that you like or just bring your fork, spoon, and knife from home.
Mugs & Cups
While not mandatory, a mug for your morning coffee will make you feel luxurious while out in nature.
Water Bottle
A water bottle with a top that screws shut is an absolute on your camping essentials list. Whether you're backpacking or camping in a campground near your car. Get yourself a great (fairly large yet lightweight) water bottle.
Sharp Knife
Having a sharping camp kitchen knife (not a pocket knife) at camp allows you to prep food at the campground or dispersed campsite. Having a sharp kitchen knife is not necessary when backpacking.
Frying Pan and Pot
Typically, the usefulness of a pot is for that of boiling water and nearly any brand or style will do (depending on your space and budget). However, a cast iron frying pan (to me) is a must have not only for camping but for making food at home. The good news is that cast iron is relatively cheap, it lasts a lifetime, and it make food taste better.
If you learn how to take care of your cast iron, it'll return the favor. Read this post on why you need a cast iron skillet.
Cutting Board
If you're prepping food while camping a cutting board is a must have.
Soap, Sponge, Scrubber
Pick a "safe for nature soap", any sponge, and a stainless steel scrubber pad and you'll be ready for quick cleanup after meals. The stainless steel scrubber is for your cast iron.
Wash Bin or Bucket
If you won't have access to a sink, you'll want a wash bin (first pick) or a bucket (second pick) to help you properly clean your dishes.
Dish Towel
Don't forget the dishtowel.
Tablecloth
Not even remotely necessary but it made the list cause… it's a comprehensive list. 🙂
Dutch Oven (if cooking over the fire)
Getting good at dutch oven cooking is a precious survival skill. The food tastes amazing, the desserts are the best ever, and well… the dutch oven is monumentally versatile. This, similar to the cast iron skillet, will last you a lifetime if you take care of it. Worth the investment (over and over again).
Cast Iron Griddle
The cast iron griddle is great over your campfire (if you know what you're doing) and is perfect on top of a camp stove when making pancakes (and so much more). Again, always go cast irons, it's the best!
Bottle Opener, Can Opener, Corkscrew
Bringing a bottle or a can… could be pretty frustrating if you don't have a method of opening them. An easy add to your camp kitchen collection.
Garbage Bags
Forgetting to bring garbage bags can be annoying (especially if you're camping in an area with no dumpsters). Don't get the cheap kind of garbage bags, it's not worth the leak risk.
Marshmallow / Hotdog Roasting Forks
Preferred method: find a stick and carve a point. However, if you must, bring along a pre-made, metal campfire cooking fork for cooking marshmallows and weiners over the fire.
Kitchen Gear Storage Bin
Find a water resistant bin where you can keep track of all of your kitchen specific camping gear.
---
Sleeping Essentials at Camp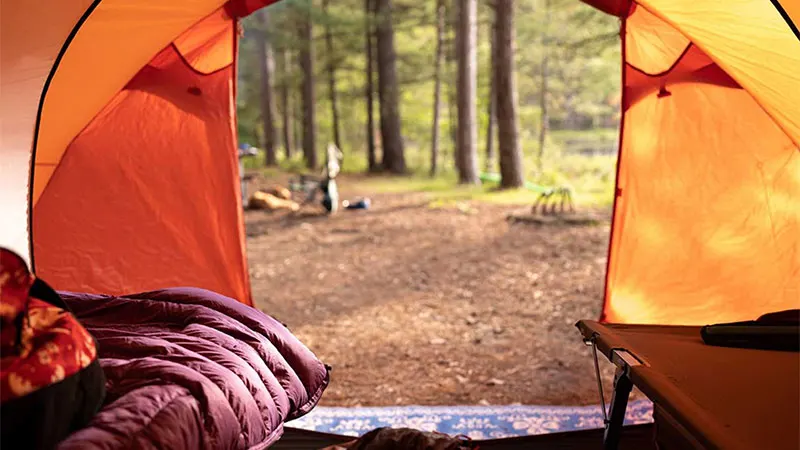 Comfy sleeping while camping should be another camping essentials priority. Getting the perfect night's sleep while camping is easy (if you prepare correctly).
Shop our recommended Sleeping Essentials for Camping.
---
Cold Rated Heavy Sleeping Bag
I live in Colorado and when you camp in the mountains it's always cool or cold at night, rarely an exception. A heavy duty, cold weather sleeping bag makes a world of difference. If it gets too hot, you an always unzip it and use a light blanket. It's always better to be over-prepared when it comes to your sleeping bag.
Selecting the right sleeping bag for your camping trip is a camping essentials top priority. Don't go cheap with your sleeping bag selection if you plan to camp more than a few times.
Blankets
Lightweight blankets make sleeping more comfortable when it gets too hot and you don't want to be completely wrapped up in your sleeping bag. Camp blankets are also great at night prior to getting in to bed.
Pillows
If you're car camping and used to 2 pillows at night, bring 2 pillows. If you're backpacking, it's wise to bring one very small backpacking pillow.
Sleeping Pad
A high quality sleeping pad provides a much more comfortable sleeping experience, more so than sleeping on the bear ground. You also get an added benefit of insulation from the cold, hard ground. Similar to selecting a high quality sleeping bag, you'll want to do the same with the sleeping pad. Also: make this a camping essentials priority to pick a sleeping pad you love.
A great sleeping pad is something you'll wish you had, unless you have a cot.
Cot
A cot is really a luxury when camping. Most people do not use a cot unless they're camping several times a year (or going out on long excursions). It's not needed but it can help you get off the ground, provide more stability and comfort.
Pin it?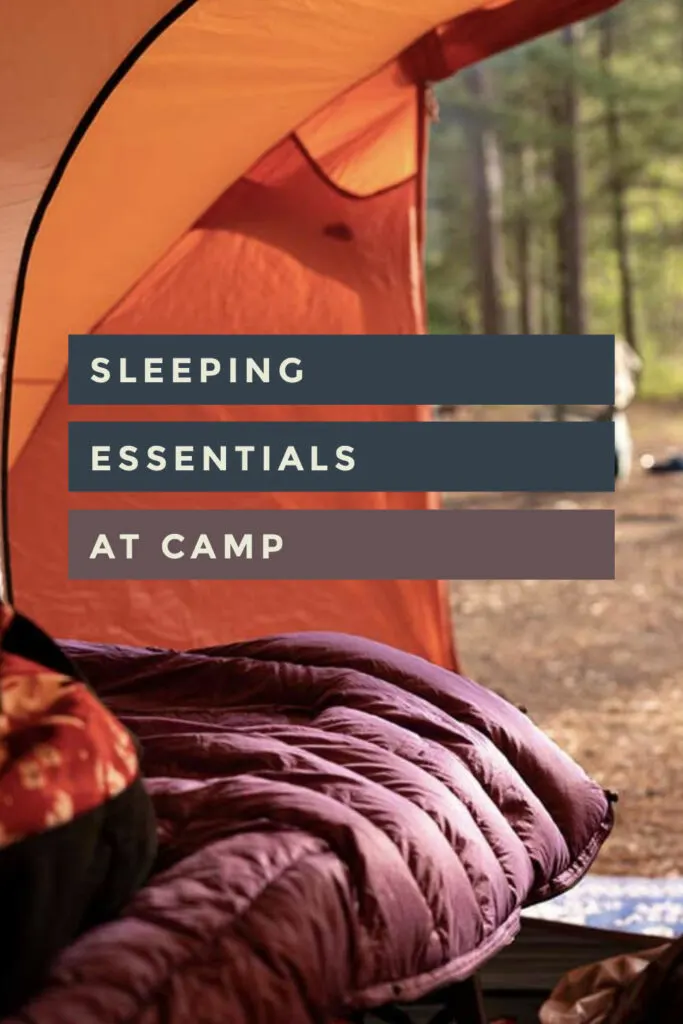 ---
Camp Clothing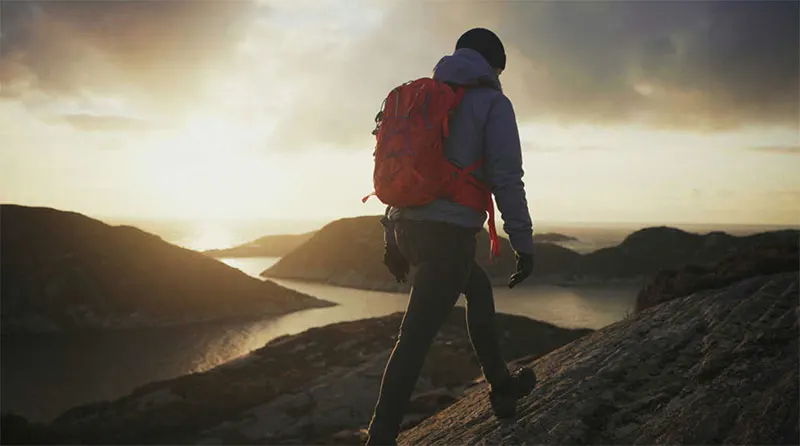 Getting the clothing staples right when heading out to camp will make a world of difference. When camping in the high country it's very rare to have a night that won't feel cold. Plan ahead to better enjoy your experience.
---
Day-to-Day Clothes
Wool socks, long sleeve t-shirts for the days you get too much sun, and your regular comfortable apparel should be pretty easy to decipher. Always bring extra undies and socks.
Raincoat & Pants
While this isn't a must have for everyone, you'll feel like you won the lottery if you get extended days of rain. Lightweight (no extra insulation) raincoats are a great option when camping at a campsite or heading off in to the backcountry. For me, when backpacking or hunting, a VERY lightweight raincoat is a must have.
Warm Hat
Here in Colorado, bringing a beanie should be at the top of your camping essentials checklist. If you're camping in the mountains, a warm hat that covers your ears is great when sleeping, in the early morning, or before bed.
Heavy Sweatshirt or Jacket
Always bring a sweatshirt with a hood when heading out to camp. Jacket is optional. I'm a big fan of having a moderately heavy sweatshirt when camping. The sweatshirt helps keep you warm, is great underneath your lightweight raincoat shell, and can serve as a leg pillow or head pillow (if you forgot yours or are just traveling ultra light).
Wool Socks
Transition to wool socks for year round use and not just when camping. Nothing beats high quality wool socks. Especially if you're backpacking, high quality wool socks are an absolute camping essential.
Leather Gloves
Keeping high quality leather gloves in your camp pack is a great idea if you're planning on doing any work while camping. Leather gloves make hard work easier (when working with your hands).
Hiking Boots
Don't go out and buy hiking boots and then leave for your backcountry adventure the next day. Always break in your hiking boots prior to going on long distance adventures with gear. If you're not backpacking, breaking in your hiking boots at camp or on day hikes is a great idea.
Change of Shoes
An extra pair of shoes if you happen to fall in the water or you're camping in dry conditions. While this isn't a must, it's a great idea.
Long Underwear
Depending on the season (most of the year in the high country) long underwear should be on your camping essentials checklist. Having a layer under your pants when just sitting around (not hiking) will add to your comfort level.
Flip Flops
After a long hike or having your feet in boots or shoes all day: it's amazing to take off the shoes and just go barefoot. A lot of campsites aren't great for bare feet, enter the flip flop. For around the campsite, IMO, having flip flops is a must and… the cheaper the better.
Gloves and/or Mittens
Most of the year in the high country we'll see temps at night get in to the 30's or 40's. If you're doing a lot of relaxing, having gloves or mittens will help you keep warm.
Swimsuit
Not a necessity (you can always jump in with your skivvies… or less depending on the location). However, if you're by a lake, river, or creek, and there's people around, it'll be nice to have a dedicated swimsuit.
Water Shoes (for exploring creeks and rivers)
Depending on what your plans are, for me, water shoes are a necessity. I love navigating cold streams and creeks and having shoes you dedicate just for the water makes the experience much more enjoyable.
Clothesline & Clips
Not always needed but sometimes it's nice to have a dedicated scenario for drying your clothes.
---
Essential Camping Tools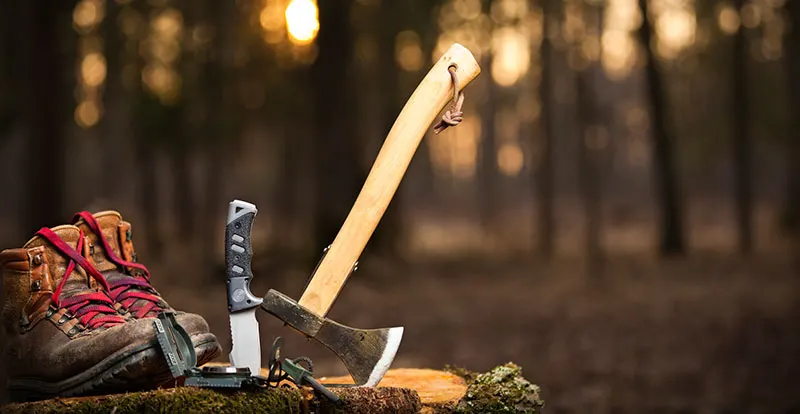 At the top of this list is the flint and steel. Not only are some of these tools important for camping, they're also important for survival when you don't have modern amenities.
Shop our recommended Camping Tools.
---
Firestarter
One of the most important camping / survival tools ever, a method to start a fire. My favorite go-to fire starter is flint and steel – should be near the top of your camping essentials checklist. The flint and steel never lets you down and allows you to start thousands of campfires.
My least favorite methods in starting a fire are the standard options: Matches and/or a Lighter. Both of these options could fail you (maybe when you need it most).
Flashlight and Lantern
Let me jump on my soapbox for a moment. Artificial light at night when camping is stupid, stop it. Okay, thanks for that. However, having a light source while camping makes finding stuff, cooking stuff, or heading out to the potty easier. Use artificial light at night while camping sparingly.
Headlamp
If you're heading out early to a mountain top, you're going to want a headlamp. Heading home on a trail at night, headlamp. Walking around camp or talking to someone: NO HEADLAMP!
Mallet or Hammer
If you're tent camping, you'll want a mallet to pound in your tent stakes.
Extra Cord/Rope
If you have the space, you can't go wrong with having extra cord available. You use cord for hanging clothes to dry, keeping items high off the ground and in a tree branch to avoid scavengers, possible rescue scenarios, and so much more.
Pocket Knife
A must have. A solid and trustworthy knife can help you with food prep, shelter, building a fire, cutting rope, and more.
Hatchet/Axe
Having a small hatchet when backpacking is wise. If you're at a campsite or near your vehicle and are planning on having a fire, having an axe is wise.
Fishing Gear
For some, this is the most important piece of camping gear. Get to know what you need for the water you'll be fishing and travel lite. You won't need much if you know what you're doing.
Firearm (if you're trained to carry and use)
If you're hunting or getting deep in to the backcountry, having a pistol could save your life. The chance of you ever using it is likely zero. However, there is a chance you may need it. Of course, you must be trained and responsible.
Multitool
The multitool is a good idea to have accessible in nearly any situation. It's provides you with several tools all built in to one. Consider buying a quality multitool and keeping it in your car when you travel.
Duct Tape
Not needed but nice to have in case of an emergency.
How could duct tape be useful when camping? Use duct tape for: making or improving rope, sealing food, tent repair, cover a blister, fixing broken stuff, marking a trail, repairing a fishing pole, using for a splint, and so much more.
Binoculars
High quality binoculars don't have to be expensive. Some are. Find a pair that you'll hand down to future generations, it's worth the investment. While not necessary for camping, having a great pair of binoculars enhances your adventure.
Navigation Tools (or apps for your phone)
Depending on where you're going and what your adventure looks like, this could be a must have. My favorite go-to navigation is onX Maps (app for your phone).
Wanting to go the old school route? Get a compass and a map.
Solar Charger (for your gadgets)
Obviously not a must have but can be somewhat useful while camping.
Maps & Field Guides
Similar to the navigation tools via your phone, a map or field guide could be a must have for you depending on what you're going to be doing. While a printed map might not be as up to date as an app, it's more reliable since you don't need to rely on batter power. Make sure to bring along your compass if you go this route.
Notebook & Pencil
Create a field guide, take notes, remember the adventure.
Camera
While it's not a must have… it kinda is.
Games
If you have the room and don't have too many plans for adventure, games can be a lot of fun to have. Our 2 favorite games when family camping are: Skull and Splendor.
A Good Book
Mid afternoon, done for the adventures of the day? Nothing like reading a good book out in the wilderness.
Broom & Dustpan
These just depend on the scenario. It's nice to have to clean out the camper or tent but are generally not necessary for camping.
Repair Kits
Your tent may come with a repair kit. If your tent doesn't come with a repair kit, it's a good idea to purchase one prior to leaving. While not mandatory, it'll be nice to have if something goes wrong.
Same applies to any of the equipment you're bringing. Think through the items you have and if there are ways to repair each necessity you'll have while camping.
Dry Bags & Backpack
If you're going to be doing any day hikes, a small backpack is a must have. And if you're going to be doing any water activities, or there's a chance of extended rain, a dry bag is a camping essential.
Pin this?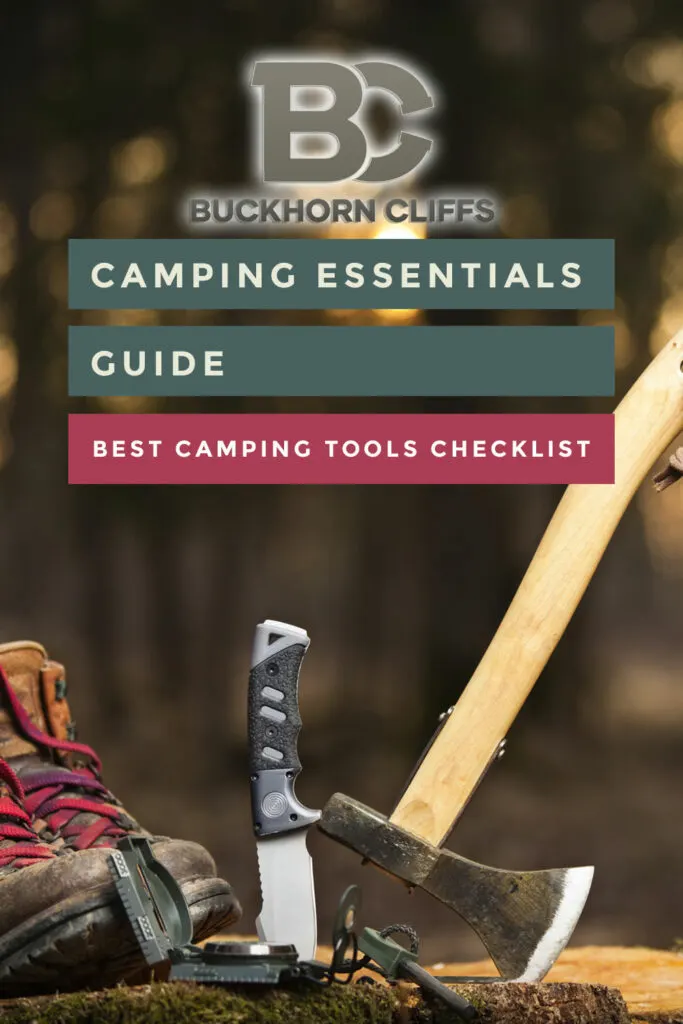 ---
Hygiene & Camp Health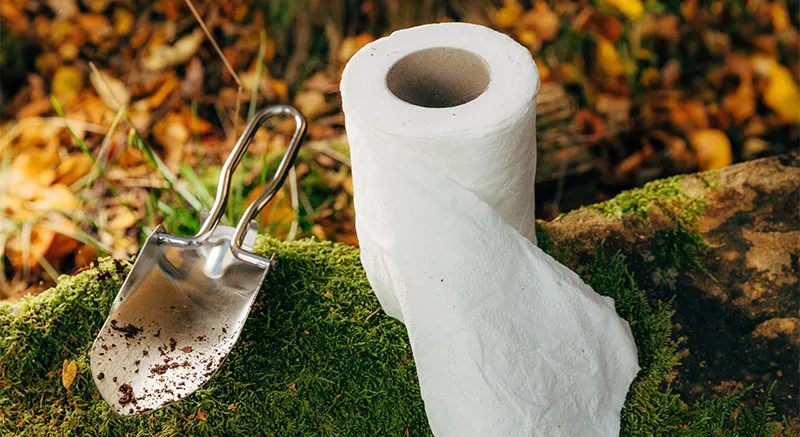 Think of the items you use in the bathroom, scale down and bring what you're used to using on a daily basis.
Shop our recommended Hygiene & Camp Health.
---
Toilet Paper & Small Shovel
The shovel is for digging up several inches of earth to poop in and then it'll help you cover it up (no need to get your hands dirty). Even if you're not planning on going number 2 in the woods, a shovel may come in handy for a multitude of reasons.
And even if you're staying in a campground with a vault, bringing your own TP is a good idea. Imagine if the vault has nothing available… what next?
5 Gallon Poo Bucket
While a 5 gallon poop bucket isn't a necessity, some people prefer to sit on a toilet seat over a 5 gallon bucket while camping. I don't… I'd rather go all-natural behind a tree (dig a hole 8″ deep and poop like your ancient ancestors did).
If you go the 5 gallon bucket route, make sure to get strong garbage bags and double up.
Toiletry Kit
Everyone may view what should be included in this differently. It's a good idea to just create a small kit of items you use each day.
First Aid Kit
It'll be meaningless until it means everything. Select a first aid kit that fits and provides the right items for possible injuries that may occur where you're camping.
Bugspray
If you can avoid spraying bug spray on your skin, good idea. If where you are is notoriously bad, the spray is a better idea than the alternative (getting bit and worrying about disease).
Hand Sanitizer
Not a must have but can be beneficial after pooping, fishing, or anything that leaves a stank on your hands.
Quick Dry Towel
Remember Shamwow? Well it's still around. A quick drying towel is basically less hassle, quick and easy method for cleanup, and prevents mildew. Quick drying towels also pack well so it's a good option to have in your pack or in your kitchen kit.
Lip Balm
This really just depends on you. If you typically use lip balm, don't forget it.
Baby Wipes
Not a great option to lug around backpacking but it's a nice addition for your kitchen kit. Baby wipes come in handy for quick cleanup for all of your surfaces. Not only that but it's great for "dry showers"… bits and pits.
Portable Camp Shower
I've never used a portable camp shower while tent camping. If you're going out for a long period of time and don't have access to clean bodies of water, maybe this would be beneficial. To me, it's more of a luxury item that you don't actually need.
Sunscreen
I'm not a fan of sunscreen in general. I'm also not a fan of burning. With that said, there may be a time and place for sunscreen. For example: You can't be in the shade and have been in the sun too long. Or you don't have longer items of clothing to cover your skin after you've had too much sun exposure.
If you've been in the habit of applying sunscreen first thing: stop. The sun is your friend and provides immense benefits. However, you do NOT want to burn. I don't know of anything good that comes from a sunburn.
---
Backpacking Gear & Camping Essentials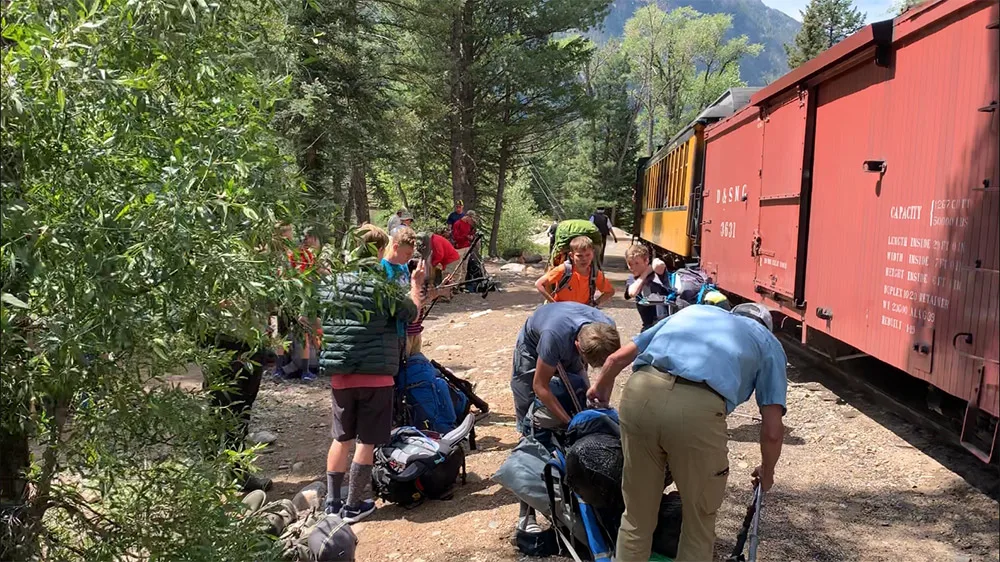 Through all of my backcountry experience, I would never want to leave home without: flint and steel (no need for matches), the right food, a gravity water filter and water bottle.
The worst mistake you can make when you go on an extended backpacking trip is adding too much stuff and feeling like your pack is too heavy. This is demoralizing and it makes the journey much less enjoyable.
Shop our recommended Backpacking Gear.
---
Rugged Backpack (fit to your body size)
Properly fit yourself for the right backpack with the right amount of storage.
Backpacking Food
You really want the food you carry on your back to be extra lightweight. Your best options for backpacking foods include freeze dried foods.
Backpacking Stove
These small backpacking stoves are small enough to fit in your pocket. You'll also need to carry a small fuel canister and pot. This setup allows you to easily boil water to poor into your freeze dried meal pouches for a tasty hot meal.
Utensil
You may want a large stirrer utensil (for your freeze dried food bags) – not necessary but it is slightly convenient. And you'll only need one spoon/fork combo for eating out of the freeze dried pouch.
Water Filter / Purification
This is an absolute must have when backpacking in the backcountry. Here in Colorado you almost always will have access to a water source (stream, creek, lake, etc). When backpacking you can't carry all of the water you're going to consume.
Water Bottles / Reserves
A simple water bottle should always be at the top of your camping essentials list when you head out to explore. Coming in second (and if you can manage the weight) a water reserve in a pouch that sits inside your backpack is a great idea.
Plate/Bowl Combo & Hot Mug
I typically like to eat my freeze dried hot meals straight out of the bag. However, you may want to eat off a plate (with high sides like a bowl). And if you're planning on any hot drinks (great idea) then you'll want a lightweight mug too.
Headlamp & Extra Batteries
A small headlamp provides a lot of light when needed, it's ultra lightweight, and headlamps are convenient in terms of use (just put it on your head). Depending on the duration of your trip, you may want to bring an extra battery (or 2).
First Aid Kit
It's a good idea to have one person in your group carry a few items that may relieve pain or help you get out safely if you get injured.
Rain Gear
A lightweight waterproof jacket with a hood is the option here. You'll want a rain jacket that easily fits over your hoody – if you get extended rain and need to stay on the move a waterproof jacket will keep you warmer and dryer.
Hiking Boots
Prior to heading out with a heavy backpack on a long journey, make sure your boots are worn in. Taking brand new boots on an adventure like this could leave you with blisters (very likely).
Quality Wool Socks
I am a huge fan of wool socks. Don't go with anything else (especially when hiking long distances in ANY weather). Great socks are an absolute camping essential.
Lightweight Hiking Pants
There are a lot of options with great pants for hiking. No jeans. Cooling pants are also nice to have in the summer if the bugs are bad and you don't want to get eaten up on your legs.
Shorts
Don't forget the shorts (even if it's cold).
Small(ish) Sweatpants
Sweatpants that fit snug (not baggy) can come in handy if it gets too cold while out and about. You can wear these under your lightweight hiking pants (plan accordingly).
You may also want to wear your sweatpants at night when you're in the sleeping bag (if it's cold).
Warm Clothing
A beanie when camping in the mountains is a must have. For its size, it'll be one of your favorite pack items if the temp drops. It's also great night.
You'll also want to consider a fairly snug sweatshirt that'll fit under your rain jacket.
There are other options here but most will be personal preference. Long underwear, jacket, etc.
Tent or Sleeping Hammock
Sleeping hammocks have gained in popularity but there are some drawbacks. Having a little space inside your tent is great when the weather isn't cooperating. If you're sleeping in a hammock, you'll need cover. A small backpacking tent is lightweight but a sleeping hammock is even lighter.
Sleeping Bag, Blanket, Pillow, Sleeping Pad
If you're going to be camping for more than just a few nights, spend the money on the highest quality sleeping bag you can afford. The same is true for a sleeping pad. Sleeping pads will help keep you warmer (insulation from the cold ground) and provide you with a much more comfortable spot to sleep.
I sometimes pack an ultralight blanket and small, roll up pillow. Check out the sleeping section above for other options.
Pocket Knife
You'll want small but very capable. You'll also want it to be very lightweight.
Small Poo Shovel
They're annoying to use but small poop shovels help you carve out your 8 inches of earth to go number two. These small shovels are VERY small, the good news is you don't need to use them too often (unless you're pooping a lot).
Toilet Paper
Just make sure to put it in 2 gallon ziplock style bags. Having wet toilet paper is a total bummer.
Camp Flip flops
After a long day of hiking with a heavy pack on, you'll want to let your feet free. Having flip flops is also great when trying to wash off in the creek. If it's warm enough, these will be what you wear around camp.
Sunglasses
Not a must have but a "nice to have" option while backpacking especially if you're heading up to an elevation with snow. Make sure to bring a glasses case to secure your sunglasses when not in use.
Flint and Steel
One of the most important survival tools that just so happens to be ultra lightweight and reliable when backpacking. Don't bring matches or a lighter, bring flint and steel. The flint and steel should be at the top of your camping essentials checklist.
Toiletries (but smaller)
Whatever you normally use at home, find a smaller version (the smallest you can find) and bring what you need.
Large Ziplock Bags
A great option to throw all of your food packaging away in. Ziplock bags are also a nice method to keep items you don't want to get wet in.
Insect Repellant
If you can avoid using it, do that first. However, bugs can really ruin the fun, grab an effective bug spray in a very small bottle.
Pin it: