A Low Cost Sectional
We had been looking for a new sectional for quite a while that would fit in our main living space (shared with our dining room and kitchen) that would give us plenty of seating without overwhelming the minimal space we had available. Since I'm not one to shy away from assembling furniture (Ikea and I are close friends), Home Reserve came up as a great place where to look. After plenty of research and looking through the available styles and fabrics, we were sold. We knew this was the right choice for our home. So we decided to do a Home Reserve Review!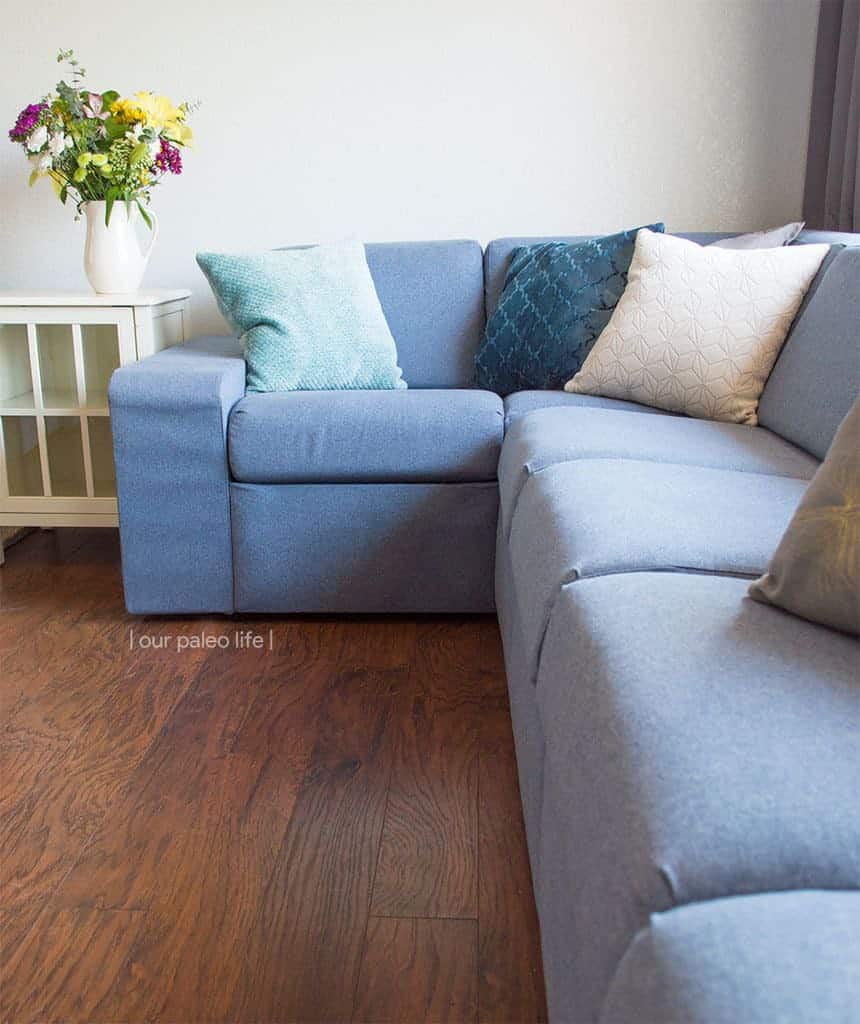 Before I get in to the details on just what it takes to get one of these sectionals/sofas, I want to tell you some of the features that got us excited. Also, as a disclaimer, I'm not being compensated for this post, I just really like my new sofa and wanted to share.
Our previous sofa/loveseat combo was dark leather that had big puffy arms and cushions. Very comfy, but also pretty cumbersome in our small space, and the dark color really made the room look darker than I wanted it, so we decided tpo look for new options. Also, there was only seating for 5, which is the exact number of people in our family. If we had guests over, people were sitting on ottomans, dining room chairs, or an extra chair we had moved into the room. Not so nice.
Simple Design
We decided to go with the Ray style from Home Reserve, which they describe as having a "modern, low-profile nice arm". I love the clean, sharp lines of the cushions and the "low-profile" descriptor intrigued me because I wanted something that would give the appearance and feel of more space in our room. I was kind of over the curved, puffy cushions of our old couch, and the Ray style was exactly what we were looking for.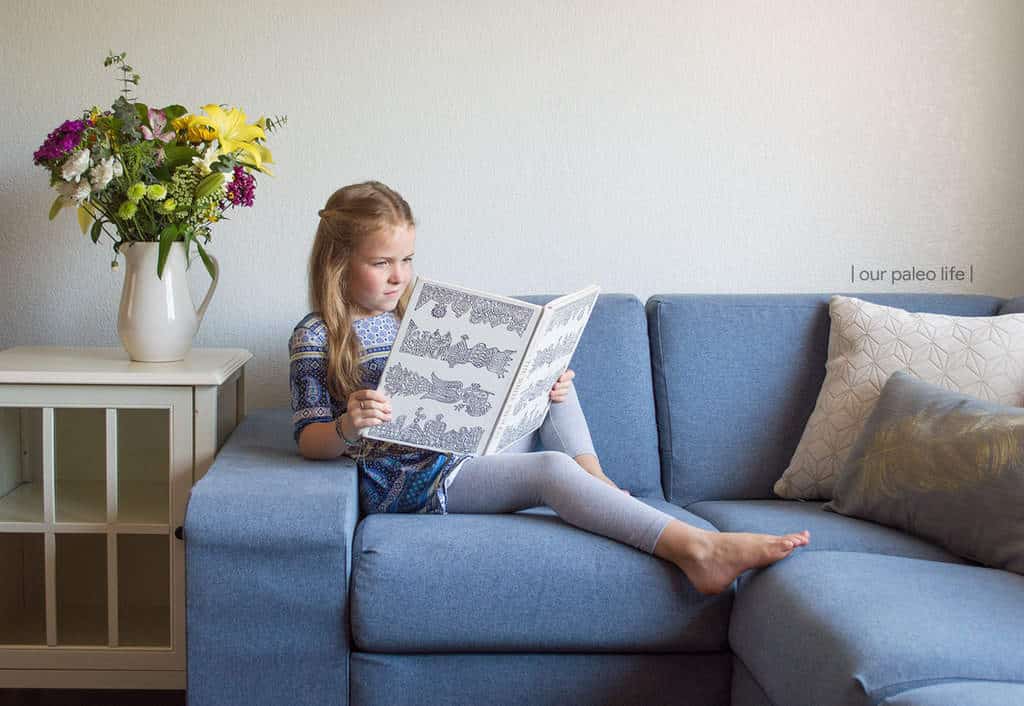 Built-in Storage
When we looked further into the features, we found that every. single. seat (including the ottomans) has built-in storage. That is huge for us because our home has minimal closet and storage space. Having room to store my candles, our family board games, the kids' DVD & book collections, plus other odds and ends that never seem to find a permanent home is worth it's weight in gold.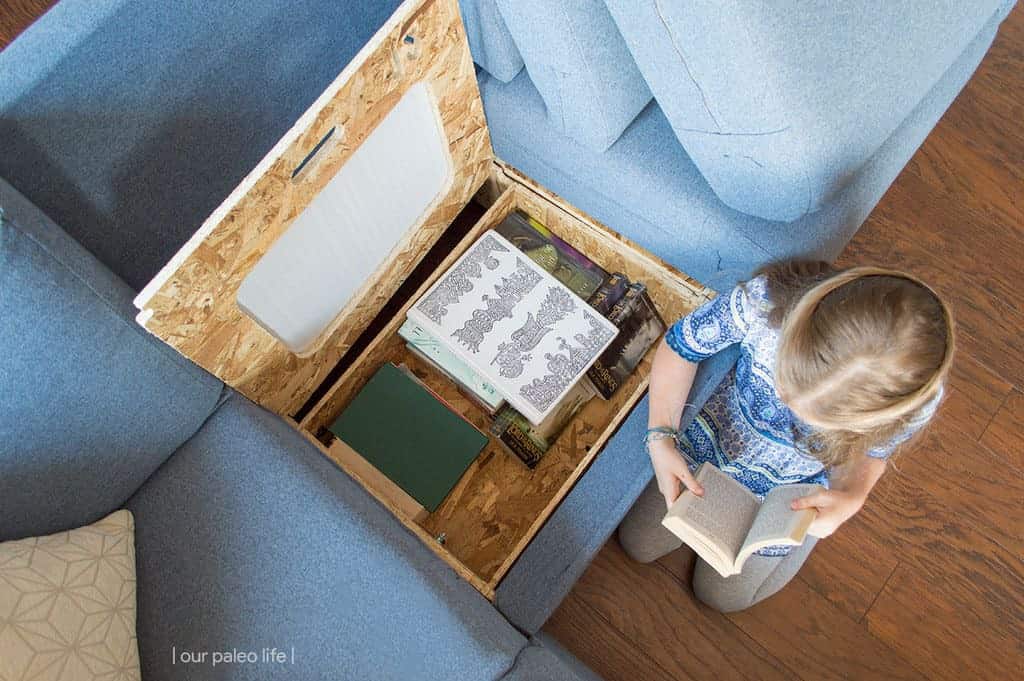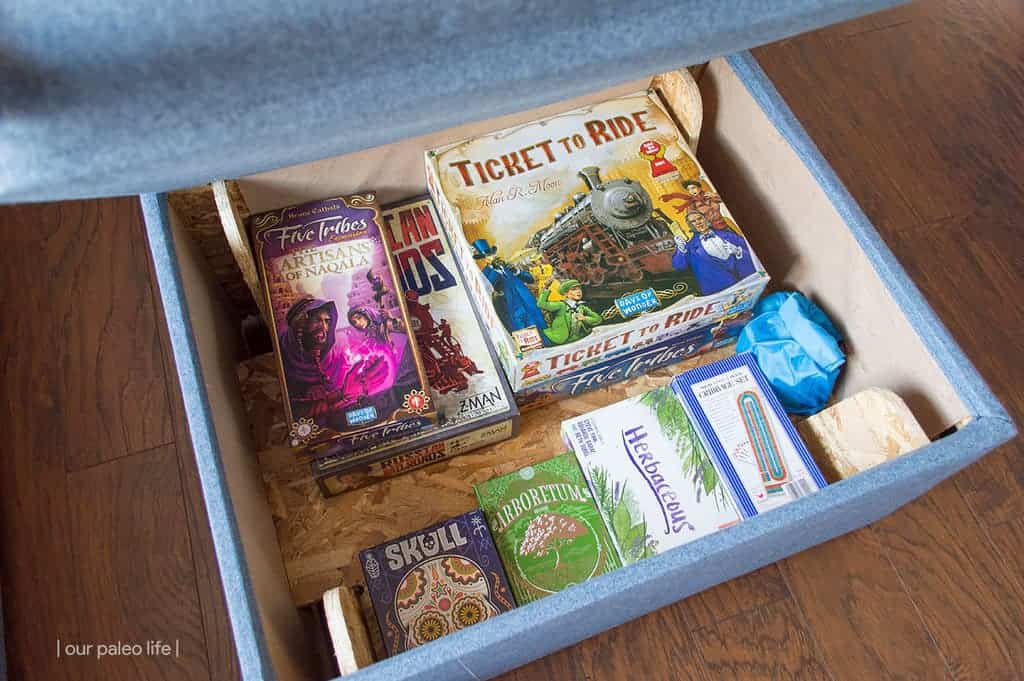 Pet Ready Furniture
But the next feature got me all kinds of excited. They offer a line of "pet care" fabrics. While we do have a dog and cat, I also consider our 3 kids to be family "pets" as well, so fabric that is protected from spills, mud, snot, pet stuff, etc that can be removed and washed?! Yeah, that's a big deal. The only limitation to the pet care fabrics is that they didn't have the exact color/pattern we liked in that line, so we did have to settle for our next favorite, but it still works so well in our space and I actually love it more than our original choice now that it's in our house.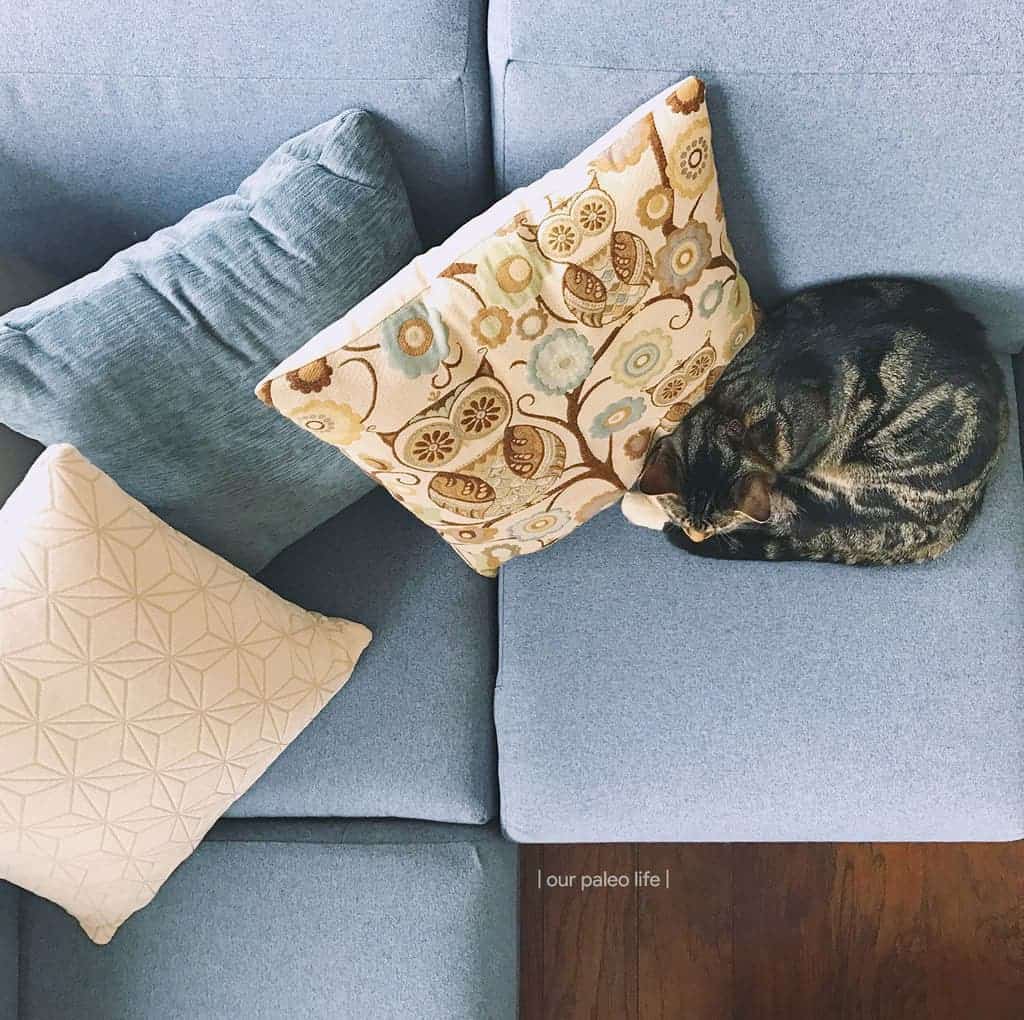 I'll admit I was a bit skeptical about the 10-year warranty on the frame when everything was delivered in flat-pack boxes, ready to be assembled. But once it was all together and set up in the living room, with kids more than willing to "test" it out, it's definitely a sturdy piece of furniture, so I can see why Home Reserve can offer the 10-year warranty on it.
Once we got it assembled and put together, we realized we would have liked one more armless piece to fill out the end section a little bit more. Guess what? No problem at all. We just went back to the website and ordered the one extra piece. If we ever want to change or reconfigure the layout, each piece can be unattached from it's neighbor and rearranged as we see fit. It's 100% customizable to your exact needs.
And maybe one day I will want to go back to the curvy look, who knows. If that day comes, I can order new back cushions and a new arm for the end chair in the curvy styles and change the entire look of the sectional. It really is an ingenious way of creating your own custom and unique look for your own life.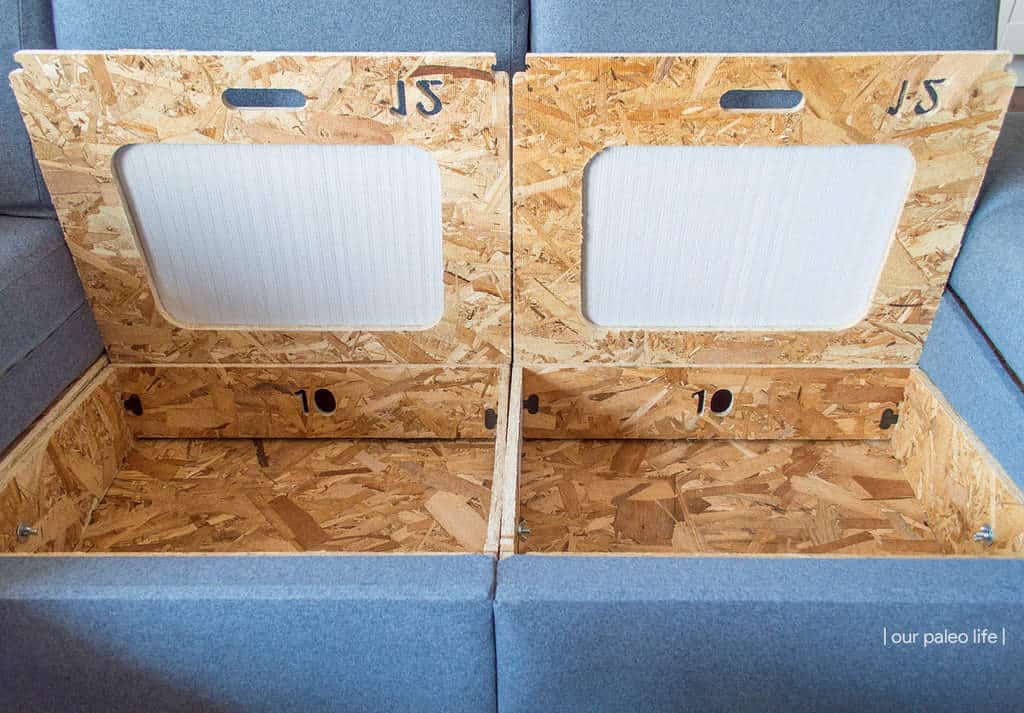 We can also replace any piece at any time for any reason. So if the kids decide it's a good idea to do arts and crafts on the sofa and accidentally cut open a cushion cover with a pair of scissors, I can just reorder a new cushion cover rather than having to replace the whole section or cushion.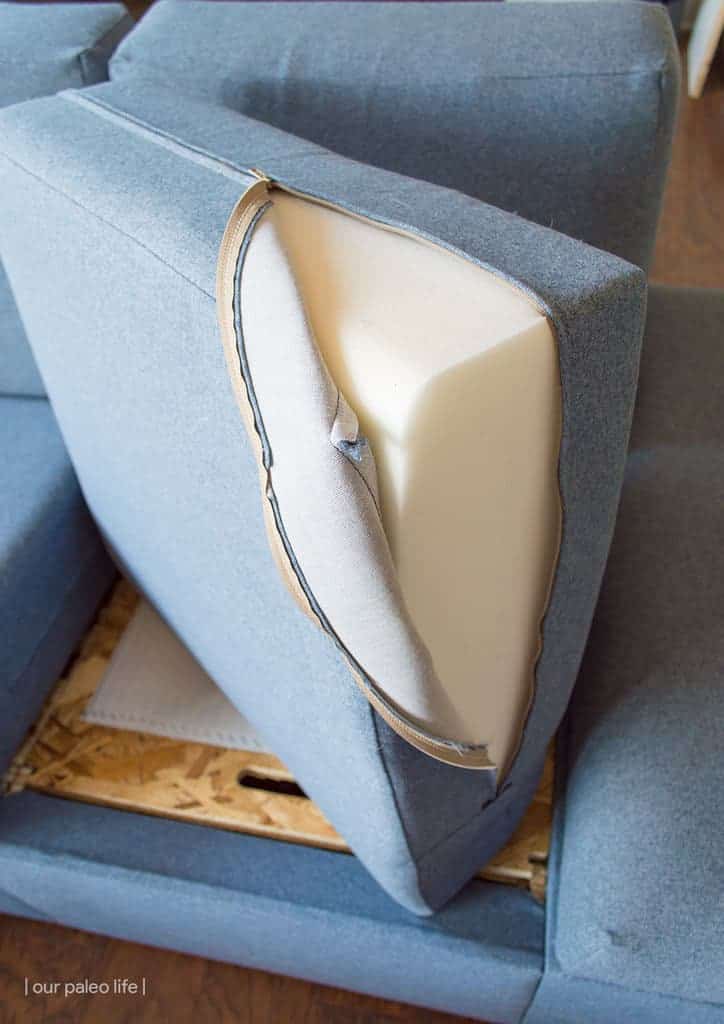 So, that's all the good stuff, but there's got to be some downsides, right? Well, I guess that depends on your personality. I am in the weird crowd, in that I actually enjoy assembling flat-pack furniture. It's like a giant puzzle and the satisfaction of standing back and looking at my "creation" is all the thanks I need. So if you don't like to assemble furniture, but this still seems like a great idea to you, find someone willing to do it for you because it's really worth it in my opinion.
The only other downside I've noticed so far is that the fabric we chose (Pet Care in Maltese Denim) attracts our pets' fur, so we have to be a little diligent in pulling that off at least once a week. It's worse in the warmer months, but that's to be expected.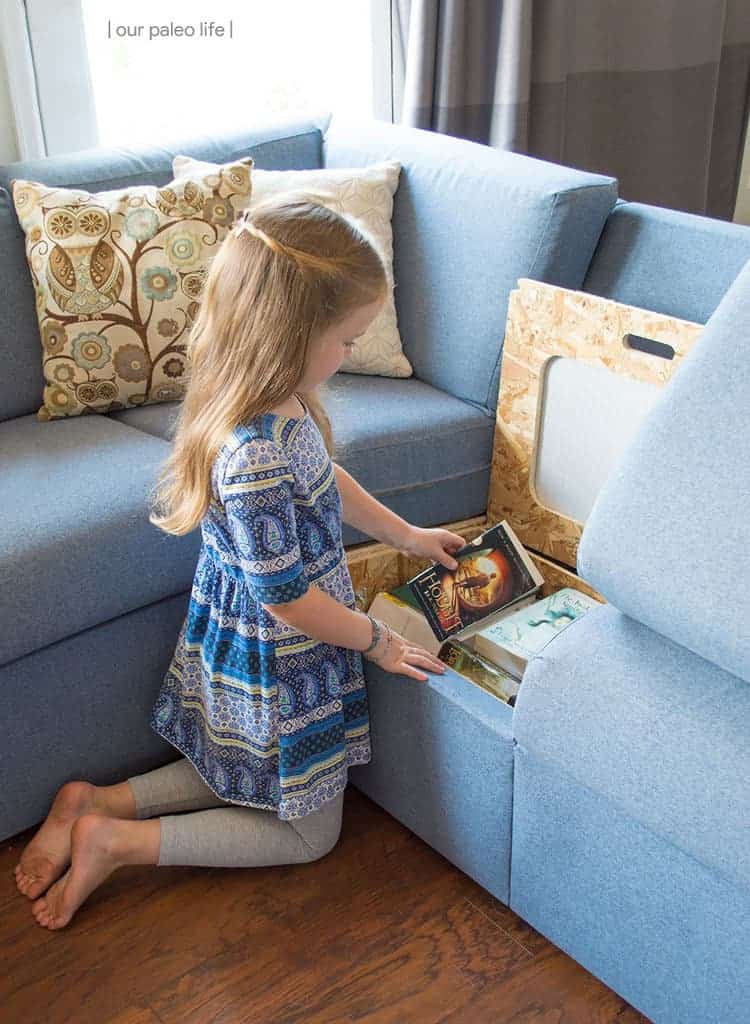 Time Consuming Assembly
So what's involved in putting together you're own couch from what can only be described as wooden, plastic, and foam puzzle pieces? I took the day off when ours was delivered so I could dedicate the whole day to putting the sectional together. I didn't want to get started, then have to call it a night with boxes and cushions everywhere, and start again the next day. Our sectional consisted of 6 Armless sections, 2 Corners, 1 Left Armchair, 1 Modular Ottoman (attached to the sectional), and 3 freestanding Ottomans. Thirteen pieces in all.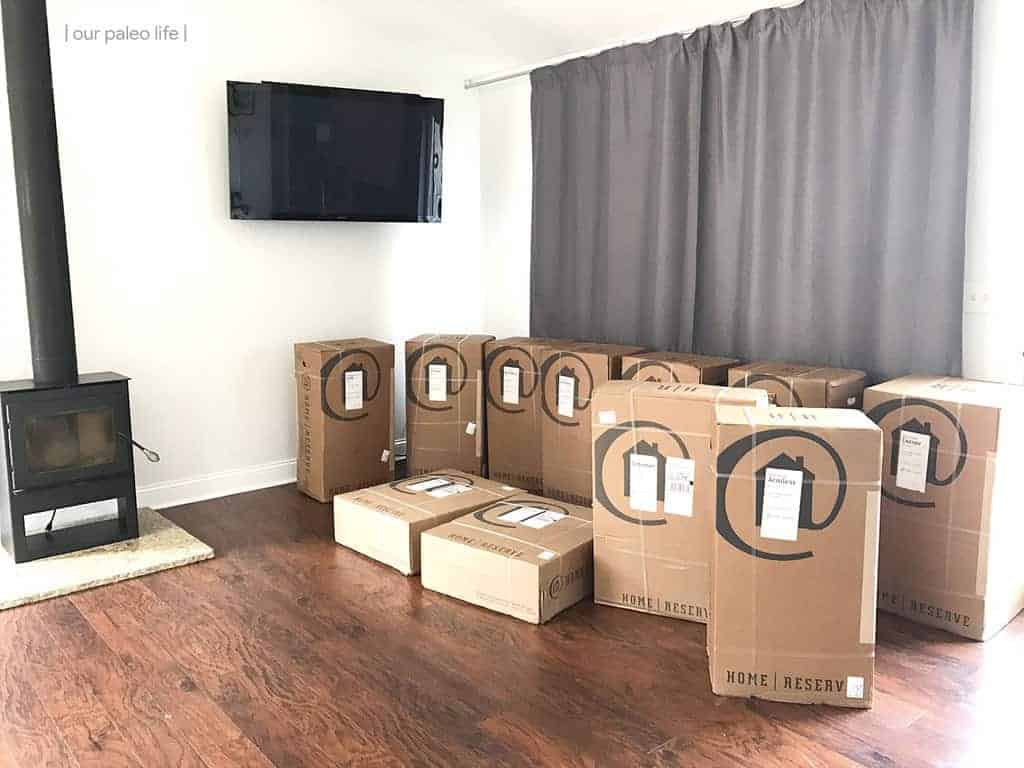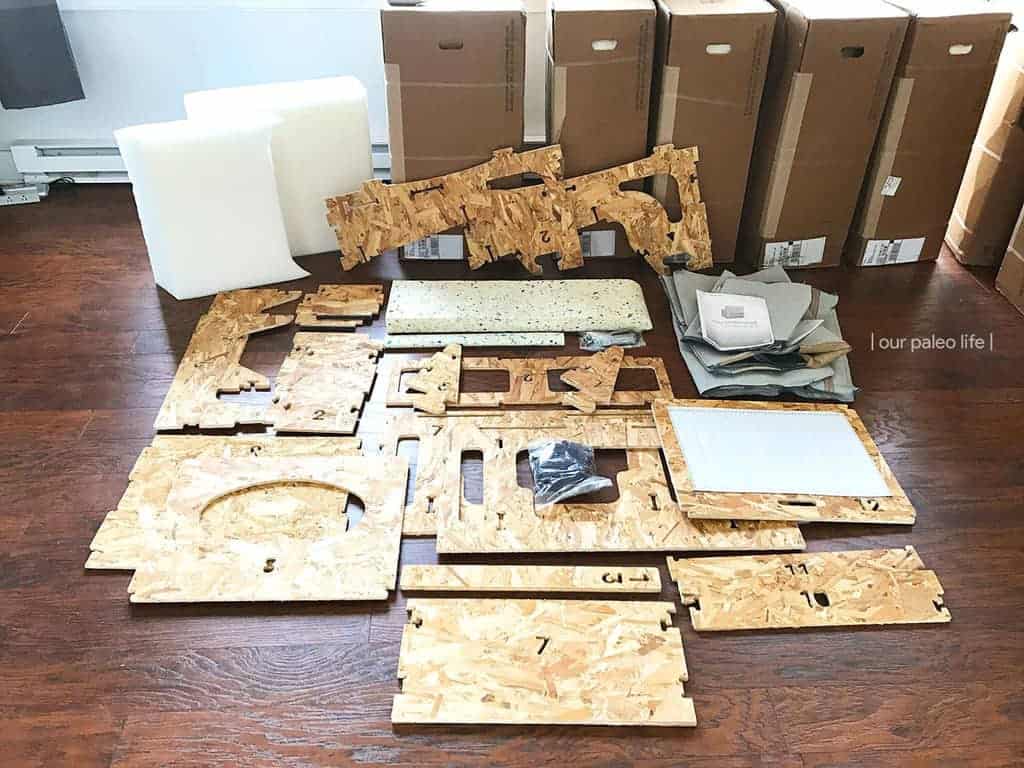 The first piece I assembled was the Left Armchair. It took me an hour, and I assumed it would take an hour per piece. But after about the 3rd one, I really got the hang of the method and how to do it without checking the instruction manual every step of the way. By the time I had completed the 13th piece, I had put in a total 8.5 hours of work (with a break to eat about halfway through).
There were also a few vacuum breaks scattered in as well to clean up the wood and dust on the floor, and by the end of the day, my forearms were completely wrecked from the tedious work my hands did with pulling the fabric covers over the frames all day, but in the end, I had a beautiful sectional that now seats over twice as many people as our previous furniture and takes up less room. And the color we chose (Maltese Denim) really brightens the room so much.
Basically, the momentary pain and exhaustion from a day of labor was more than made up for with the fact that we got exactly what we wanted for a fraction of the cost we were expecting to have to pay for a sectional this size. And it's custom to the exact size and configuration that we need. I really can't think of any downsides to it.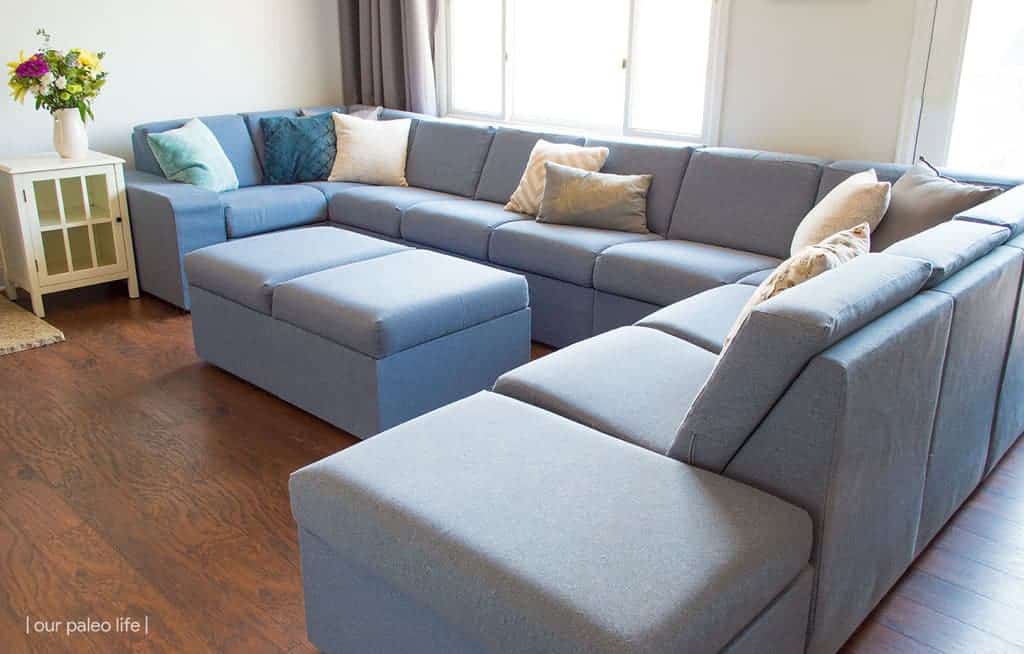 Of course, time will tell how it holds up. I did already test the pet care fabric to see if liquids are repelled and they definitely are. The cat also felt the need to double-test the fabric (ugh) and all was well. I'm thinking I will need to update this post in a year to share how well everything holds up and thoughts on Home Reserve ownership for the long haul. But for now, consider me a happy Home Reserve customer. If I ever have need for another sofa/sectional/chair, pretty sure Home Reserve is the first place I'll look.