Real mountain exploration without the crowds, Cameron Pass is an absolute high elevation masterpiece. Year round activities, wildlife, and breathtaking mountain views await you. This article provides you with everything you need to know to plan your adventure.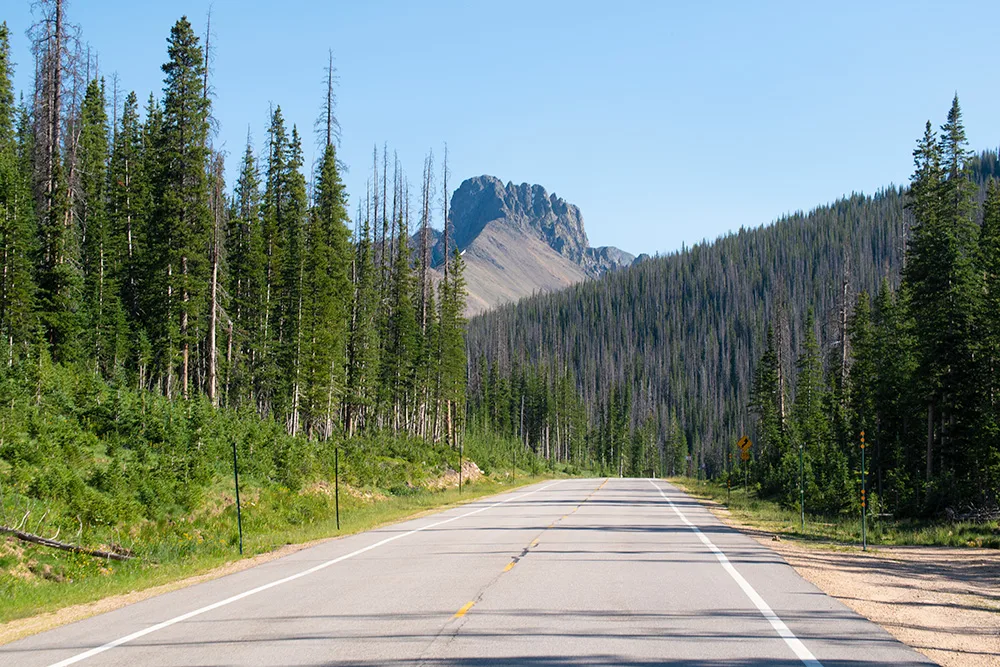 And if you want the high altitude adventure without the crowds of Estes Park (& Rocky Mountain National Park) you'll want to keep reading!
---
This wilderness area offers incredible winter recreation opportunities. High elevation backcountry downhill skiing, snowshoeing, snowmobiling, cross-country skiing, and ice fishing.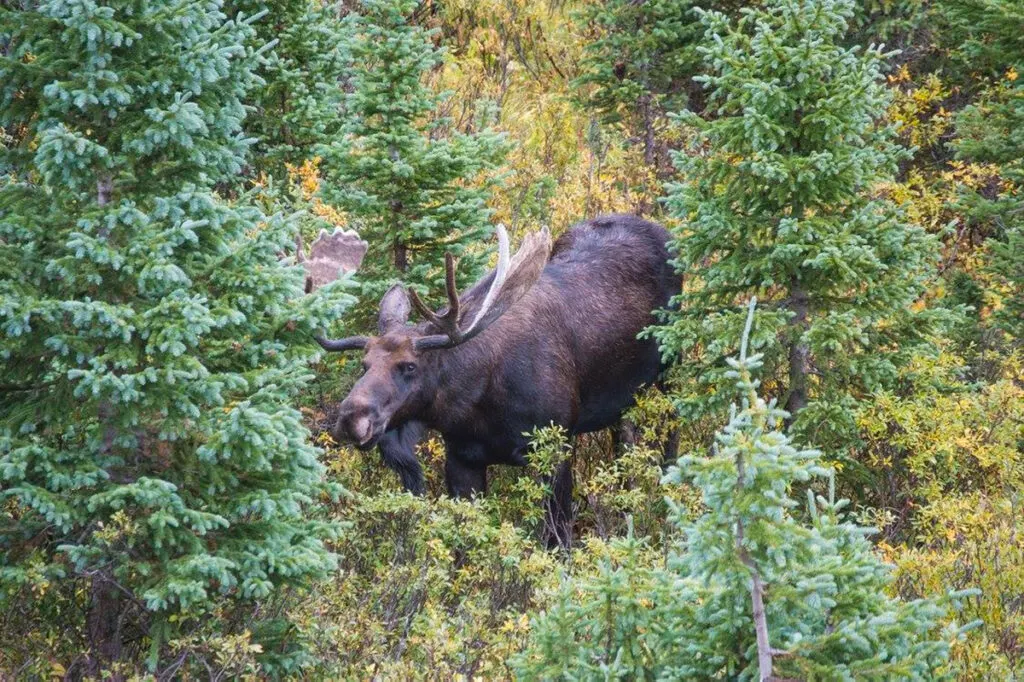 In the summer, the mountains come alive with abundant wildlife and breathtaking mountaineering activities including backpacking, camping, mountain biking, fishing, and so much more.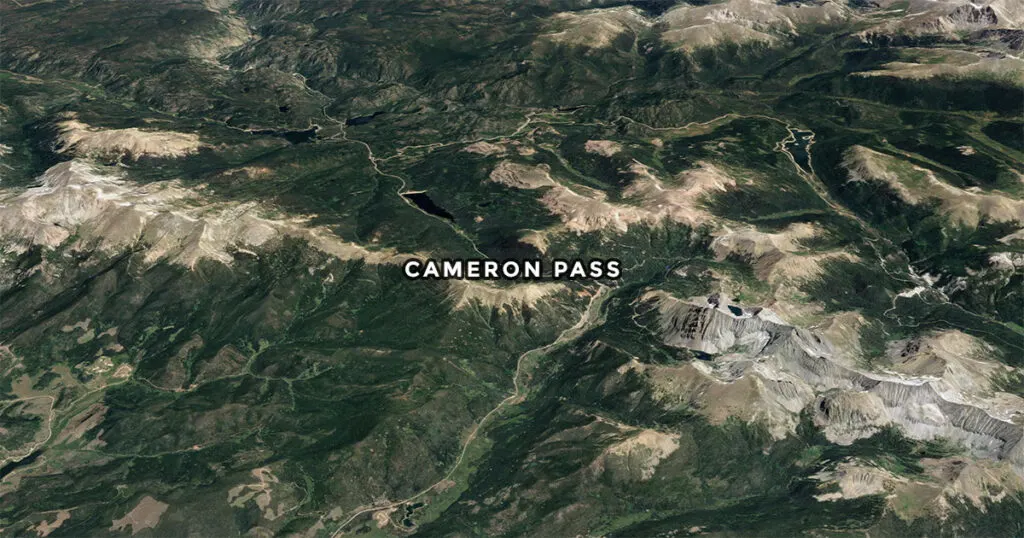 Live Views
1.2 Miles W of Cameron Pass Live Camera (looking East) via cotrip.org: VIEW NOW
1.2 Miles W of Cameron Pass Live Camera (looking West) via cotrip.org: VIEW NOW
3.7 Miles W of Cameron Pass Live Camera via cotrip.org: VIEW NOW
---
Quick Reference Guide for this page:
---
Cameron Pass Location Details
Elevation 10,276 ft
Located in north-central Colorado about 70 miles west of Old Town Fort Collins.
Located between the south end of the Medicine Bow Mountains and the north end of the Never Summer Mountains.
The border line of Jackson County and Larimer County.
3 miles north of the boundary of Rocky Mountain National Park.
The pass provides the most convenient route between Fort Collins and Walden using Poudre Canyon / State Highway 14.
Located at the boundary of the Roosevelt National Forest and the Colorado State Forest State Park.
There are several parking lots approaching Cameron Pass and on the east and west sides of the pass.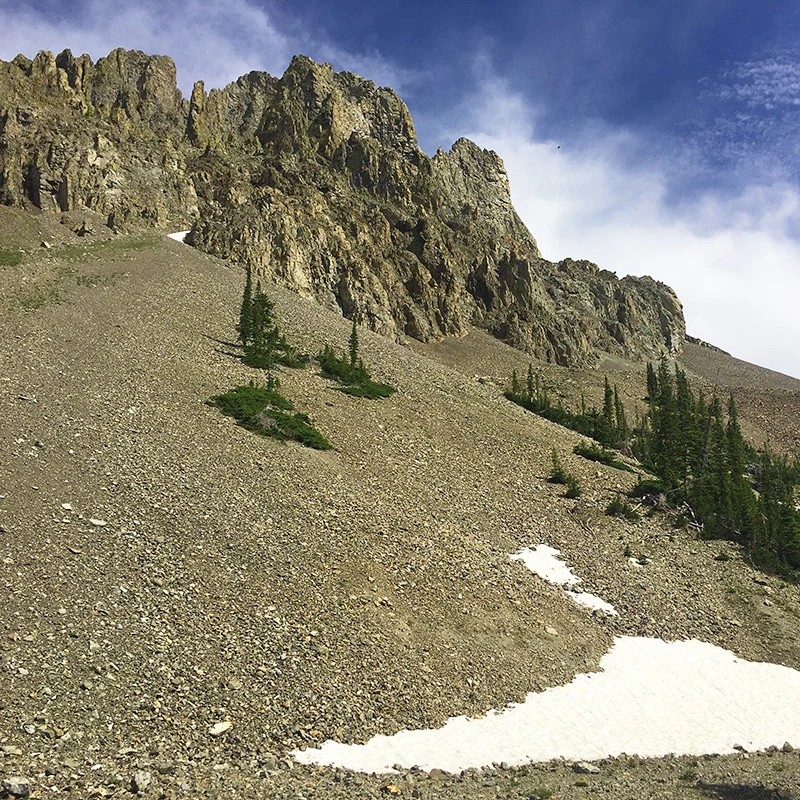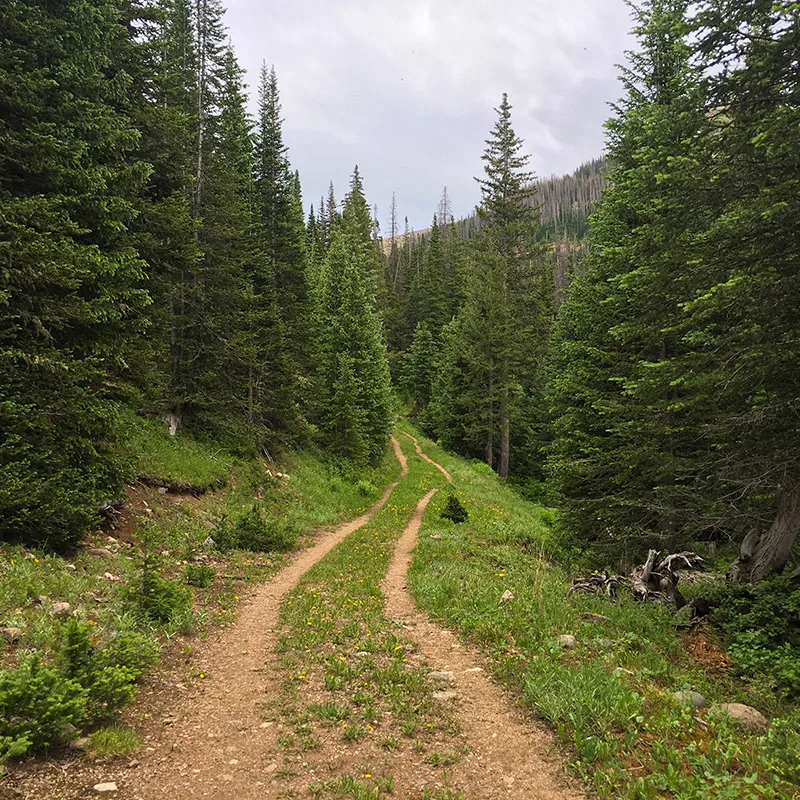 ---
Wilderness Areas & Lands (at or Nearby)
The Cameron Pass area has a plethora of designated wilderness areas, a state park, a national park, and forest areas all within a few miles.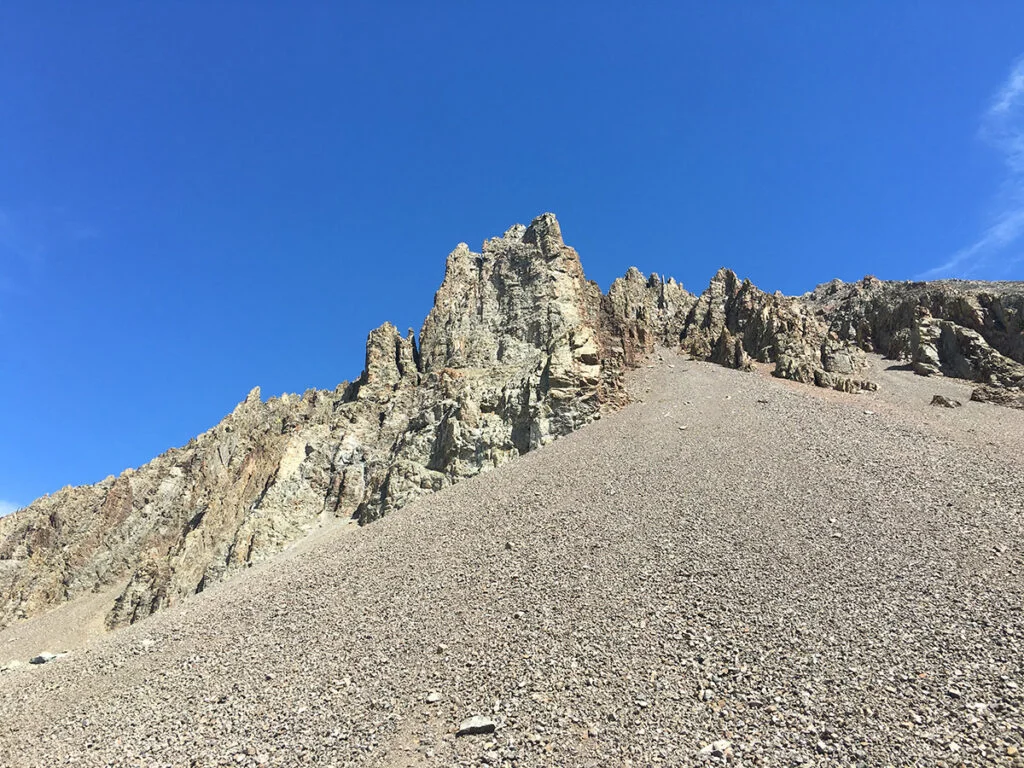 Comanche Peak Wilderness
Comanche Peak reaches a height of 12,702 and this wilderness area is named after the peak. In 1980 the United States Congress added this area to the National Wilderness Preservation System. Elevation in this wilderness area ranges from 8,000 to 12,702 feet.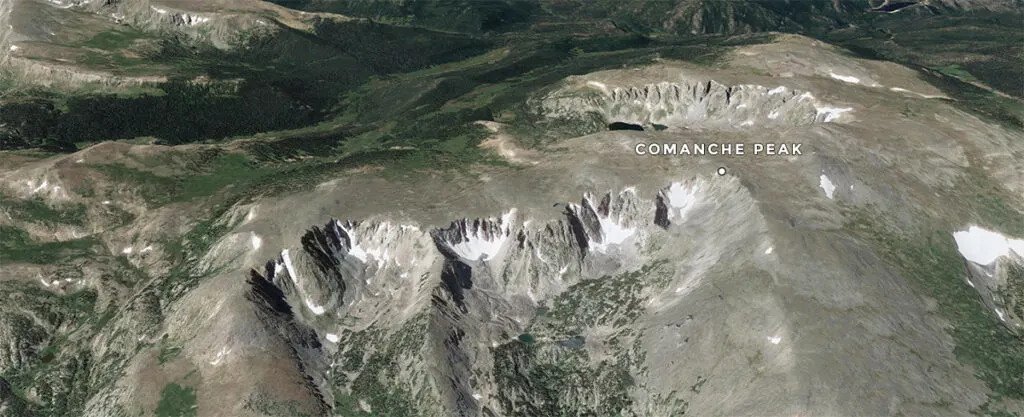 66,791 acres
Trees: Lodgepole pine, Ponderosa pine, & Spruce-fir forests below alpine tundra.
Borders the north and east sides of Rocky Mountain National Park.
Wildlife includes: elk, moose, mule deer, black bear, mountain lion, coyote, beaver, and smaller mammals.
Birds: chickadees, hummingbirds, grey jays, red-tailed hawks, ptarmigan, and golden eagles.
Lakes and streams: cutthroat, brown, rainbow, brook trout, and a few of the streams have the endangered greenback cutthroat trout.
Open to hunting in the fall.
Roosevelt National Forest
The Comanche Wilderness is located within the Roosevelt National Forest. The Roosevelt National Forest is huge, it covers 813,799 acres (which is nearly 1,300 square miles).
Neota Wilderness: Arapaho & Roosevelt
Similar to the Comanche Peak Wilderness area, in 1980, Neota Wilderness was designated. Neota Wilderness spans a total of 9,924 acres. This wilderness area is mostly roadless, and it too borders Rocky Mountain National Park. The elevation in the Neota Wilderness ranges from 10,000 to 11,896 feet.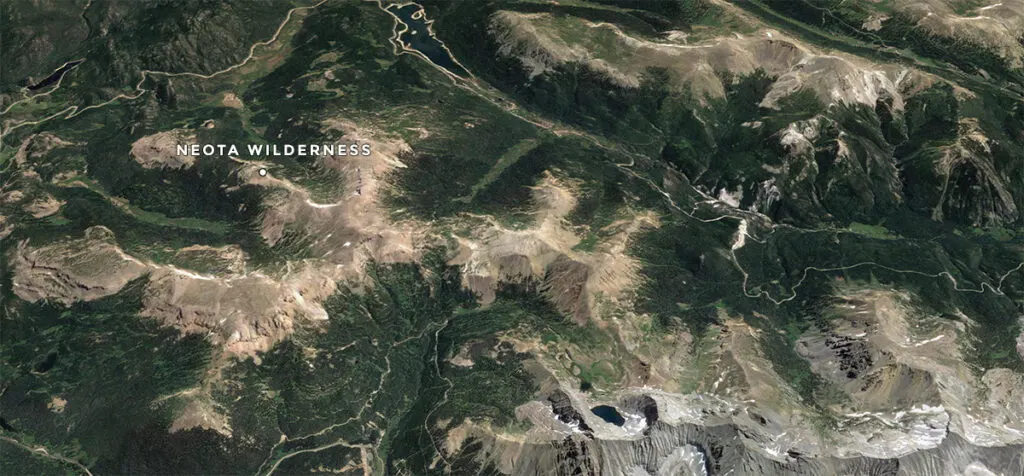 Fun fact: there's only 1.5 miles of primitively maintained trail in this Wilderness. Which means: expert explorer level only.
Arapaho National Forest
The Neota Wilderness area is located in both the Roosevelt and Arapaho National forests. Arapaho National Forest consists of 723,744 acres (slightly smaller than the Roosevelt National Forest).
Rawah Wilderness
Also located in both the Arapaho and Roosevelt National Forests. Elevations range from 8,400 to 13,000 feet. The United States Congress designated the Rawah Wilderness in 1964 and it now includes a total of 74,408 acres.
It's thought that the high peaks were carved by glaciers, resulting in cirque lakes and moraines.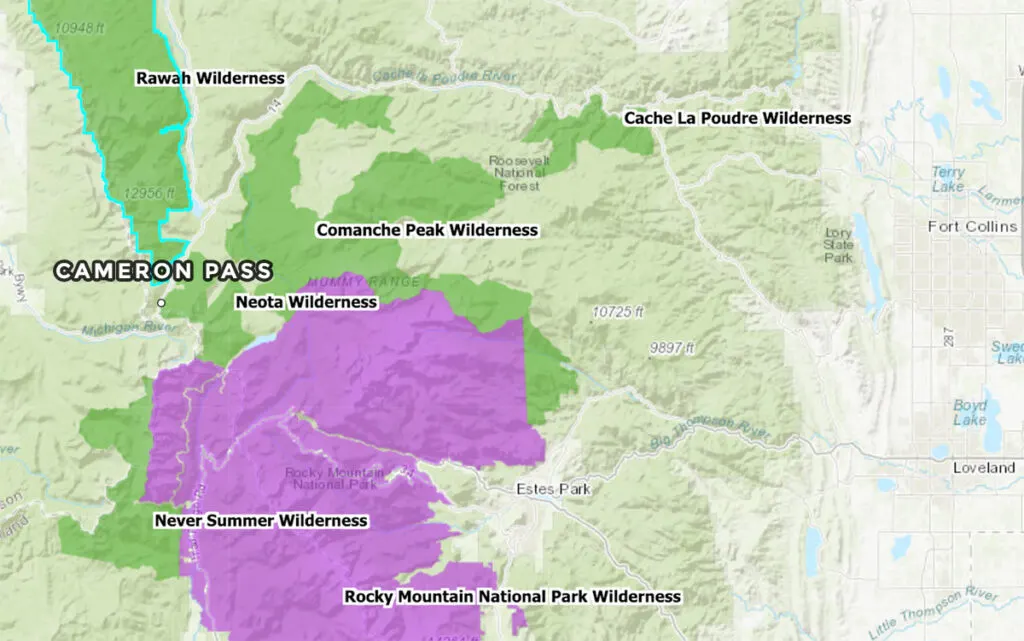 There are twenty-five named lakes, ranging in size from 5 to 39 acres in the Rawah Wilderness.
Found in the Rawah's: headwaters of the McIntyre, Rawah, and Fall Creeks, as well as the Laramie River.
A Review of the Wildlife
Animals in this area include:
Elk
Moose
Mule deer
Black bear
Bighorn sheep
Marmot
Beaver
Species of birds
Red-tailed hawk
White-tailed ptarmigan
Golden eagle
Raven
Steller's Jay
Variety of warblers
Fish in the lakes:
Cutthroat
Rainbow trout
Brown trout
Graylings
"Camping is prohibited within one-quarter mile of Blue Lake and Hang Lake. Do not camp or use a fire in re-vegetative sites. These areas are seeded with native, high-altitude grasses and need protection to grow." – Forest Service (more restrictions and details found here)
Never Summer Wilderness
South of Cameron Pass and similar to the other wilderness areas, the Never Summer Wilderness is located in the Arapaho and Roosevelt National Forests. The Never Summer Wilderness also borders Rocky Mountain National Park (to the east). And this area was also designated in 1980 and encompasses a total of 21,090 acres.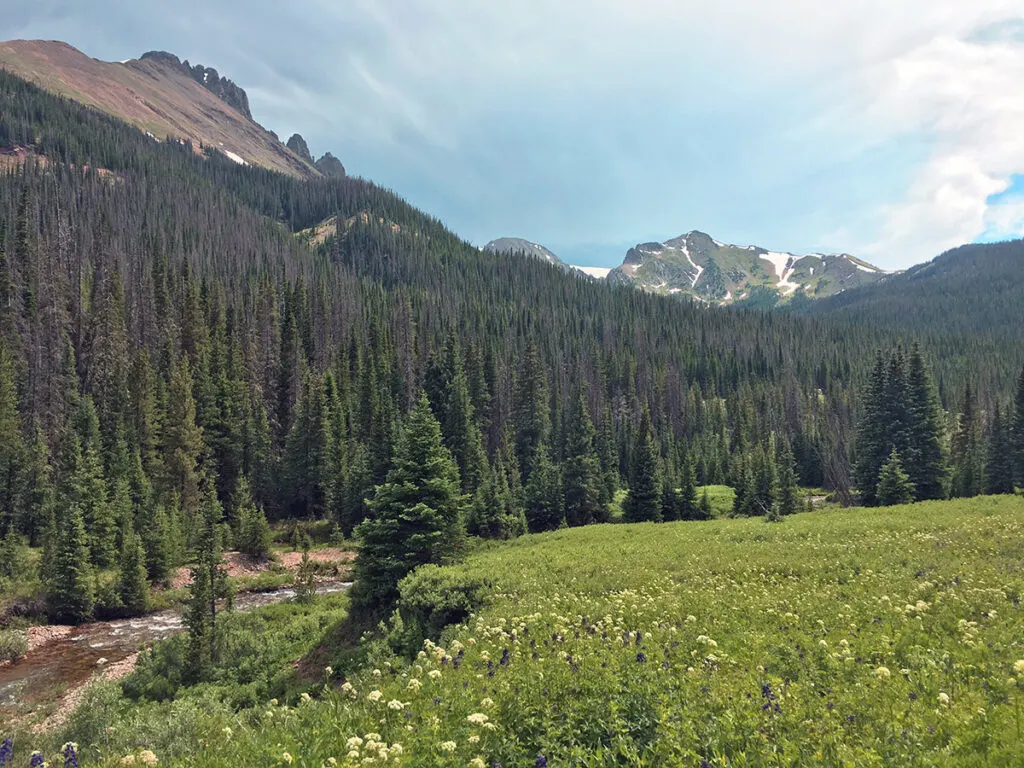 Forested ridges to steep tundra ranging in elevation from 8,900 to 12,520 feet.
Precipitation is VERY common in this area which leads to water for three major rivers: the Colorado, the North Platte, and the Cache la Poudre.
If you explore the Never Summer mountains you could find ponds with wood frogs and shrew.
There are only 20 miles of trails which traverse the Continental Divide over two high passes. If you've ever visited Trail Ridge Road in Rocky Mountain National Park, the mountain backdrop you see to the west are the Never Summer mountains!
Rocky Mountain National Park
It's interesting to note that you can access Rocky Mountain National Park via trails from areas around Cameron Pass. However, there is no "official" entrances anywhere near Cameron Pass. In fact, you have three (technically 4) options to enter Rocky Mountain National Park (officially).
Estes Park (over 2 hours away from Cameron Pass by car) Beaver Meadows & Fall River
Grand Lake (over 1.5 hours away from Cameron Pass by car)
Wild Basin (over 2.5 hours away from Cameron Pass by car)
You can enter RMNP park for free from a trailhead nearby Cameron Pass. More on that below.
State Forest State Park
​​​​​​​​​​​​​​​​​​​​​​​​​​​​​​​​​​​​​​​​​​​​​​​​​​​​​​​​​​71,000 acres of state forest lands, incredible mountains, and wildlife, State Forest State Park is an amazing Colorado adventure. The state park stretches along the west side of the Medicine Bow Mountains and into the north end of the Never Summer Range.
This area is considered the Moose viewing capital of Colorado. It's estimated that there are over 600 moose nearby. Make sure if you visit Cameron Pass to drive a little further west and stop by the Moose Visitor Center in State Forest State Park.
How to get to Cameron Pass from Fort Collins, Colorado
Take Hwy 14 (the Poudre Canyon) from Fort Collins. From the east, this route is the only option and it's a beautiful drive along the Cache la Poudre River which just so happens to be Colorado's only federally designated Wild and Scenic River.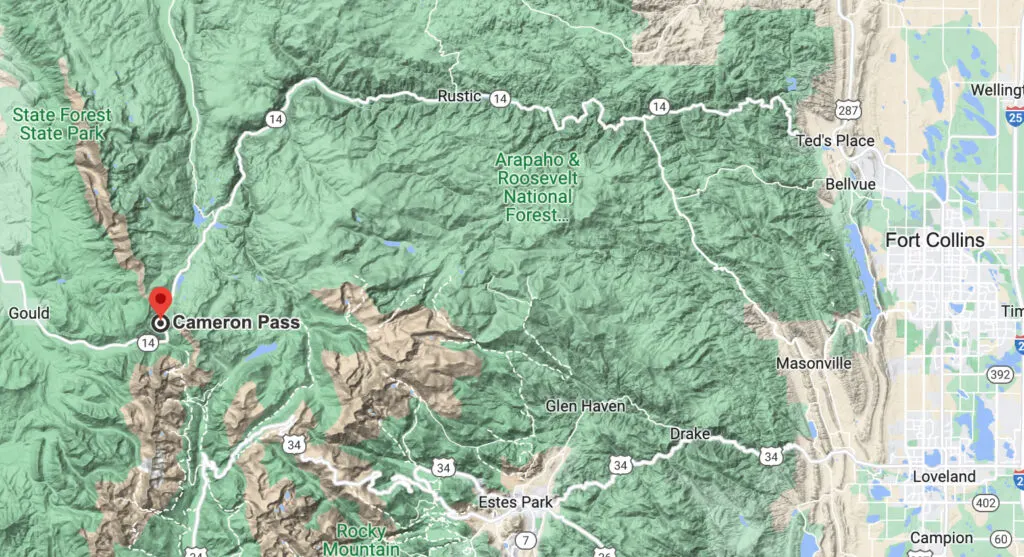 From west Loveland, Colorado (or Estes Park)
If you're heading north from Loveland, Colorado and want even more scenic driving through open range and the Buckhorn Canyon: you can take the Buckhorn Road (which turns in to Stove Prairie Rd) and this route will T at the Poudre River (hwy 14) – turn left (west) to Cameron Pass. From this intersection, it's 42 miles to Cameron pass.
---
ON THE WAY: Food, Convenience Stores & Attractions
There are a few options on your way up to Cameron Pass to stop and grab any supplies or food you may have forgotten. Walden is also located 30 miles west of Cameron Pass. Here are a few options to grab food or supplies on your journey. Please note: none of these options are technically nearby (however – these options are on your way to or from Cameron Pass).
---
Mishawaka (concert venue & restaurant)
On the way (but not close to Cameron Pass) on HWY 14, the Mish is home to a concert venue right on the Poudre (parking is limited). Full restaurant too! If you're driving from Fort Collins, the Mish is located 24 miles from Old Town Fort Collins on your way up to Cameron Pass.
If you're coming up from Loveland on Stove Prairie / Buckhorn you'll take a right (east) at the Poudre river, from there you're only 2.5 miles away.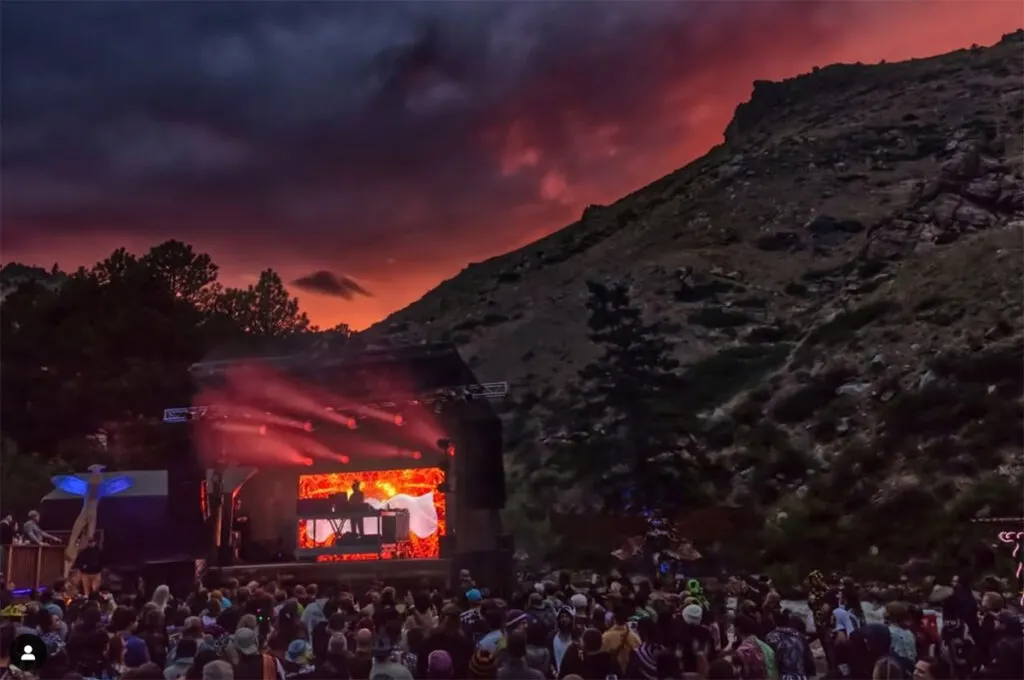 Visit the Mishawaka website.
---
Glen Echo Resort
Lodging, camping, restaurant, store, gifts, gas, propane, ice, and more!
There's hardly a time we go exploring up HWY 14 without stopping at Glen Echo. Every time we've been everyone working has been great.

Glen Echo is 26 miles east of Cameron Pass. Visit the Glen Echo Resort website.
---
East of the Pass
More Options EAST of the Pass (on Hwy 14 along Poudre River):
---
West of the Pass
Attractions, Food & Supplies WEST of the Pass:
Howling Coyote Roadhouse (check hours of operations) – We've always had a good time eating here (really neat building).
The Cabins Gift Shop (supplies, food, and friendly service) check hours of operation.
The town of Walden, Colorado (gas station, a few restaurants) – 31 miles west of Cameron Pass
---
History of Cameron Pass
"The pass was named for Robert Cameron, the founder of the Fort Collins Agricultural Colony and former Union general, in 1870. The pass was surveyed several times for railroads, including once by the Union Pacific Railroad as a possible route for a line through the Rockies. However, no railroad was ever built over the pass." – source
On Sept. 6, 1926, the Poudre Canyon Road reached Cameron Pass. The celebration drew an estimated 3,000 people.
---
Water: At or Nearby
Cameron Pass and surrounding mountains drain on the north side by a tributary of the Cache la Poudre River, Joe Wright Creek, in the basin of the South Platte River. On the south side, draining occurs by the Michigan River, a tributary of the North Platte River in North Park. Abundant creeks and streams can be found all over.
Lakes & Reservoirs near Cameron Pass
Here's a review of a few of the lakes & reservoirs nearby (within a few miles). This is not a comprehensive list.
Lake Agnes
We've written an extensive guide to Lake Agnes, check it out!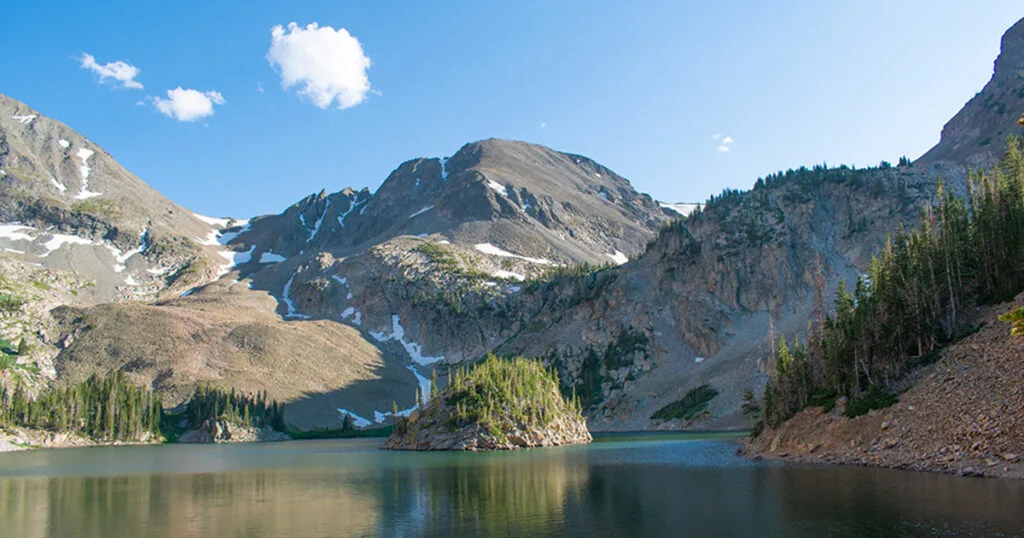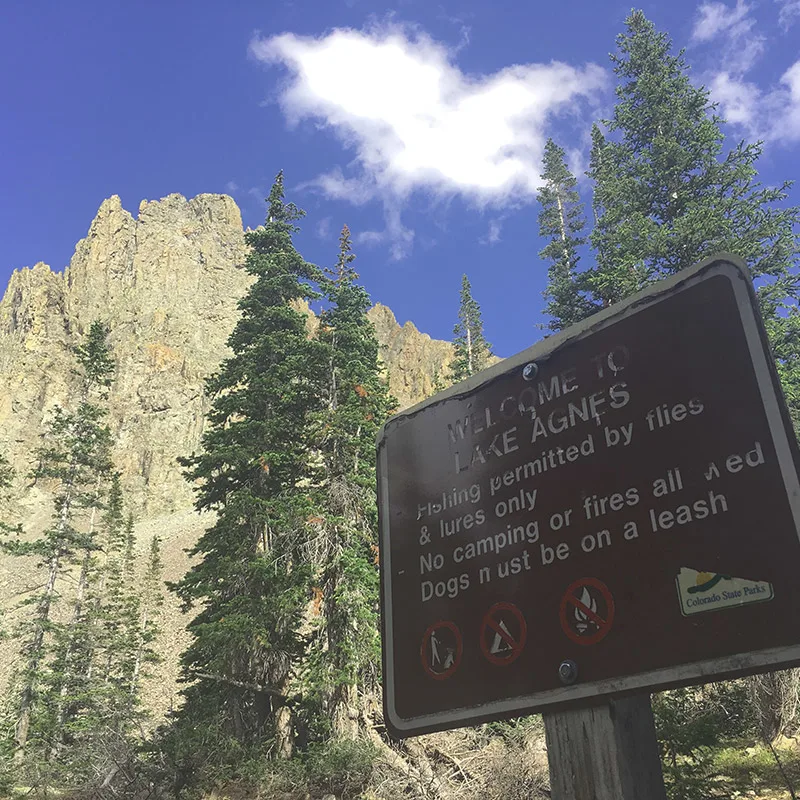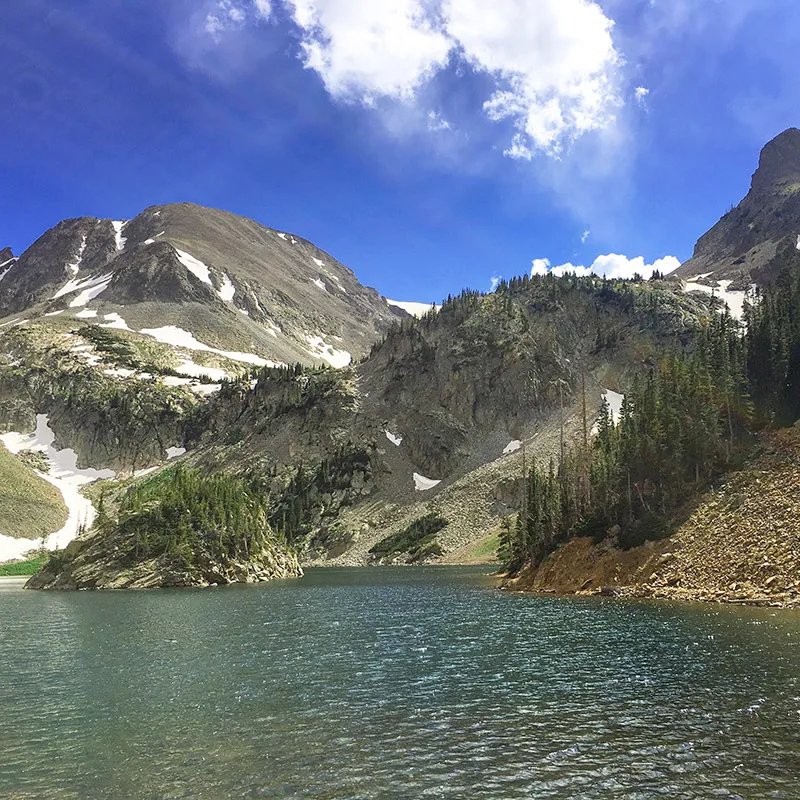 Snow Lake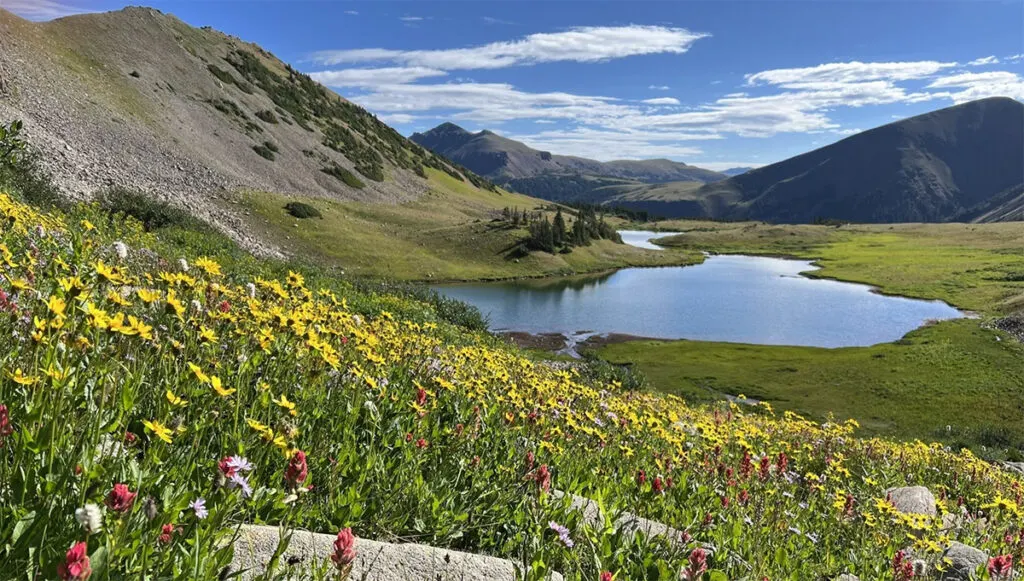 Joe Wright Reservoir
Barnes Meadow Reservoir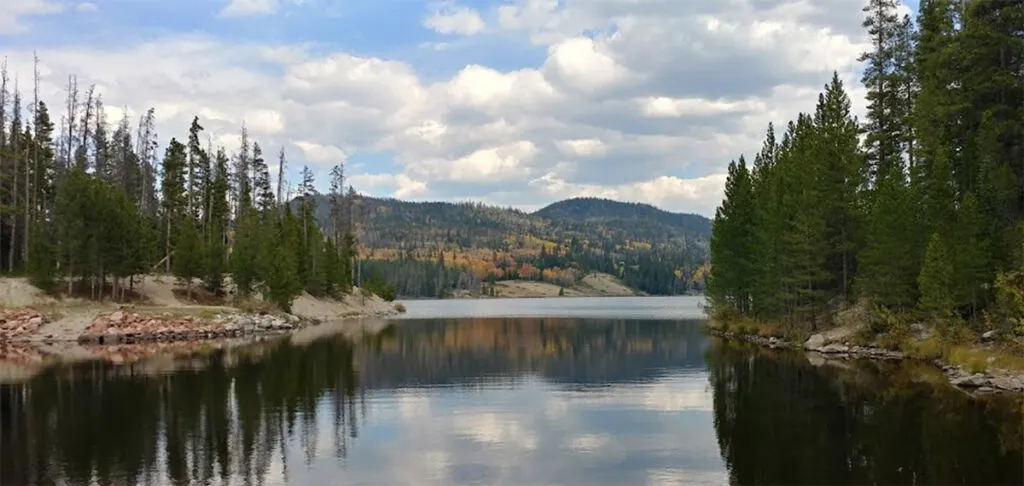 Chambers Lake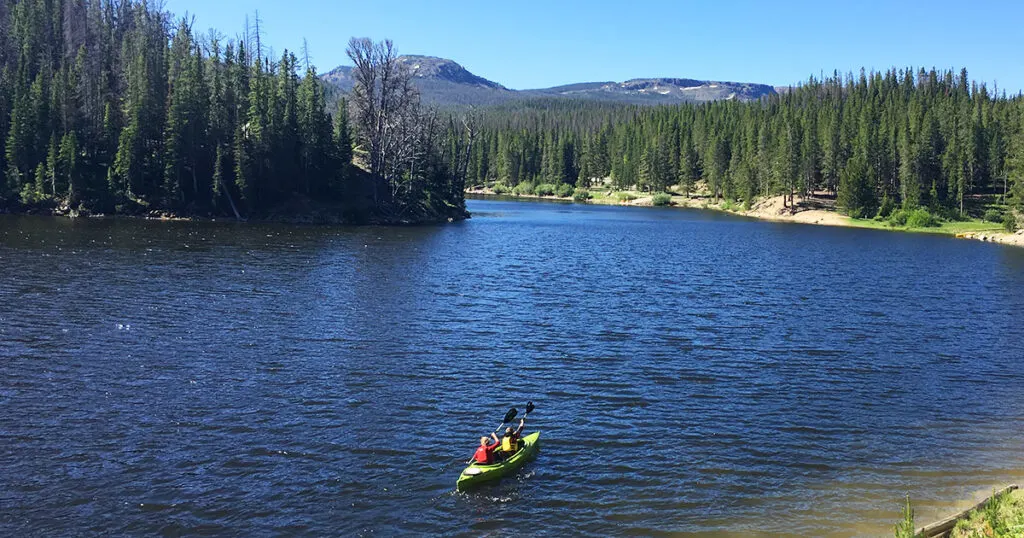 Blue Lake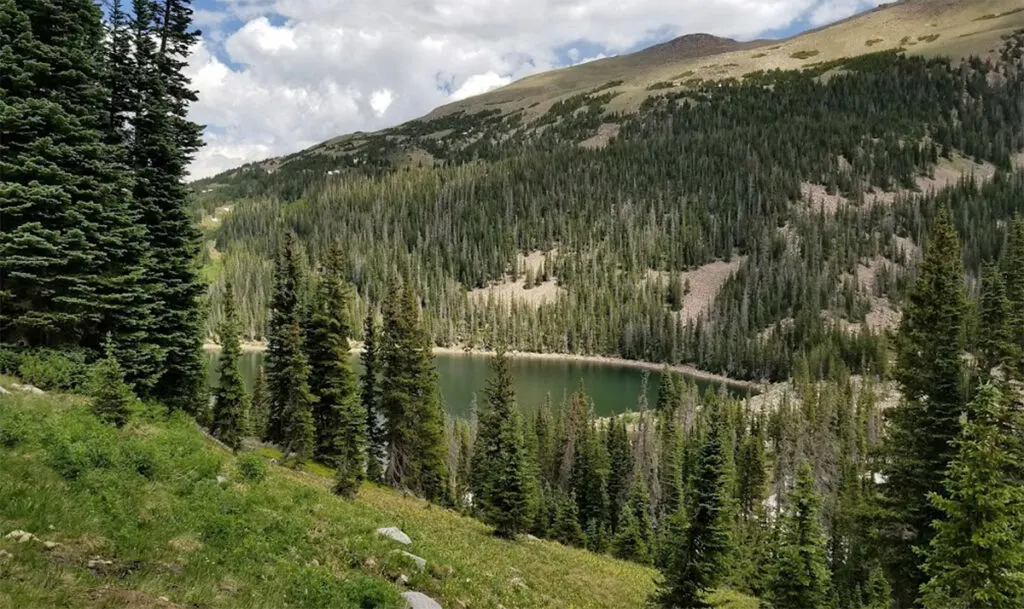 There are many more bodies of water nearby (that was just a sampling).
---
Cameron Pass Backcountry Skiing
This area receives A LOT of snow during the winter months and avalanches are likely and fairly common. There's no shortage of dangerous and exhilarating winter activities here.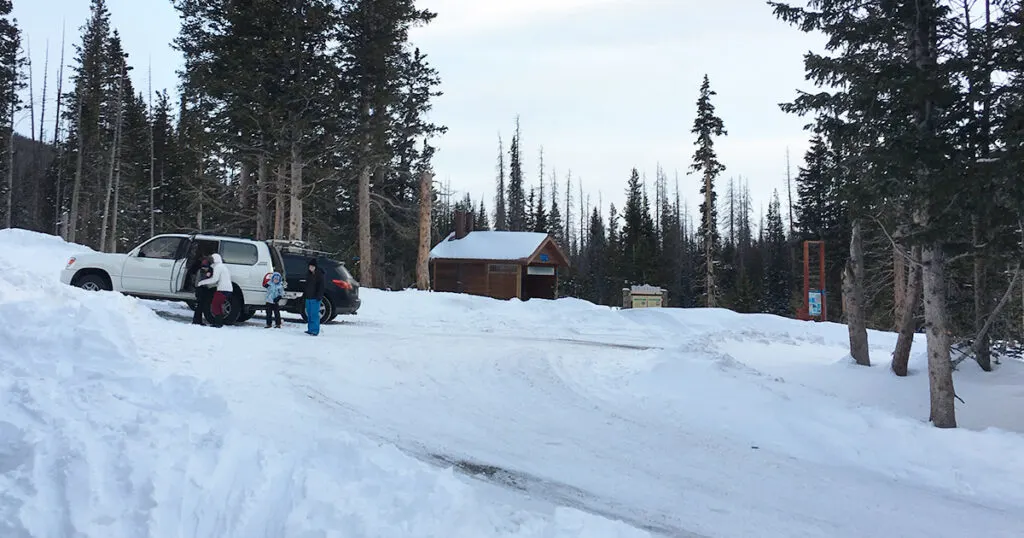 Interested in the snow report at Cameron Pass? Check out this website.
Check out the snow total forecast here.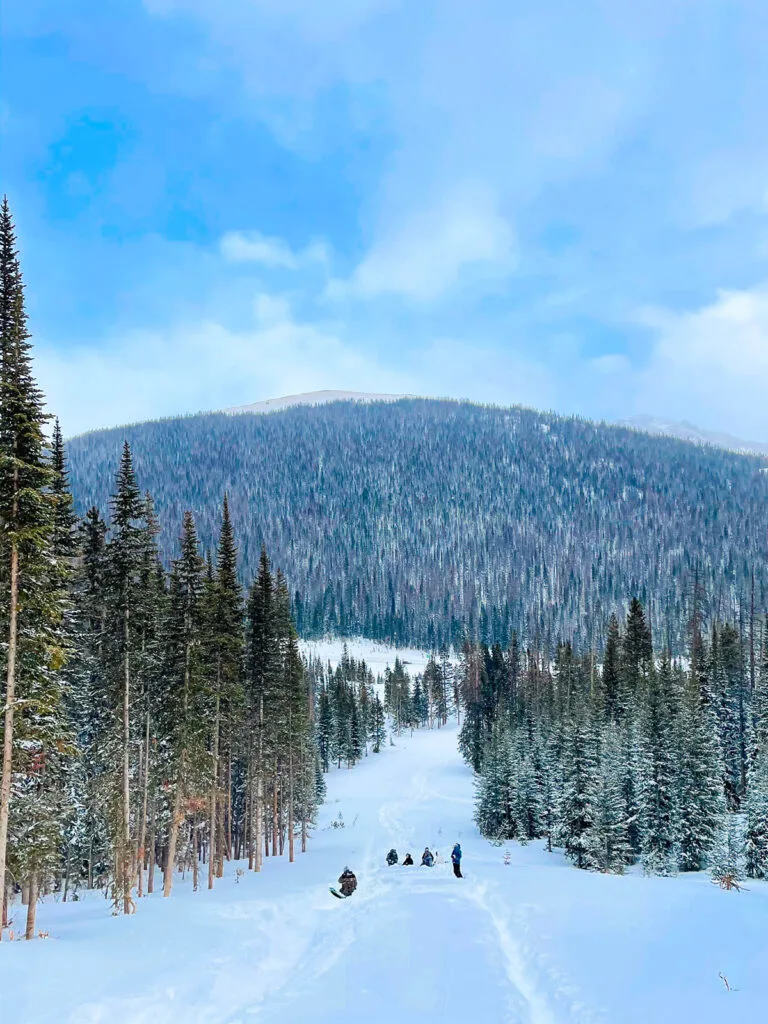 One of the best spots to hike, climb, and ski the backcountry is right at the Pass. There's a fairly large parking lot and a vault toilet that's open year round.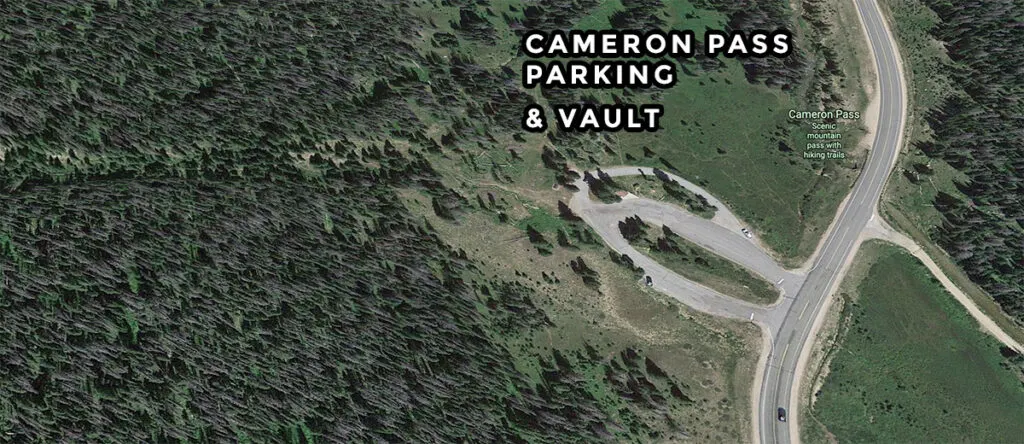 ---
Campgrounds Near Cameron Pass
In addition to incredible dispersed camping and backpacking options, there are several designated campsites around Cameron Pass.
For regulations and closures at State Forest State Park, click here. And click here for details about yurts and all camping information in State Forest State Park.
Planning on a camping trip? Check out these Camping Essentials
---
Backcountry Camping & Backpacking
Options SFSP
You can Backcountry camp in State Forest State Park at various locations: including Ruby Jewel, Kelly, Clear, and American Lakes.
There are Restrictions:
No camping at Lake Agnes.
Fires are only allowed in designated fire rings. Gas grill okay unless there's a specific fire ban.
You may only camp further than 1/4 of a mile from any trailhead, campground, or established structure.
Camping allowed 100 feet or further from any trail or source of water.
Camping in the Rawah's
The southern end of the Medicine Bow Mountain Range in north central Colorado. The Rawah Wilderness was established in 1964. The area is comprised of 73,868 acres. "Rawah" is a Native American term meaning "wild place."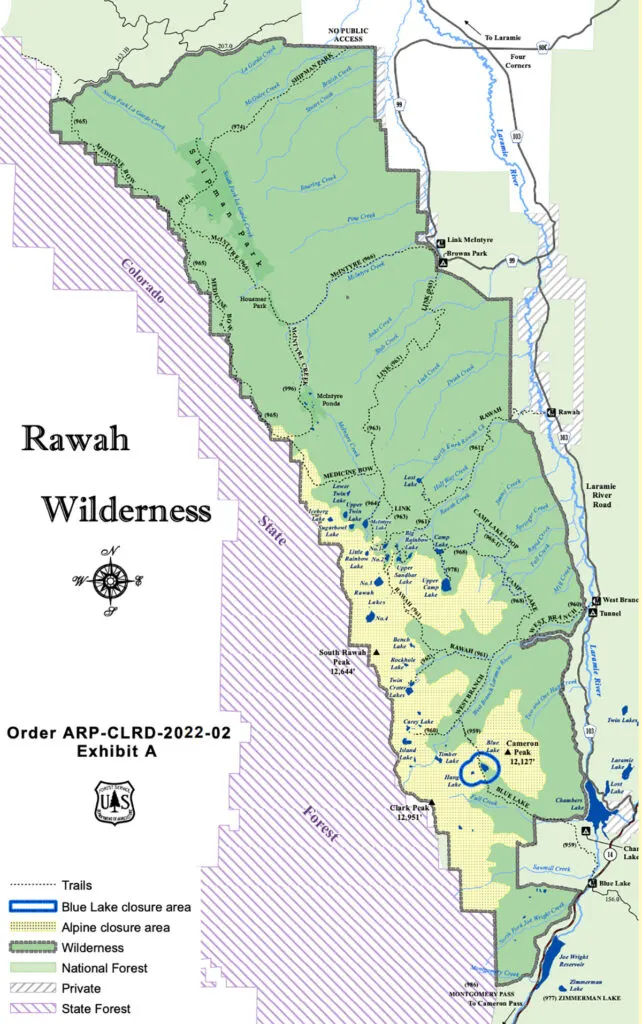 ---
Summer Activities at Cameron Pass
Feeling adventurous? There's a little something for everyone around the pass. Loads of trails right off HWY 14, further away in the backcountry, and complete seclusion off the trails too.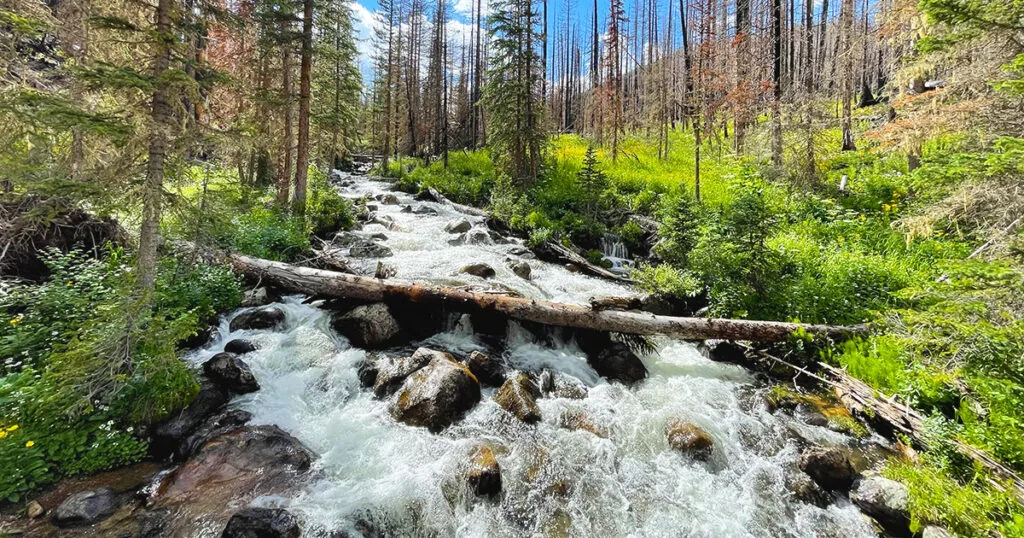 There are areas around Cameron Pass that were impacted in 2020 by the massive Cameron Peak fire. As you can see from these images that there are burn scar areas throughout many of these wilderness areas.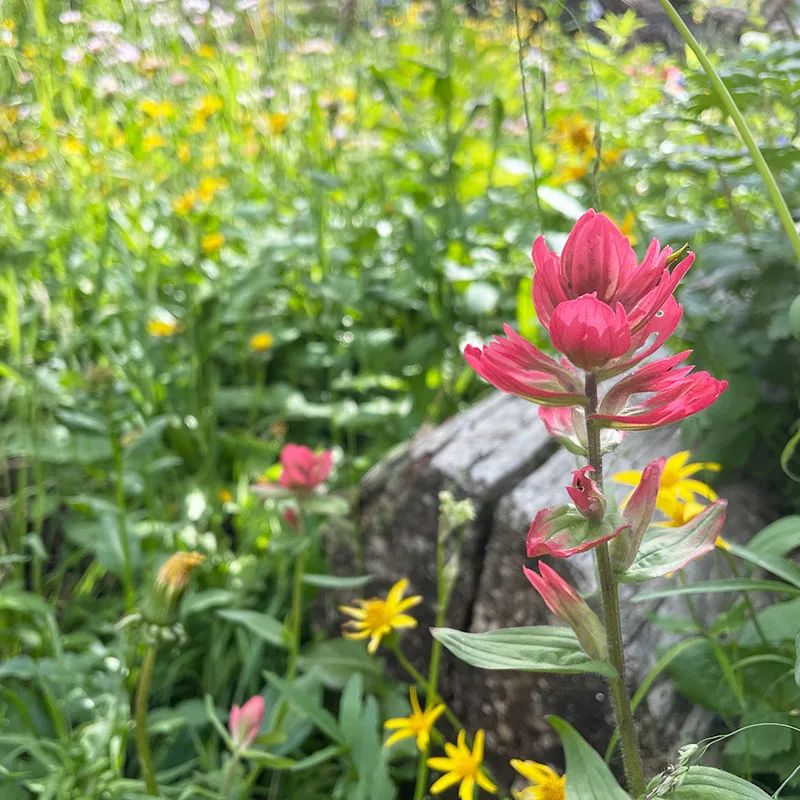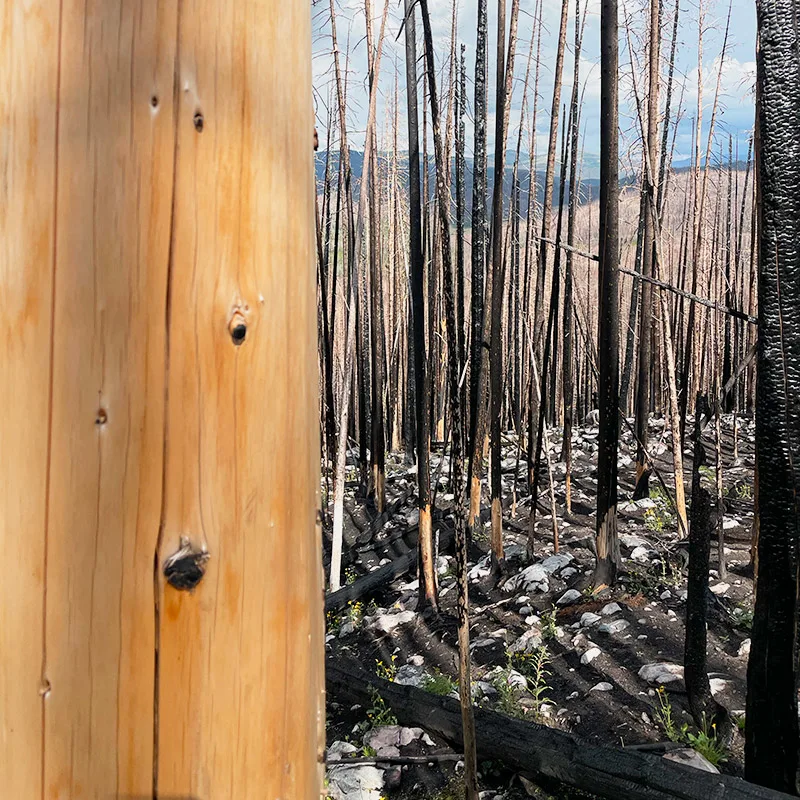 Trailheads/Trails (at or near) Cameron Pass
Lake Agnes
American Lakes
Montgomery Pass
Zimmerman Lake
Blue Lake
Big South
Corral Creek Trail
Trap Park Trail
Camp Lake Trail
Zimmerman Trail
La Poudre Pass Trailhead
---
Winter Activities at Cameron Pass
There's no shortage of winter fun at and near the pass. We love heading up right at the Cameron Pass parking lot to snowshoe and sled in the open areas as seen here: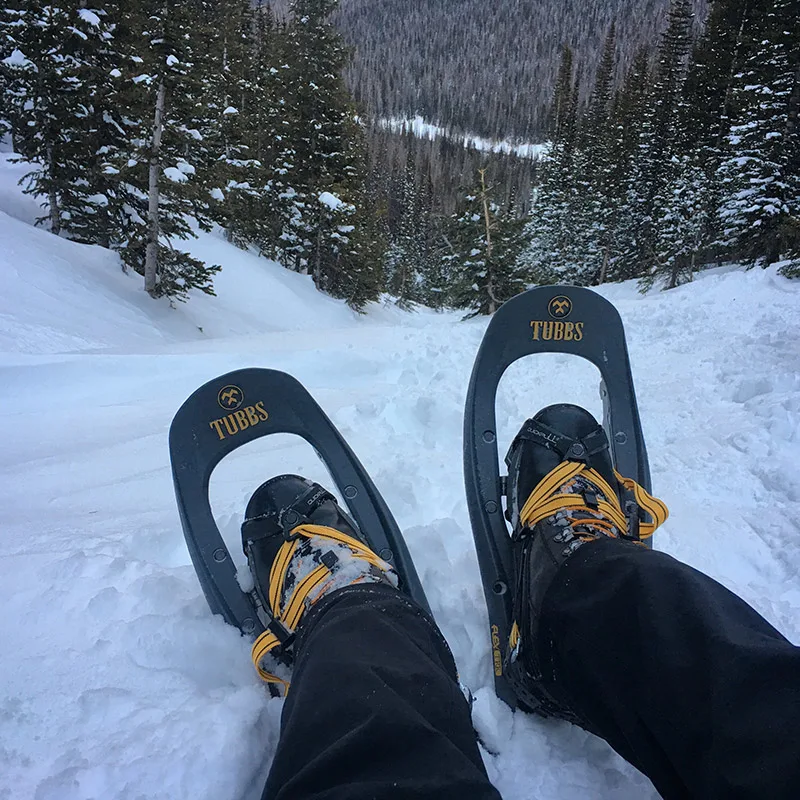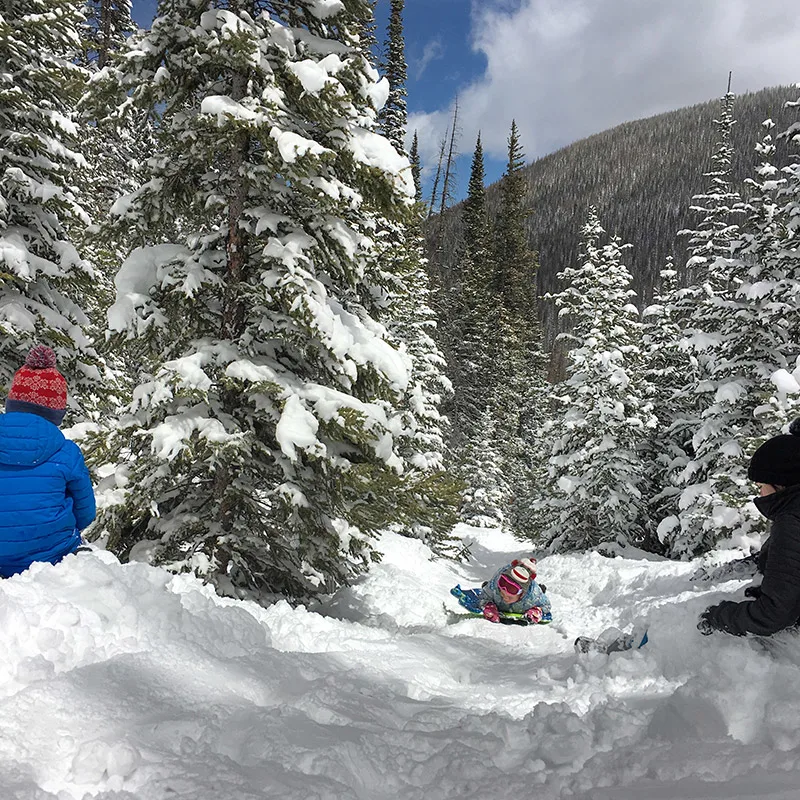 The entire area in and around the pass offers great, mountain, snow packed snowshoeing, cross-country skiing, scenic driving, wildlife viewing, snowmobiling, and ice fishing on select lakes.
Note: Snowmobiling is not allowed in wilderness areas however: go a little further west past the pass and you'll find some amazing options for snowmobiling. Prior to getting to the pass from the east you'll find snowmobiling opportunities too.
And State Forest State Park offers loads of great, winter recreation activities.
If you head up further at the parking lot AT Cameron Pass you'll find yourself in some amazing backcountry skiing territory.
Free Entry into Rocky Mountain National Park
Want an "unofficial" and free option to getting into RMNP? As mentioned previously, the official entrances to Rocky are a long drive from Cameron. However, you can get into the park without having to pay any fees.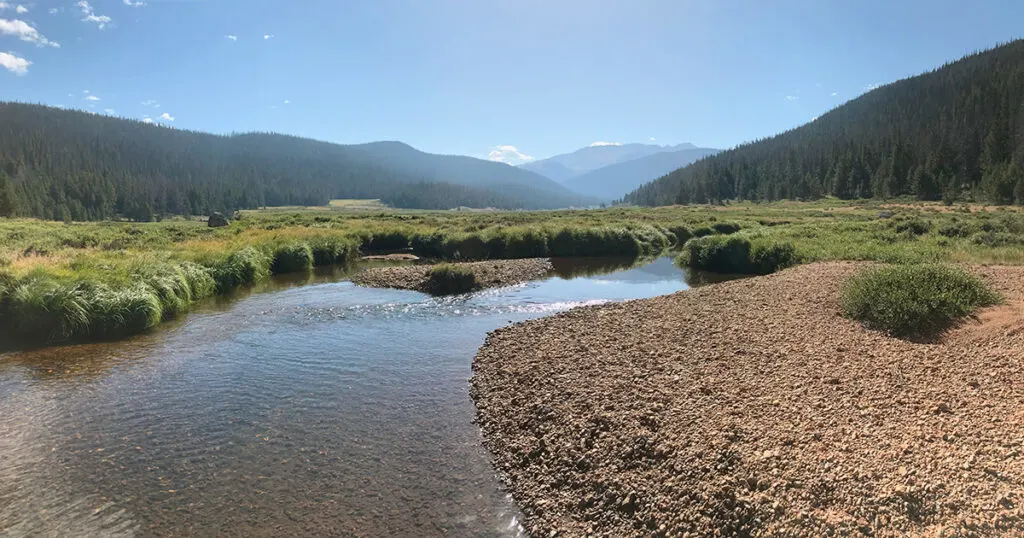 You'll gain access to RMNP via the Corral Creek Trailhead off of Long Draw Road.
Parking: Corral Creek trailhead accommodates only about 8 cars.
Corral Creek Trail is pretty short, however it leads to the southern end of the Big South Trail in the Comanche Peak Wilderness and to the Poudre River Trail in the backcountry system of Rocky Mountain National Park.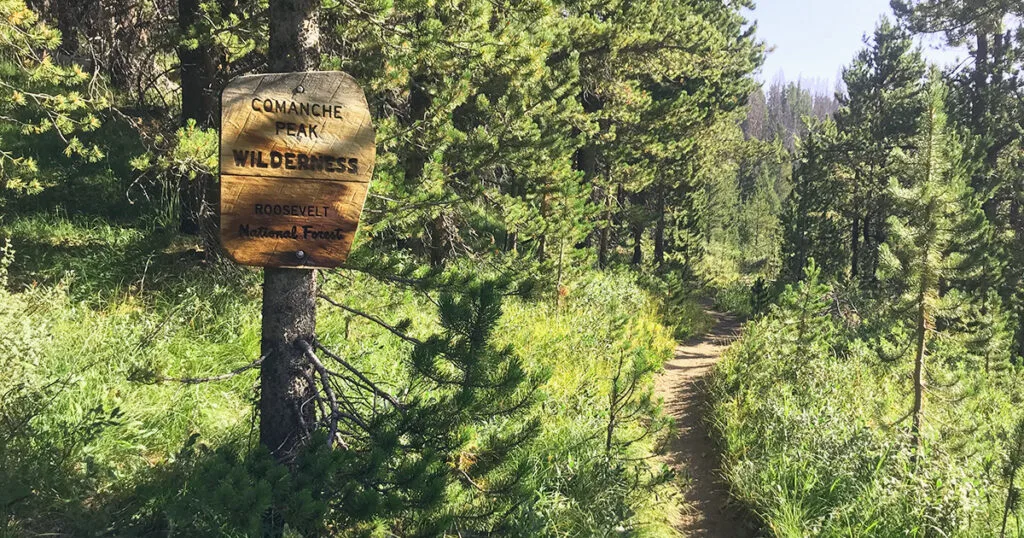 Entering the backcountry of Rocky Mountain National Park via Corral Creek trail to the Big South Trail.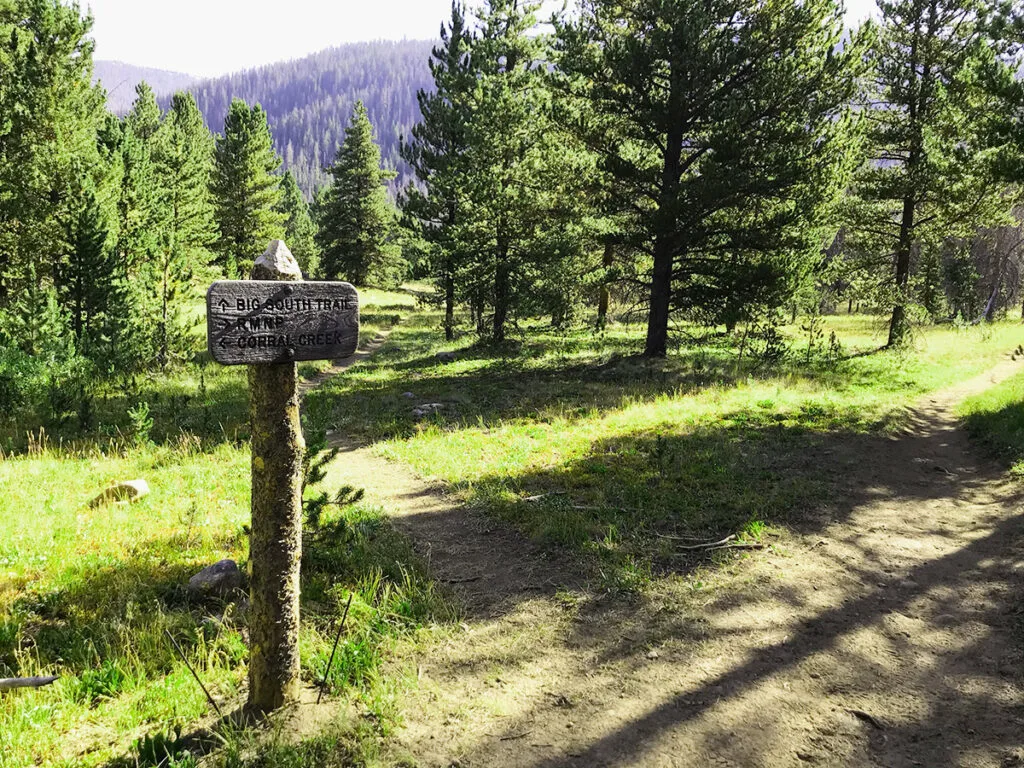 Explore Colorado
One of my favorite places on planet earth is right here. Enjoy everything the high country offers, enjoy the lack of crowds, and take in all of the incredible views, right here at Cameron Pass.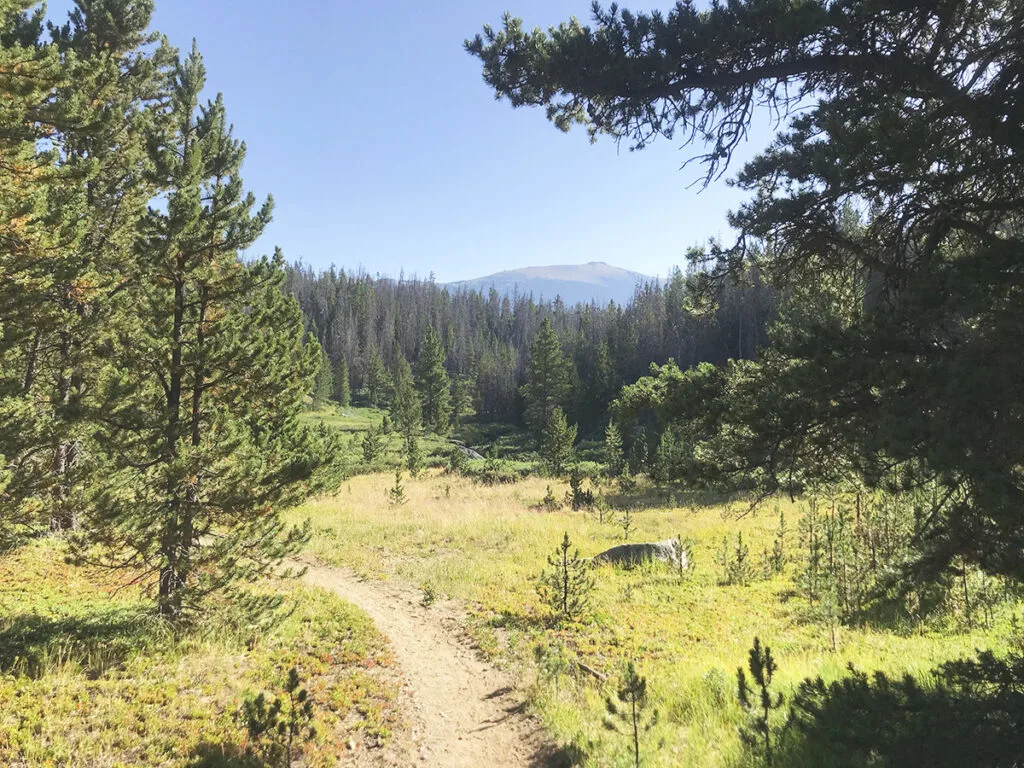 Pin this as a reference for your next Colorado adventure: