The popularity of outdoor recreation and camping has exploded in recent years, it's time to get outdoors and have some fun! And you've probably heard about glamping; let's dive in and better understand your glamping tent options.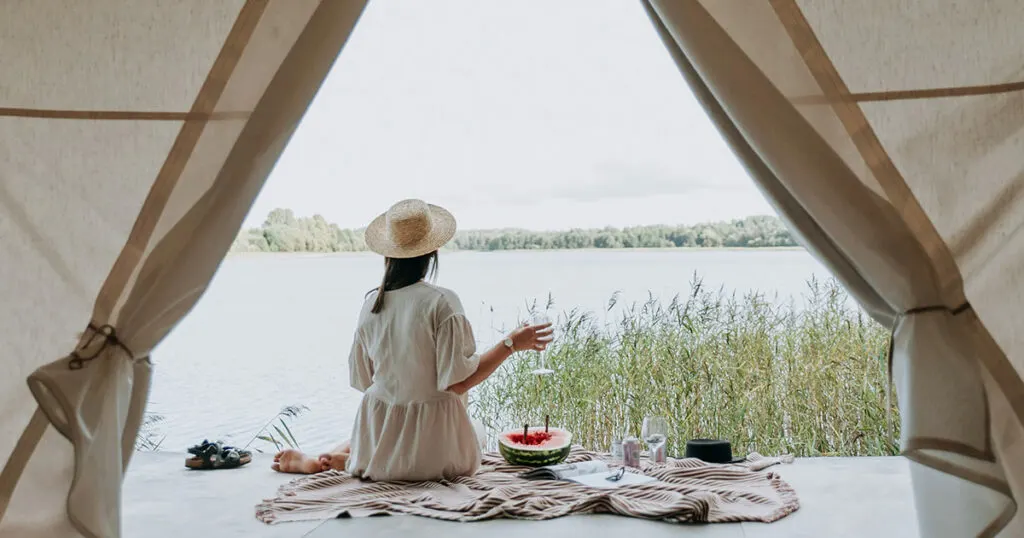 We'll consider what makes a luxury glamping tent worth the money and provide you with tent camping ideas and product recommendations that'll help you select the right tent design.
---
What is glamping and why should I consider it?
A new type of camping that's becoming more and more popular? Glamping. Love or hate the name, it's probably here to stay. I'm not a fan of the name but who cares? It combines the best of the outdoors with modern amenities and a different (unnecessary … yet fun and comfortable) style.
Glamping tents come in a variety of shapes and sizes. Hopefully you'll find one that's perfect for your adventure needs, here in this post. Small and lightweight or large and luxurious – you'll find glamping tents that are just right for you.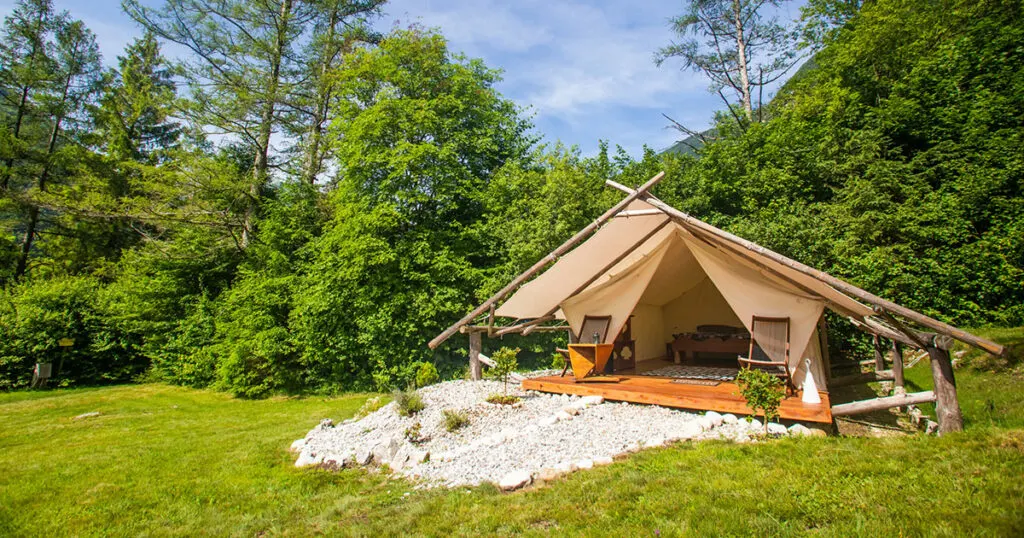 To make the selection process easier, we recommend you look at the tent's size, shape, construction materials, and ease of setup.
---
5 Types of Luxury Glamping Tents to Choose From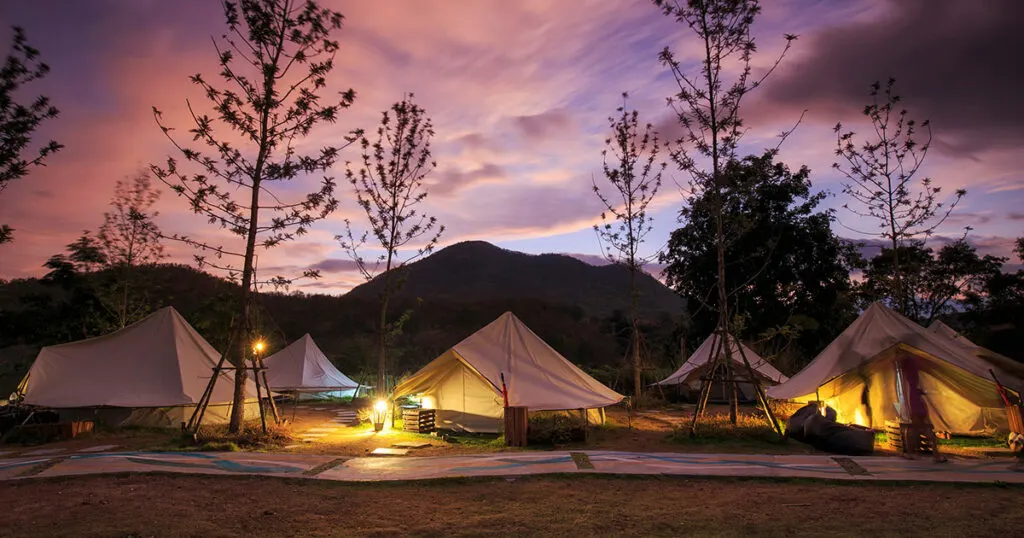 There are several layouts, types, and shapes to choose from when it comes to the right luxury glamping tent. To start, let's look at 5 of the most popular glamping tents on the market: Safari tent, Dome, Lodge, Bell tent, and the Yurt.
---
Safari Tent (AKA Wall Tent)
The Safari Tent is also known as a Wall Tent (what I usually refer to them as). With a relatively high ceiling and four straight walls, the canvas wall tent offers your family or camping group a lot more space than traditional pyramidal tents.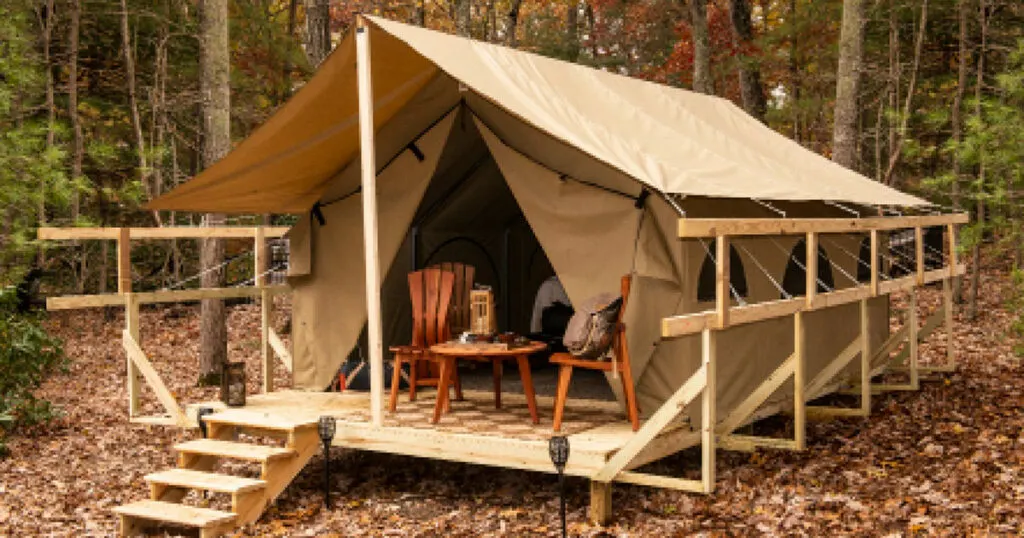 Safari tents are made of heavy canvas for the exterior, and steel or wood constructions surround to keep the shape of your structure. Most glamping options are going to be made of canvas (and for good reason). Safari tents are a good choice for all four seasons. They're sturdy, lightweight, and relatively easy to transport and setup.
This tent option has been improved over the years and is now one of the most popular (long term use) tents on the market. And when looking for a great safari style tent, use the keyword "wall tent" to open up your search options.
---
Why are most of these tent options made of canvas?
Canvas offers better weather resistance, durability, over-all strength, and breathability in comparison to other tent fabric options. Most well travelled explorers who camp in one location for an extended period of time choose canvas.
---
Dome Tent
The Dome tent is basically a geodesic dome. And it's perfect for casual camping.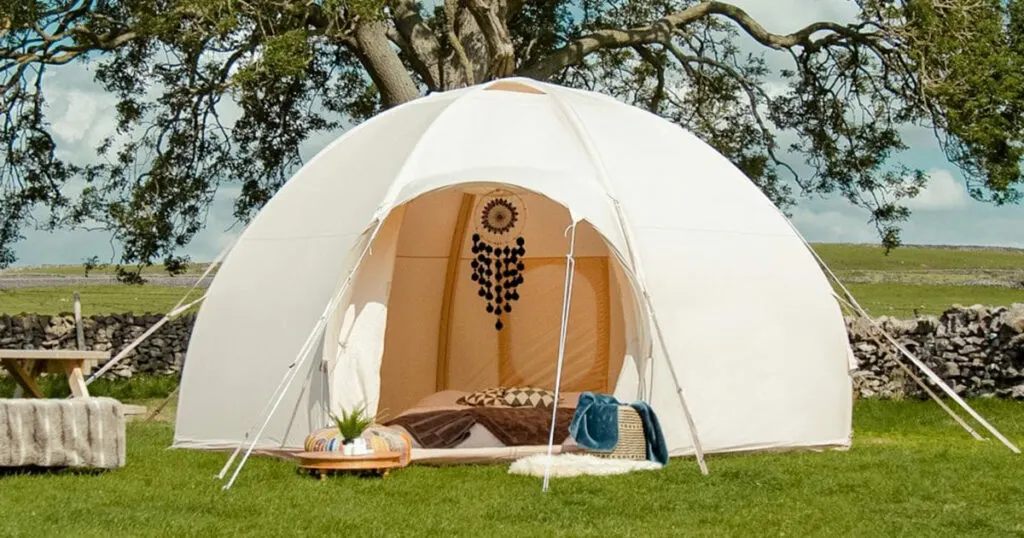 You can even create unique accommodations in a dome tent with household facilities and appliances. There are high end resorts that provide a unique, comfortable outdoor experience. The size of dome tents range extensively.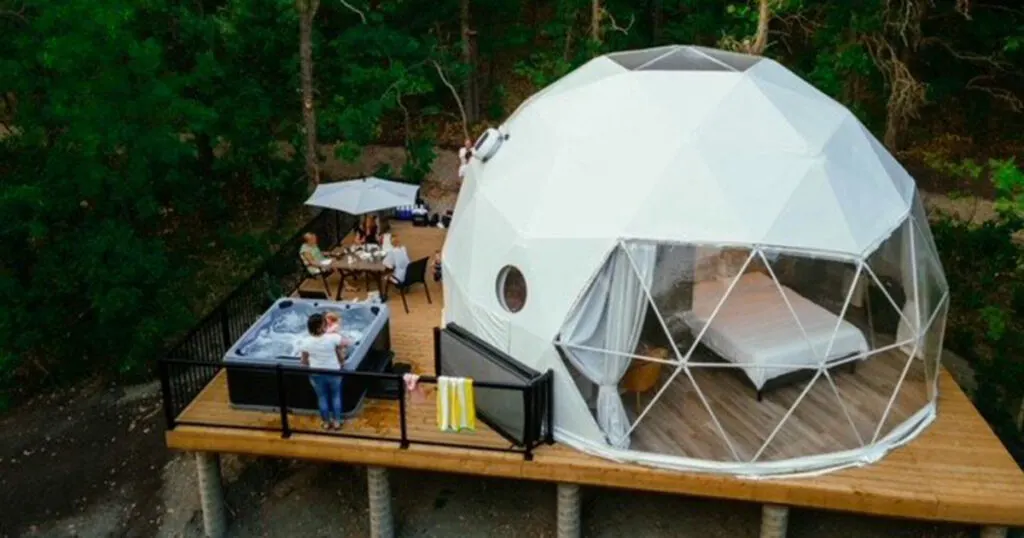 A solid structure, semi-portable and optional accessories make dome tents a popular option. They range in their size and offer space, comfort, and a living space that'll make you feel like you're a preferred guest at a nice resort.
---
Safari Lodge Tent (Luxury Glamping Tent)
Safari + Lodge + Tent. The space inside is typically large and luxurious, just like a lodge, but with a similar (yet larger) look of a large canvas wall tent.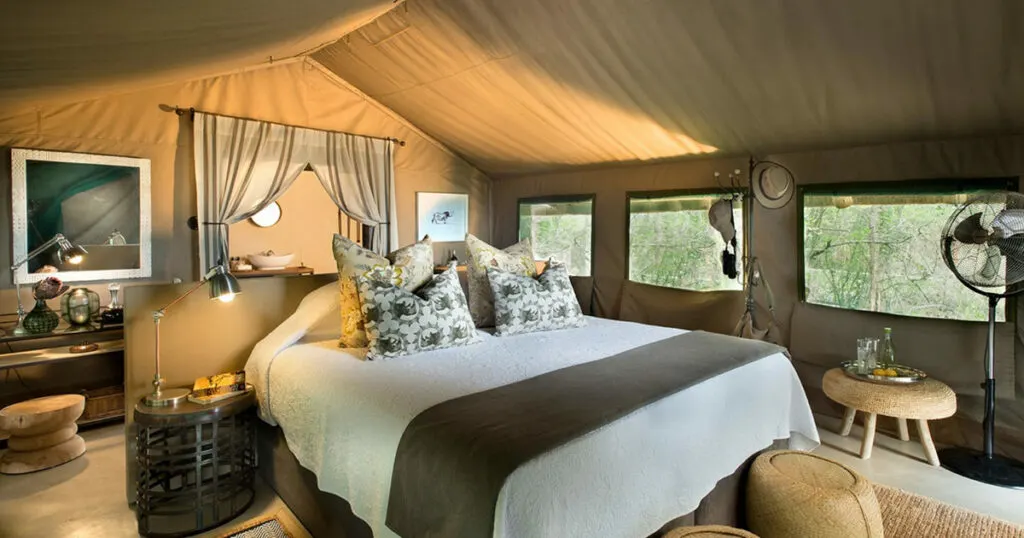 Some safari lodge glamping tents also have wood flooring or unique interior options as you can see here.
Underneath the canvas roof of this safari-lodge-style tent, you could find anything from luxurious decor and comfortable beds to private bathrooms and electrical appliances. All of these features make for a much more luxurious glamping experience.
Everything about a safari lodge glamping tent is bigger, more refined, and more luxurious than all other available "camping" options.
You'll find most of these structures to be year-round setups and available at luxury camping locations with modern amenities, a king size bed with high quality linens, tent stove, and all the comfort you'd expect at a luxury resort.
---
Yurt
Yurts are always round and are trellis-walled. And you can find yurts in an array of different sizes. I'm not 100% convinced that a yurt should be named a glamping tent but… here we are adding it to the list.
Yurts aren't typically canvas walled, the wall fabric is different than the other options we've been reviewing thus far. Most yurts are made with vinyl.
It's likely you'll find a yurt at a glamping resort, or a national park, state park, or an established campground where you could even expect a public shower, bathroom, fire pit, picnic table, among other modern amenities that'll make your camping experience even more glampy.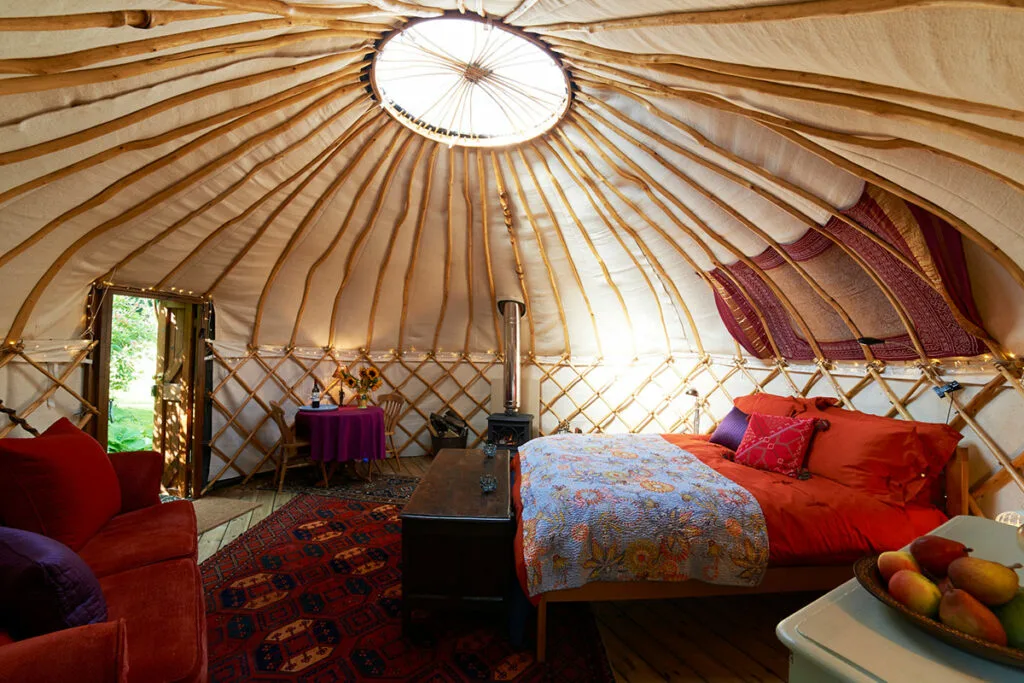 The yurt is typically supported by wood on the inside. The top of the wall on all self-supporting yurts is held up by a tension band that opposes the force of the roof ribs.
You'll find a lot of glamping yurts permanently affixed on a wooden platform in popular recreational areas.
---
Bell Tent
The bell tent has a long history and the layout is thought to be as old as 600AD. The canvas bell tent structural design and material usage is simple; it's supported by a single central pole, and typically made with a high quality canvas.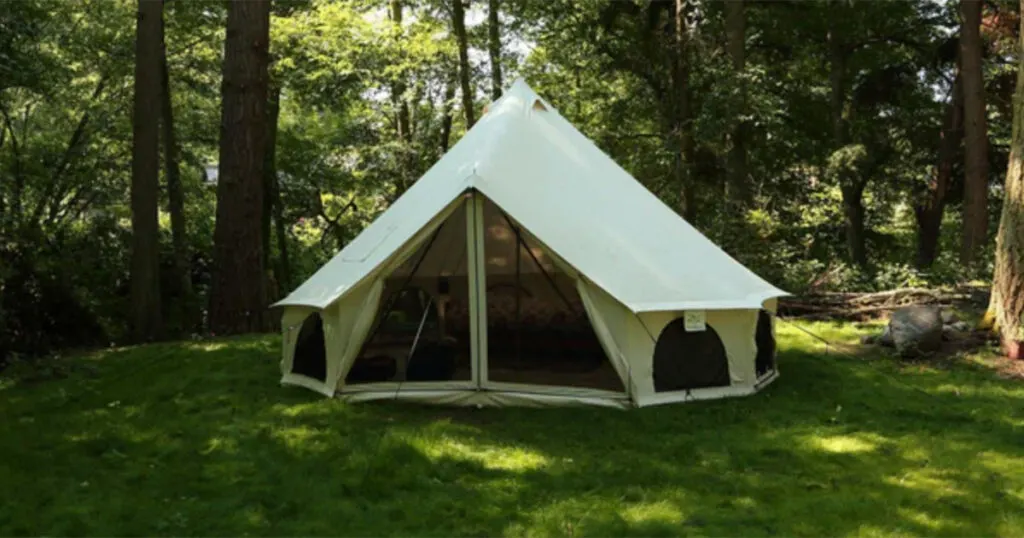 The stability of this tent is reinforced with tension by guy ropes that are connected around the top and held down to the ground with pegs around the circumference of the tent.
---
Why is it called a guy rope?
Guy rope originated in the early 1600s with the Dutch. On ships, they used "gei" ("guy") as the name of the rope or wire that holds the mast or mainsail in place. In other words, a "guide" wire.
---
Bell tents come in various sizes, perfect for short weekend trips or long term adventures.
How to Pick the Right Size Glamping Tent
Tents vary in size – and the shapes/styles we just reviewed have a lot to do with how to pick the right size glamping tent. Most are big enough to fit actual furniture (much larger than a standard nylon camping tent) but you probably aren't going to need anything that's as big and luxurious as a safari lodge tent.
Group Size
You'll need to determine how many people and what type of equipment and amenities you plan to keep inside the tent.
How Long and Where?
You'll also want to plan how long the tent will be up, outside, in the elements. Is this a permanent 4 season luxury glamping setup? If it is, you'll want to consider canvas wall tents, find a trustworthy glamping tent manufacturer, and start planning all of the details (like where it'll fit and if you'll need a platform).
Small Glamping Setup
If the setup is only for a couple of weekends over the summer, go small, stay light and portable.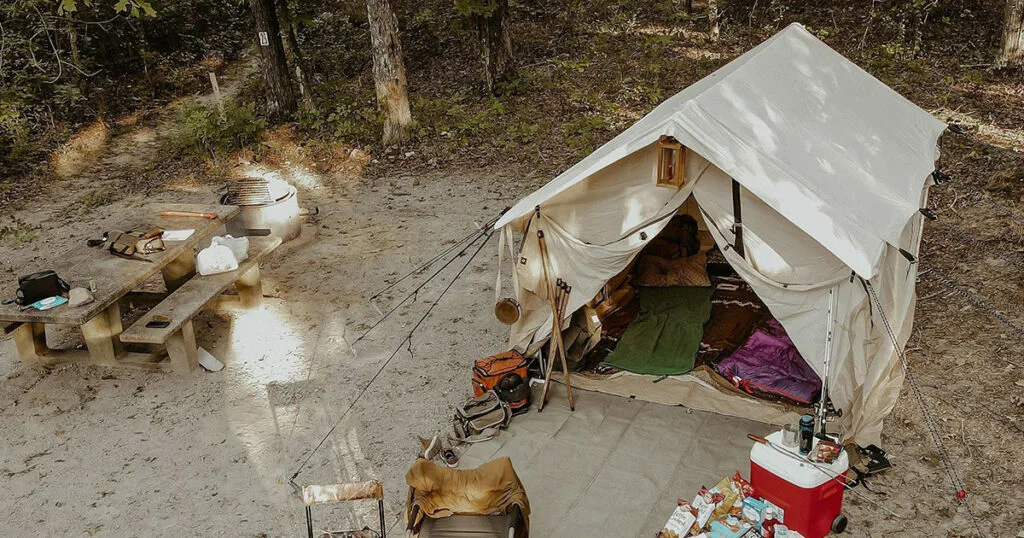 Permanent (& Big) Glamping Setup
If you're planning on a longer run with more days in use, opt for a larger tent that'll keep you comfortable in any possible weather conditions.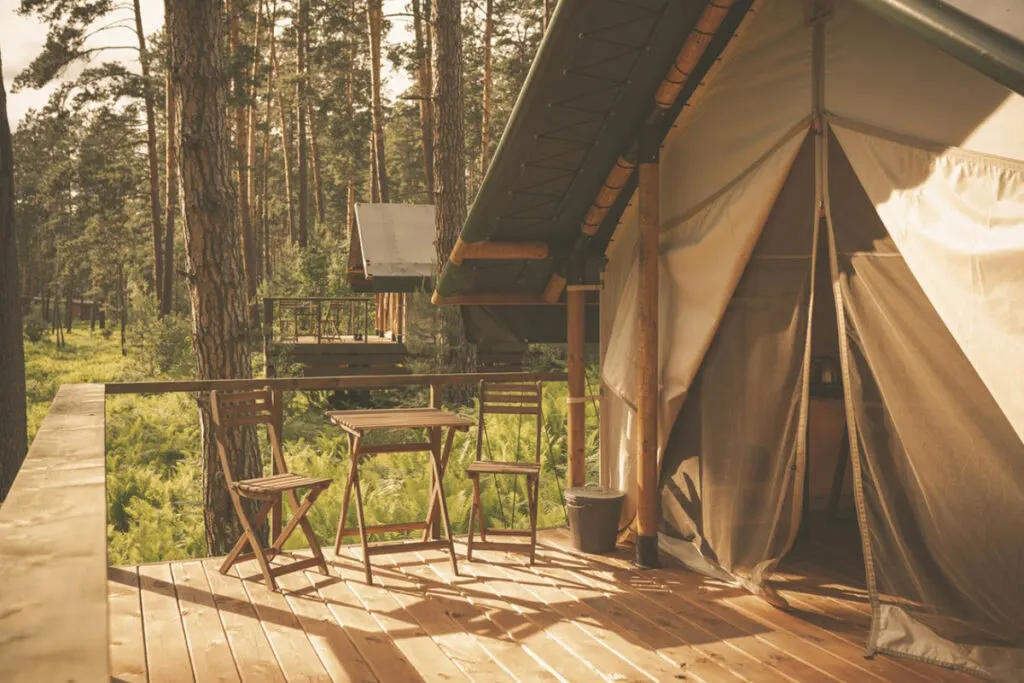 Glamping Tent Materials
The classic glamping tent is made of canvas. These canvas tents need a wooden base structure or steel poles, various flooring materials, and window considerations.
---
About Tent Canvas
Canvas is traditionally made from cotton and is a heavy, woven fabric. Today, tent canvas is often made from man-made fibers like polyester. Canvas is also called Duck, and that's not because water rolls off canvas like a duck's back like you'd think. Duck is from the Dutch word "doek".
---
If you're in need of a fall, winter, or spring setup, you'll want to plan on a tent that's suited for a wood stove.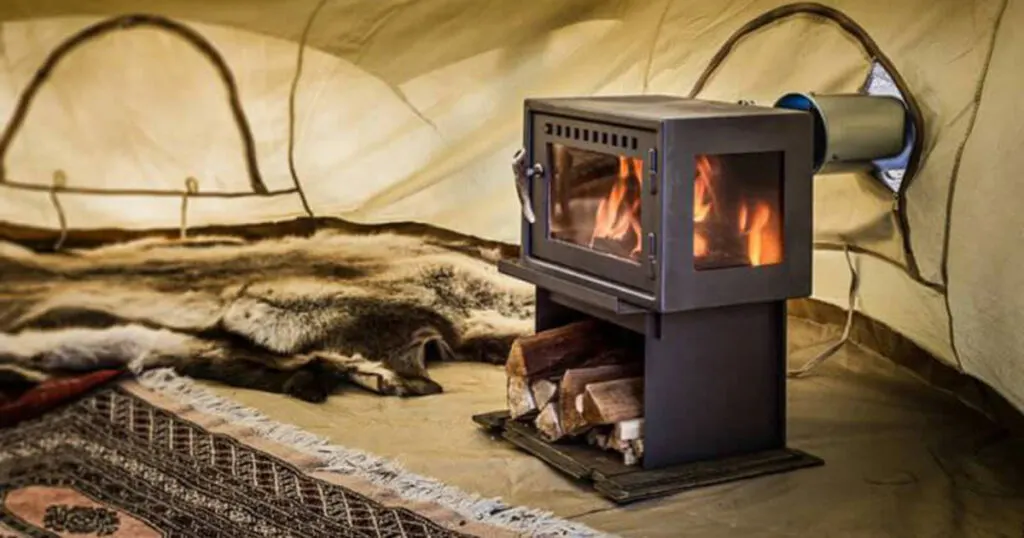 Getting the materials right will help you better enjoy your camping trip or long term camp experience more.
---
Pick the Best Glamping Tent
I've considered various aspects of the build: shape, size, materials, construction and ease of setup. There's something for everyone and every type of outdoor activity. Price isn't always the best indicator of value but with these canvas tent options, it kinda is. After-all glamorous camping comes at a price (okay that's cheesy), sorry.
The zippers, the canvas quality, window layouts, how it's assembled, the flooring, and more go into what makes a luxury tent worth the hassle.
I keep leaning toward a personal favorite: the canvas wall tent. While you're not going to have air conditioning and a king size bed, you will be able to enjoy the benefits of a real luxury camping tent with creature comforts.
Glamping Tent Recommendations (to buy)
What's the Best Camping Tent for You?
Camping is a great activity for the whole family, whether at a national park or on your own property. A canvas glamping tent allows you to explore nature and enjoy time with your loved ones in comfort. When looking at luxury tent options you're probably going to land on the cabin tent which can also be called a wall tent, safari tent, etc… and you can bet, it'll be made out of a high quality canvas material.
This walled tent option really provides a feeling of luxury camping and I think it may be due to the fact that it's spacious and easy to move around in. And if you're camping in the cold: you'll have a wood stove. Nice.
When it comes to camping, there's a lot to consider. It can be overwhelming.
Some tents are designed for families while others are designed for couples or individuals. It's important to find a tent that meets your needs and fits your budget so that you can make the most out of your camping experience!
We've created a comprehensive list of all camping essentials you'll want to check out to help you truly enjoy the adventure.