In this post we look at a few reasons why you'll want to consider a tent carpet.
Adding more and more gear to your camping checklist can get annoying. Do you really need all of that stuff? Probably not.
But… let's look at one more item that may make your camping experience more comfortable.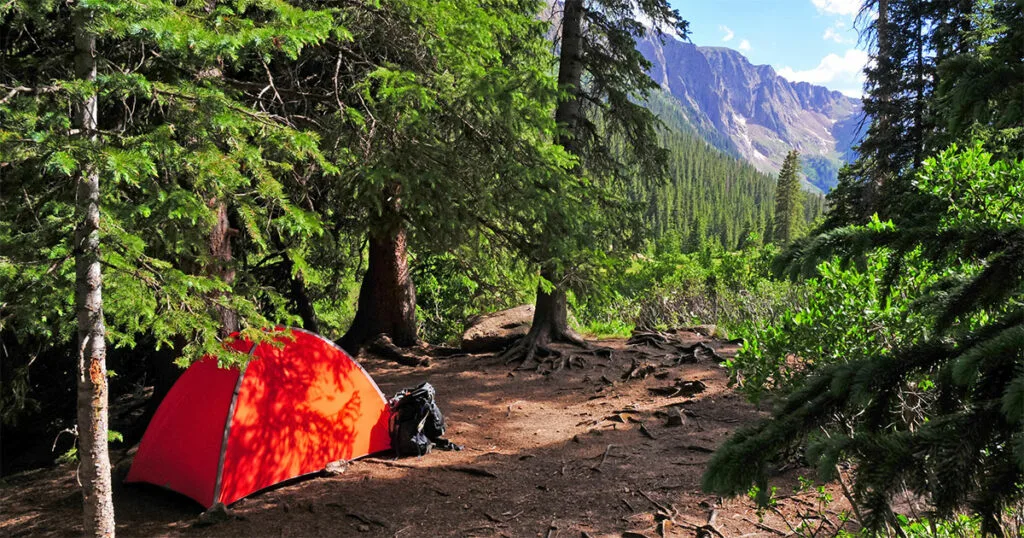 Similar to a rug or carpet in your house, the "tent mat" provides added comfort to your tent floor. But that's not all. Let's look at reasons whey you may want to consider a tent carpet and what options are available to you.
>>> Click here to Jump to My Tent Carpets Recommendations <<<
Does a tent carpet provide insulation?
Yes, let's look at why a it's a great option for adding insulation to your tent. When camping in Colorado (especially in the high country) getting cold temps overnight is common. I really love sleeping in cold air but there's a point at which being too cold keeps me from sleep. When it's cold, finding a balance of the right temperature in a tent can be difficult.
The air temp isn't the only issue you have to deal with when staying in a tent. The ground has a way of sucking heat from your body if you're lying on the ground. To avoid the warmth lost from tent camping, a good blow up mattress, sleeping bag, and a tent carpet are great options.
This camping gear addition also provides an added level of insulation from the cold ground. If you're camping in a cold climate, get the added insulation benefit of a tent carpet.
Added Comfort with a Tent Carpet
One of the best reasons to have a rug in your tent is the added comfort. It's not that you're spending a lot of time in the tent (unless it's raining… maybe). But there's just something about a floor without rocks or twigs or sharp objects poking through. No matter how much time I take setting up the tent, there's always some sharp pokey annoying me.
A common piece to your tent setup is the groundsheet. While that's a great start, it doesn't provide you with the comfort a really great rug in your tent will give you.
If you want an added level of comfort, less pokey things, and a better feeling when barefoot, a tent carpet will be a great addition.
Provides Protection
If you're staying in a larger tent, moving around, it's possible you'll drop something, maybe sharp, and you'll tear a hole in the tent floor. Get an added level of protection against accidents with a covering on your floor.
And if you have an older tent, it may already have holes that you won't want to make larger. If you have an older tent, a tent carpet helps to extend the floor of your aging tent.
Reduce Noise
Tents are notoriously noisy at night. The zipper and the crunchy sounds the fabric makes when you're moving around. While it sounds quiet during the day, those sounds are amplified at night. A tent carpet reduces much of that noise allowing you to enjoy the piece and quiet of camping.
If you like the idea of a quiet camping experience at night, you guessed it… tent carpet.
---
Tent Carpet Recommendations
You don't need to use something specifically labeled as a tent carpet to enjoy the benefits of having a carpet in your tent. I'll review a standard option and an alternative.
Camping Tent Mat
This particular product offers a carpet-like material that adds a level of comfort for sleeping or even just standing on. It also includes a waterproof backing and easy to roll up and transport. It's also very durable.
Reviews
I bought this after setting up camp on rocky ground and getting sick of crawling around on the rough ground. It is absolutely worth the expense!

Amazon Customer
I liked this product and bought two because of the difference they have made in my camping comfort.

Amazon Customer
Outdoor Camping Mat (Carpet Alternative)
This product isn't made to be a tent carpet but it's a great alternative that serves several additional purposes. The Original Mat is a high quality option that's used as a sand-free ground pad, beach blanket, or as an equipment mat for outdoor activities.
I would probably start here, with this product (even though it's not as comfy as a typical tent carpet). This mat serves so many purposes, it's a great option to your camping gear collection.
Reviews
I love this mat!! It's sturdy, comfy under foot and keeps the dirt/sand from spreading in our tent!

Amazon Customer
This product was essential for keeping out sand in front of our Travel Trailer. We have 3 dogs and this saved me a ton of time! Instead of cleaning up…I was adventuring!

Amazon Customer
Outdoor Rugs
If you're in a pinch and need something useful to replace your lack of having an actual tent carpet, go ahead and grab an outdoor rug. This option is going to be clunky, hard to pack, and eventually… smelly.
While it'll work, it's not my number one pick.
Final Thoughts on Purchasing a Tent Carpet
A tent carpet that you can wash is a solid idea.
Figure out what type of fabric you'll enjoy the touch of and get that.
Easy storage is ideal when selecting a tent mat option. Fold easily? Compact?
If the rug/carpet is water resistant or sand proof, that's a huge bonus.
Pin it: