What are the products you'll want to properly get your truck camper setup? In this post we review what you'll need to get your truck properly ready for a truck bed camper.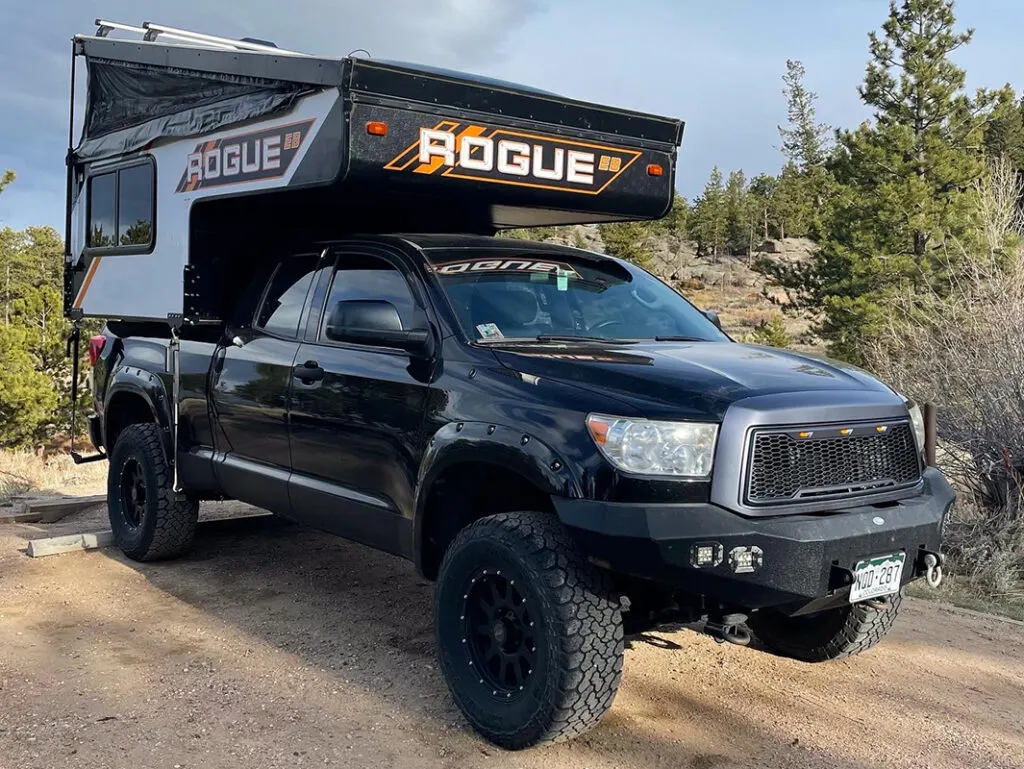 I have a full Palomino Rogue EB-1 Camper review if you're interested.
For this post the specific recommendations are for a 2012 Toyota Tundra. However, these recommendations are for all 1/2 ton trucks. You'll also find that most of these products come in models meant for the coordinating manufacturer.
Here's a list of 1/2 ton pickup trucks:
Ford F-150
Ram 1500 Tradesman & Laramie
Chevrolet Silverado 1500
GMC Sierra 1500
Toyota Tundra
Nissan Titan
There are also truck camper options for small trucks (like the Toyota Tacoma).
---
Truck Camper Setup Modifications & Items Needed
Thinking about getting a truck camper but not sure how much all of the accessories are going to cost to get you up and moving? In order to get things right the first time, you'll need to spend money on a few items that'll ensure the protection of your property while providing safe travels.
Heavy Duty Air Suspension Springs
Frame Mounted Camper Tie Downs
Locking Turnbuckles
Hitch Mounted Step
Horse Mat & Lumber
---
Heavy Duty Air Suspension Springs
The standard build of a Tundra (and most half ton pickup trucks) isn't quite good enough for the payload of having a truck camper in the bed of the truck. This means you'll need extra support for the back axel.
If you have a 3/4 ton or full size truck, you may have adequate suspension. You'll want to check your manufacturer's recommendations.
The heavy duty springs we chose for this truck camper setup are from AirLift. The LoadLifter 5,000 is controlled easily via an air hose assembly. This valve stem is positioned near the rear license plate and can be filled quickly with any air pump.
Couple of big takeaways with this air suspension add-on: it increases your load-leveling capacity up to 5,000 pounds and it comes with a lifetime warranty. Note: the Palomino Rogue truck camper mentioned in this post weights around 1,400 pounds which is well under the rating of these air suspension springs.
Click the image below to view details on this product:
Adding improved air suspension helps maintain your truck's longevity while also providing you with a smoother and more reliable ride (especially in rough conditions).
---
Frame Mounted Camper Tie Downs
You don't want your truck camper falling off the back of your truck bed. In order to ensure your truck camper is properly attached you'll want a high quality mounting system in place.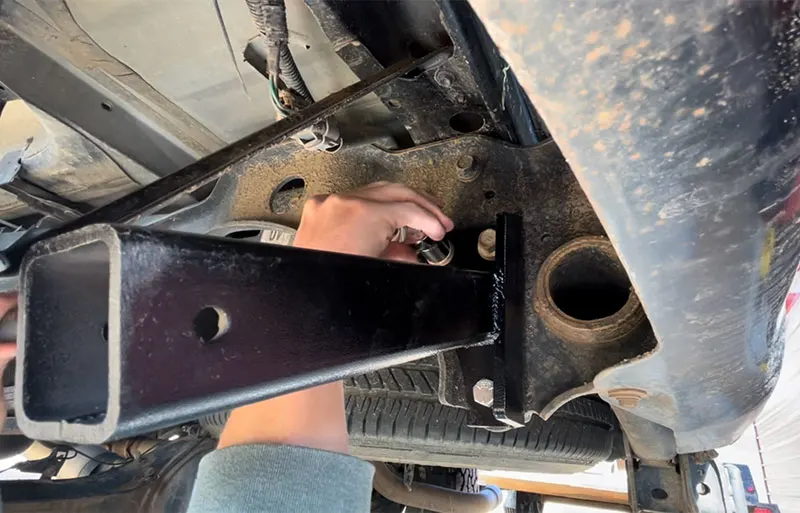 Opting for a frame mounted camper tie down is a solid choice. This option allows you to install the tie downs to the frame of your truck once for easy access each and every time you "install" the truck camper.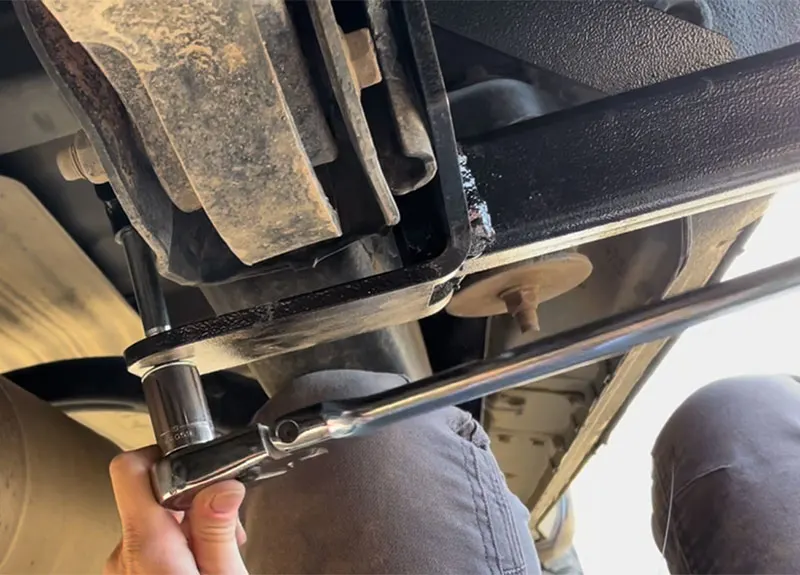 These mounting brackets you see here are all secured to the frame full time (whether you're attaching your truck camper or not).
You can then attach the added slide insert to connect the camper anytime by just inserting the bar into what you've attached to the frame of the truck.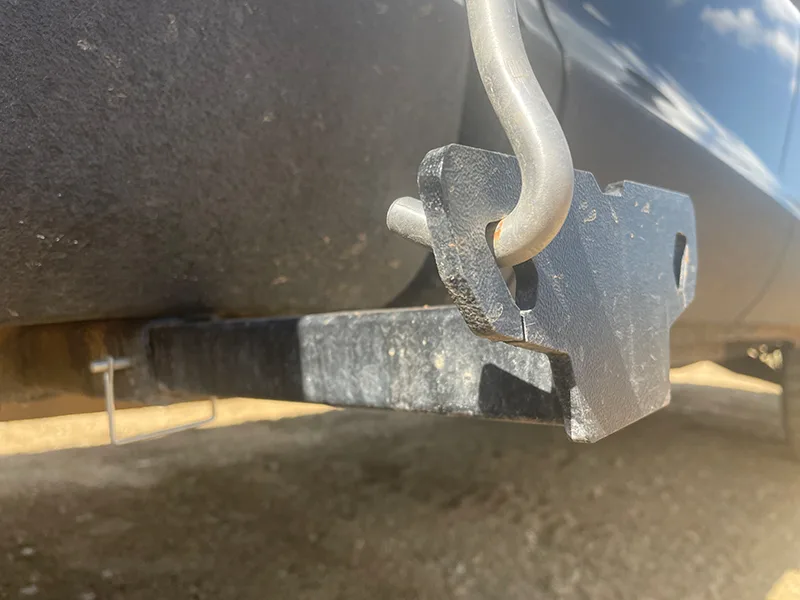 Inserting the slide into the frame-mounted brackets takes a minute or two and can easily be removed anytime. And when not in use, you can barely see the frame-attached connections. TorkLift sells vehicle specific fits.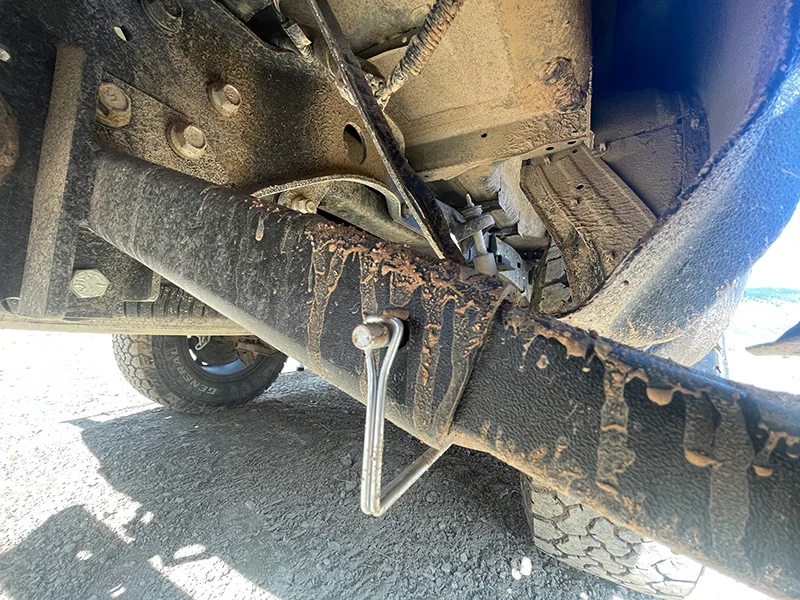 Tie-downs provide attachment points at the front of your truck bed for securing a bed-mounted camper.
Frame-mounted design ensures excellent handling.
Securing camper to truck's base instead of its bed better distributes weight to keep setup from being too top-heavy.
Virtually undetectable when they're not in use. Tie-down inserts can be easily removed from frame-mounted receiver brackets with included pins.
Custom fit for your vehicle. Brackets fit tight to truck frame – no loss of ground clearance.
Powder coated steel construction.
From manufacturer: tie-down inserts, frame brackets, and necessary hardware included. Lifetime warranty
---
Locking Turnbuckles
Quality built turnbuckles will help you feel more confident through any terrain. These turnbuckles make it fast and easy to secure your truck bed camper to your truck.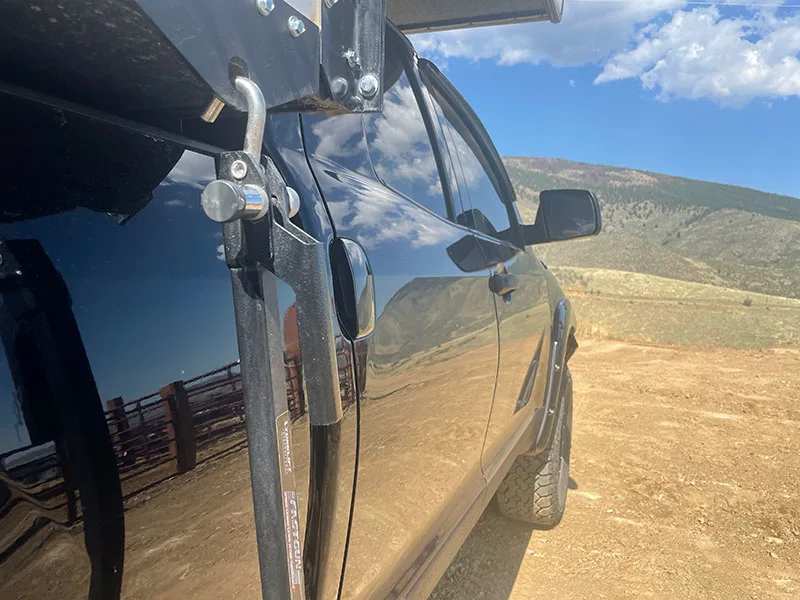 The difference between these (expensive) turnbuckles and the cheaper ones is noticeably different. Cheaper ones need to be manually tightened. The TorkLift FastGun allows you to hook one end of the turnbuckle onto your camper attachment and the other hook to the frame mounted tie down.
There is a balancing act of twisting the bottom section to the right length (very easy). Once you've found the right length with just enough space to get each hook in their respective holes, then:
It's time to tighten the turnbuckle. All you have to do is flip the lever-action handle down and you're connected.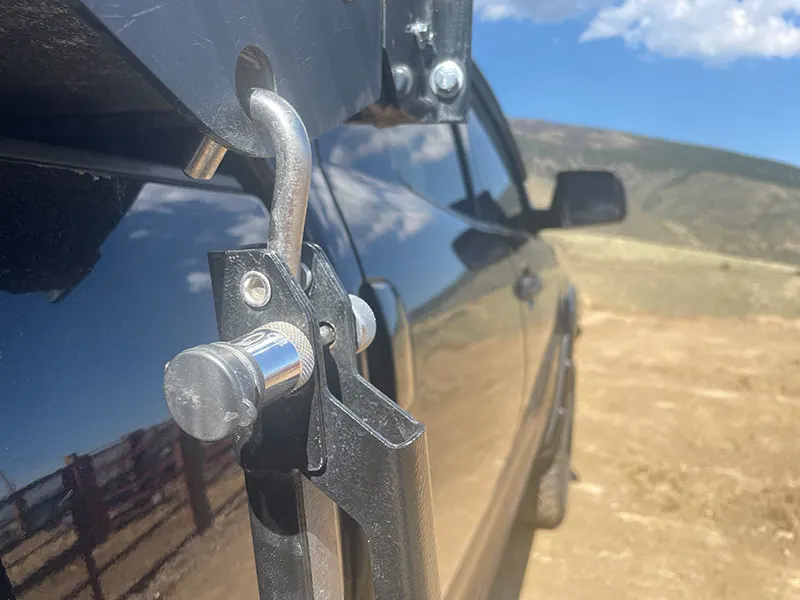 After you have a tight fit, use the pin lock to secure. You're done!
You'll need 4 turnbuckles in total.
Planning on a camping trip and not sure where to start on prepping the camping gear you'll need? Check out this post: Camping Essentials (Complete List of Camping Gear)
---
Rear Hitch Mounted Step
Even if you're towing a trailer I'd recommend getting a hitch step for easier entry into your camper. This is especially true if you've got a lifted truck. If you're towing, just bring this along and pop it on when you get to your campsite and park your trailer.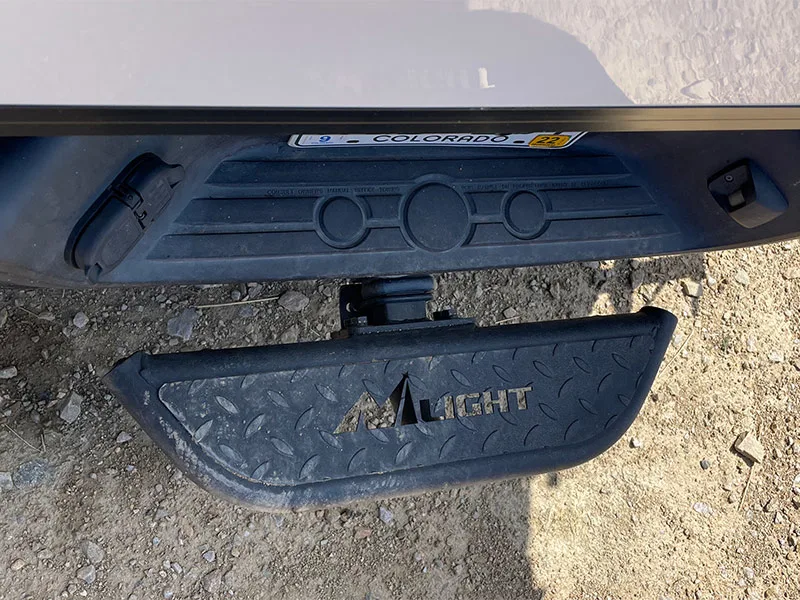 This add-on is NOT necessary for a proper fitment or ride assist for your truck camper setup.
With the added equipment this connection is absolutely solid with no rattling or annoying "loose" sounds. This accessory also adds a little protection to the back of your rig, kinda like a bumper for your bumper.
---
Horse Mat & Lumber
These two pieces make the entire puzzle fit just a little better.
Horse Mat Buffer
I removed the plastic buffer pieces attached to the camper that separate the front of the camper against the wall of the bed on the truck. This allowed me to get a tighter fit for the Palomino Rogue. I attached a section of a horse stall mat as the buffer between the cab and the truck camper.
The bottom horse stall mat is for a buffer and added support.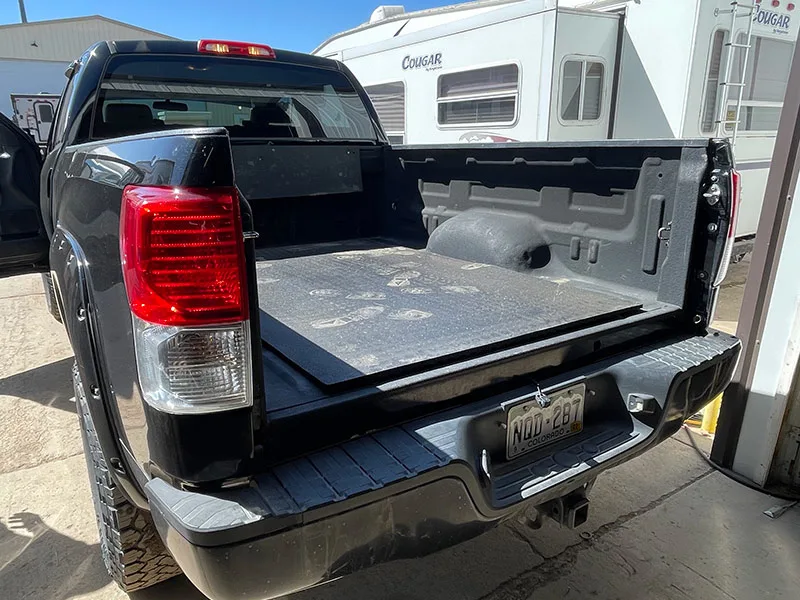 Lumber/Decking Material to Secure Camper Position
The tie-downs and turnbuckles are vitally important and valuable to your overall truck camper setup. However, I live on a rough dirt road. I camp in areas that are hard to access (bumpy with rapid elevation changes).
After a few test drives when I first purchased the truck camper, I realized the camping unit would shift around slightly in the bed of the truck. It was still secure but it was no longer centered perfectly.
I took a few scraps of 2×6's 2×4's and decking and got the perfect fit (on both sides). It's held up nicely and hasn't moved at all (it just can't).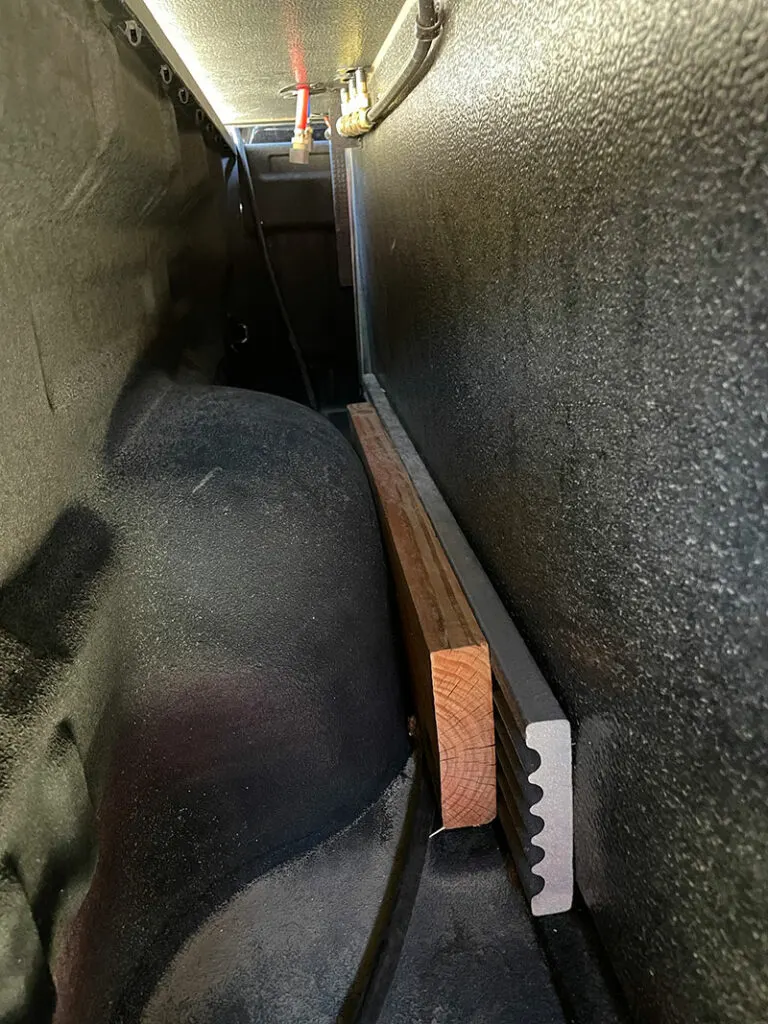 Because of the (lucky) tight fit, I didn't have to cut or reshape any wood. I've also not seen any wear that would indicate a long term problem. Very snug and tight.
---
Truck Camper Versatility
I love the fact that you can configure your truck to also be your camper. It's the perfect multi-use tool for adventure. If you're considering getting a van or a C Class camper, I'd highly suggest checking out a truck camper setup, you might be surprised at how much you'll love the versatility.
Let me know in the comments if there are any additional setup concepts you've included on your truck camper build.
Pin this: