Picture this: a crisp, sunny morning in the heart of nature as the birds chirp and the trees whisper in the wind. The smell of campfire, the sound of laughter, and the sight of glistening water all around. This is the dream of camping done right. But all too often, the reality of camping trips can be far from this idyllic vision. Poor planning, lack of supplies, and lack of knowledge are all common culprits behind a trip gone wrong. But with the right tips and tricks, a camping trip can become a once-in-a-lifetime adventure.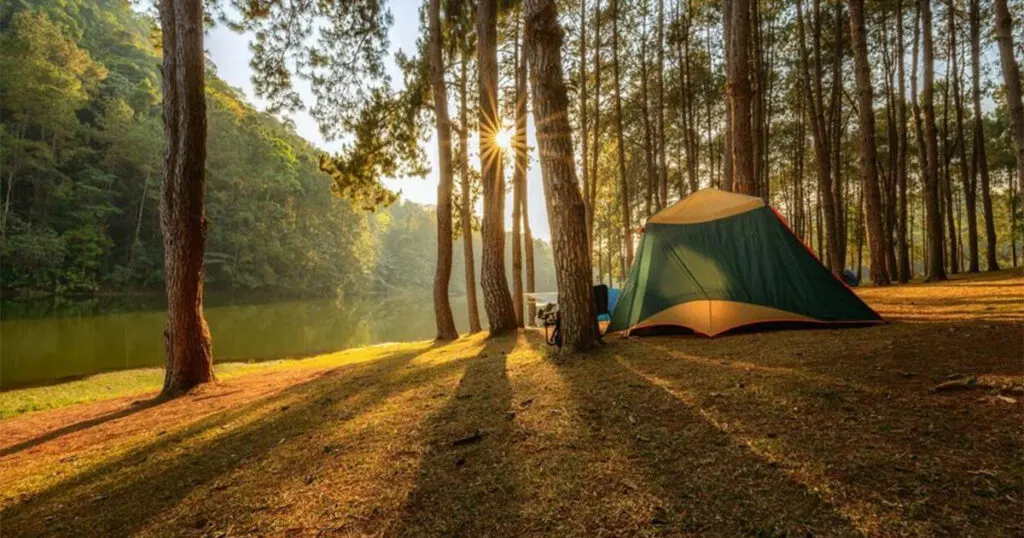 With the proper knowledge and preparation, camping can become the perfect getaway and provide memories to last a lifetime. Checkout our camping archives.
Understanding Terrain And Weather
Understanding the terrain and weather of the camping area is essential for having a successful and enjoyable trip. Especially if you're wild camping. Knowing the type of environment, you will be camping in will help you choose the right gear. And plan for any potential challenges or hazards. Research the area and understand the potential risks associated with camping in the area. When it comes to weather, monitor the forecast for the duration of the trip. Knowing the temperature, precipitation, and wind conditions can help you to plan properly and stay safe.
Try Some Outdoor Activities
A camping trip can be one of the most enjoyable outdoor activities. But there are plenty of other activities that can be enjoyed while camping. Hiking and exploring the area is one of the most popular activities, as it allows campers to get in touch with nature and take in the sights. Fishing, swimming, and boating are other popular activities that can be enjoyed in many locations. Of course, canoeing is a must, but check out what Monty Cerf says about choosing the perfect canoe first.
Campfire stories and sing-alongs are classic camping activities that can be enjoyed by all ages. Playing cards, board games, and scavenger hunts can also provide hours of entertainment. And, of course, the classic s'more can be a delicious way to end a night of camping fun.
Great Technology And Gadgets
Technology and gadgets can make camping even more enjoyable, as they can provide entertainment and convenience. Smartphones, tablets, and laptops can all be used to stay connected and to provide entertainment. In addition, portable chargers, solar panels, and battery packs can ensure that your devices stay charged throughout the trip. And for those who want to bring their music or movies, some portable speakers and projectors can be used to enjoy them.
Food And Meal Planning Done Right
The right food and meal planning are essential for a successful camping trip. Planning ahead is critical, as it will ensure that you have enough food and supplies for the duration of the trip. Packing non-perishable items like canned goods, dried fruit, and nuts can be a great way to ensure that you have enough food. For those who want to enjoy a hot meal, pre-made camping meals are a great way to ensure that you have something delicious and nutritious. Granola bars, trail mix, and dried fruits are all great snacks that can give campers a much-needed energy boost.
The Ultimate Camping Checklist
In addition to knowing your terrain and preparing for fun activities, it's also important to have a comprehensive camping checklist. This checklist should include all the essential items for a camping trip and any things that may be forgotten.
Tent
Sleeping Bag
Sleeping Pad
Stove
Fuel
Fuel Canister
Camp Cookware
Utensils
Cooler
Ice Packs
Clothing And Shoes
First Aid Kit
Flashlight And Extra Batteries
Maps And A Compass
Matches/Lighter
Insect Repellent
Sunscreen
Food
Water
Trash Bags
Toilet Paper
Soap
A comprehensive list of the essential items for a camping trip can help ensure a successful trip. With the right supplies and a well-prepared checklist, a camping trip can become a once-in-a-lifetime adventure.
Ready for your trip of a lifetime? Let us know in the comments your must-have items that make your trips unforgettable. Also, make sure to check out the incredible Colorado HipCamp here at Buckhorn Cliffs.