Wanting to disconnect and experience a real mountain vacation near Fort Collins but not sure where to start? In this article we'll review surprisingly budget friendly, yet amazing adventures that'll allow you to recharge in the fresh mountain air very near Fort Collins, Colorado.
I'll give you two unique options (read through the entire post to see both options).
Where to Start Your Mountain Escape
You'll need the right equipment and accommodations that'll allow you to sleep easy and actually enjoy the journey. We've got you covered, keep reading: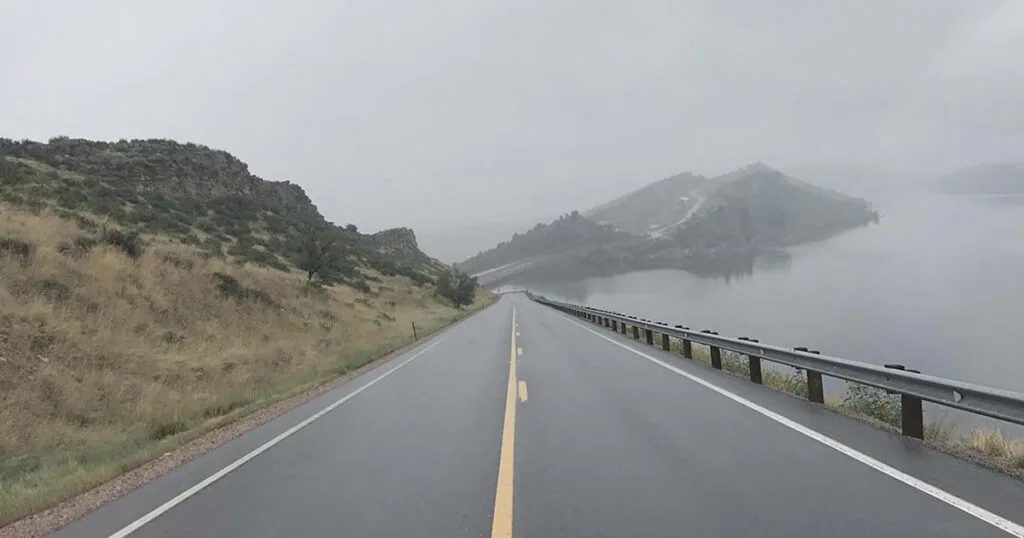 The first step in prepping for adventure is understanding the gear you're going to need for comfortable camping. And if you're not looking to spend thousands of dollars at REI, your best bet is going to be renting everything you need from one source.
We've put together a full package of essentials to help you (and a friend/significant other) travel in rugged comfort and style.
And what's amazing about where we live?
The mountain exploration opportunities near Fort Collins are nearly endless. And you really won't need lodging or reservations when you let us outfit you for your northern Colorado adventure.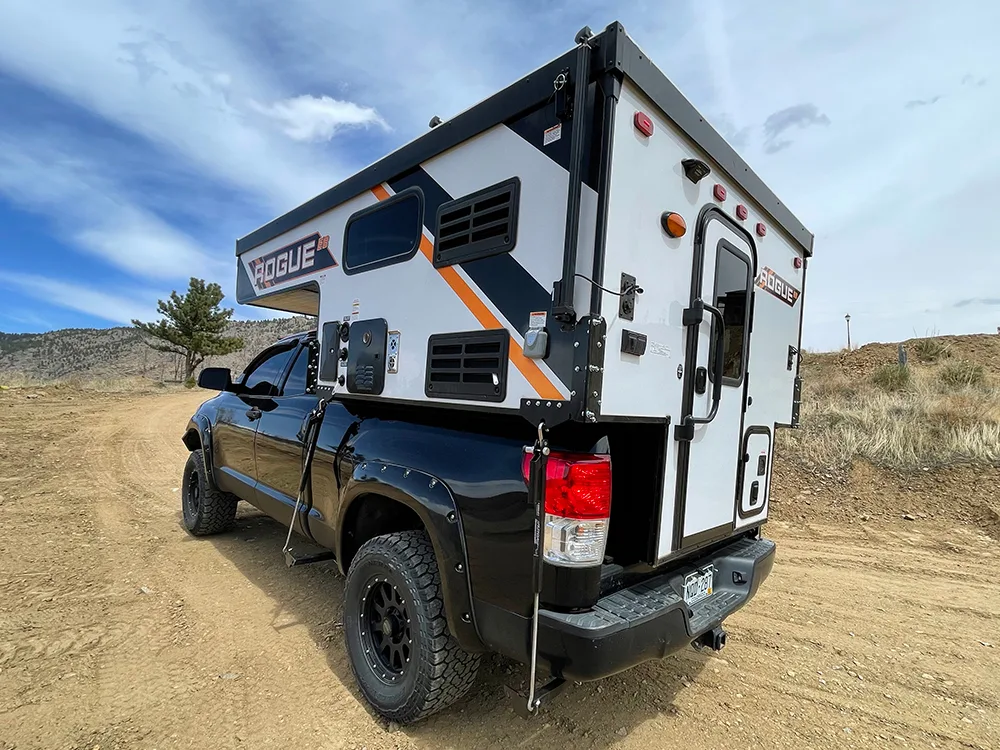 First, you'll get started with the Tundra Rogue (this truck camper). The Tundra Rogue setup provides an advantage when attempting to explore all that northern Colorado has to offer.
No crowds, just you, your significant other, and the fresh mountain air.
Renting THIS Truck Camper, you won't need to:
Spend all the money to buy a truck and a truck camper.
Attempt hauling a trailer on sketchy mountain roads (where you don't know if you'll be able to turn around).
Worry if your car or van will have the clearance to get you safely to camp without getting stuck.
Worry about all the costly maintenance.
We handle it all for you.
We provide you with an incredibly capable (6″ lifted, 4×4) Toyota Tundra and a comfy, well equipped truck camper.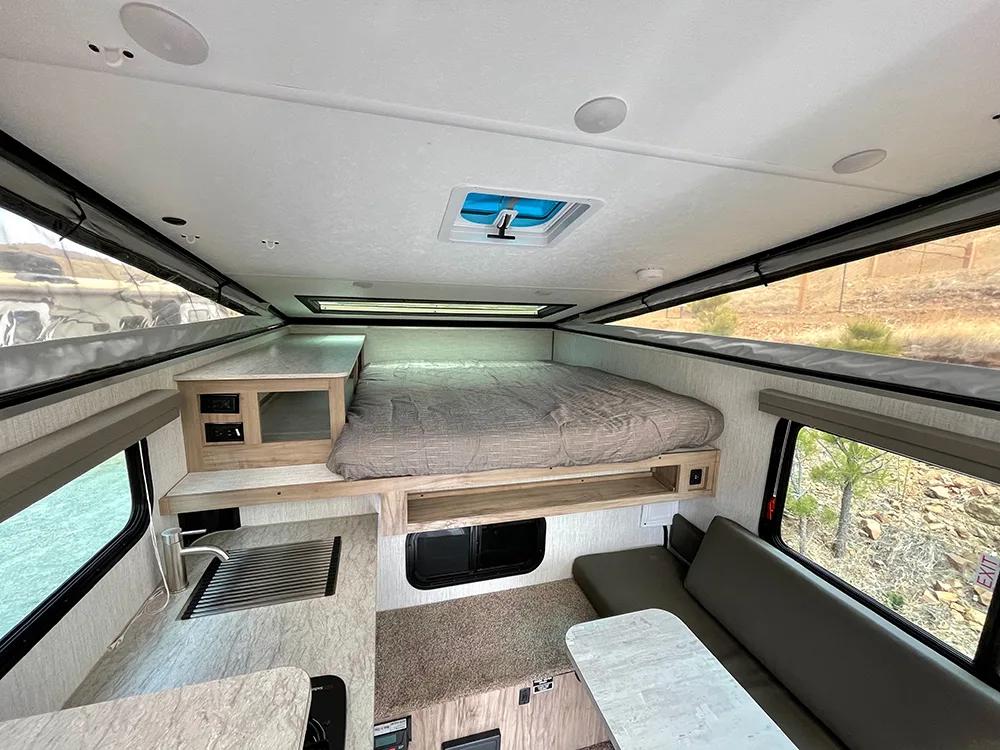 Not only do we provide the transportation method and the comfy camping setup: we also provide you with all of the equipment you need for Fort Collins vacation.
Take a look at all of the benefits of renting the Tundra Rogue and see what you get with a rental.
Vacation Travel on a Budget
Let's review the cost savings on this type of a vacation.
What you don't have to spend money on:
Airfare Expenses
Lodging Expenses
No need to purchase special equipment that you may never even use again
Dining Out
What you will need to spend money on:
The Tundra Rogue Rental (includes all needed equipment, propane, water, the rugged travel method, and comfortable lodging)
Gas
Fun camping food from the grocery store (costs so much less than eating out for every meal)
How do you avoid paying for lodging or campground fees?
Most campgrounds in northern Colorado book up pretty quickly (even before peak camping season starts). It can be difficult to get the perfect campsite in a paid campground unless you plan early.
If you decide to stay at a campground you'll get water, vault toilets, and in some cases, a power hookup.
Also note: many campsites in northern Colorado keep a supply of a few campsites that are not available to book online. Meaning: they leave them open on a first come first serve option.
You do run the risk of the possibility that they're already taken. It's smart to have a list of available campgrounds so you can move on if all sites are taken. It adds to the adventure…
It's a good idea to book a campsite (there are some amazing campsites in Northern Colorado). However, booking a campsite is not your only option.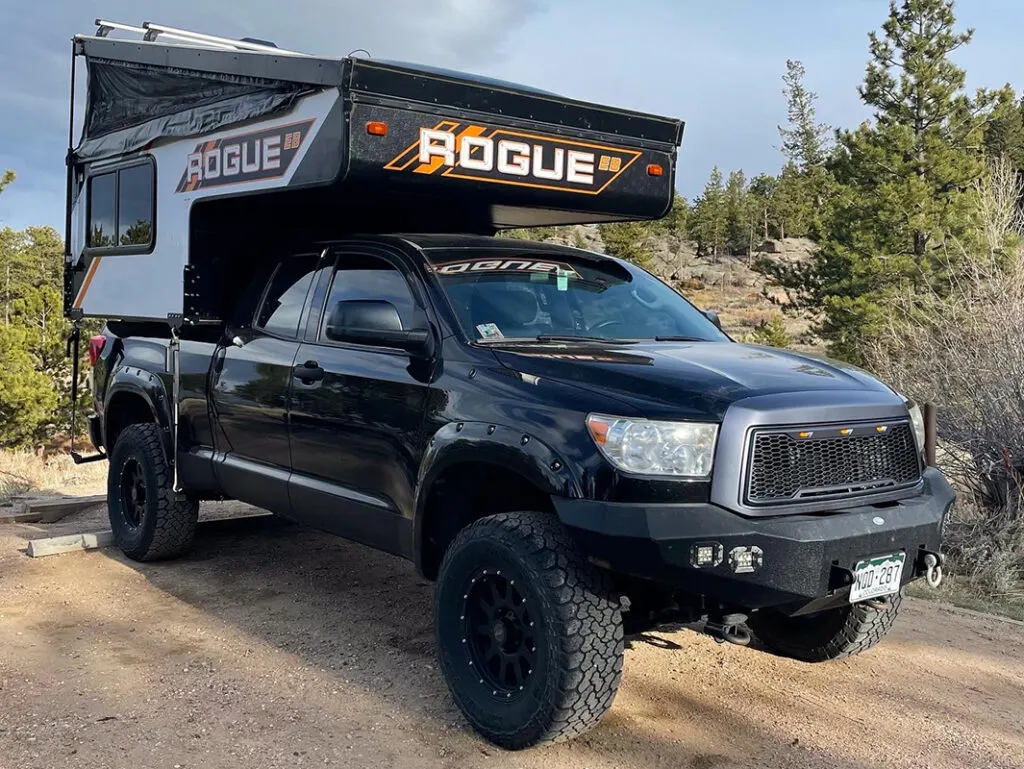 If you don't want to pay extra for camping at a campground, you're in luck because northern Colorado has amazing dispersed camping options.
What is dispersed camping in Colorado?
It's a way to camp for free on public lands at absolutely no cost to you. You don't need a permit or permission. You just have to make sure you're in an area that allows (and expects) dispersed camping. Some dispersed camping options are numbered and the campsite locations are obvious. Others are open and you're able to set up without the need of checking for a numbered campsite.
From the National Forest Service: "You may camp within 300 feet of most Forest Service roads and some Larimer County Roads as long as you are on National Forest System lands."
More from the National Forest Service:
"When camping near the very popular Manhattan, Long Draw, and Peterson Lake roads, camp only at sites marked with numbered posts. These designated sites protect the roads from overuse. There is no camping within ¼ mile of Highway 14, within ¼ mile of lower Stove Prairie Road, or within ¼ mile of upper Pingree Park Road. Your vehicle must be within 300 feet of the road and at least 100 feet away from water or meadows. You may not camp at trailheads, picnic areas or day-use parking areas. Off-highway vehicles (OHVs) are limited to open Forest Service roads (no closed gates) that have numbered signs." – Source
What can you expect at dispersed camping locations?
View an Entire Article on Dispersed Camping
While there's not a specific location or locations … there are rules (as shown above) on where not to camp. And it's important to note, there are a few other considerations, there is/are NO:
Running water
Toilets
Power hookups
Payments, permits, or other costs
What does the Tundra Rogue include for dispersed camping?
If you're dispersed camping you won't likely have access to running water, toilets, or electrical power. The good news is the Tundra Rogue setup has you covered (mostly).
Running Water
The Tundra Rogue comes equipped with a fresh water tank, water heater, sink, and outside shower.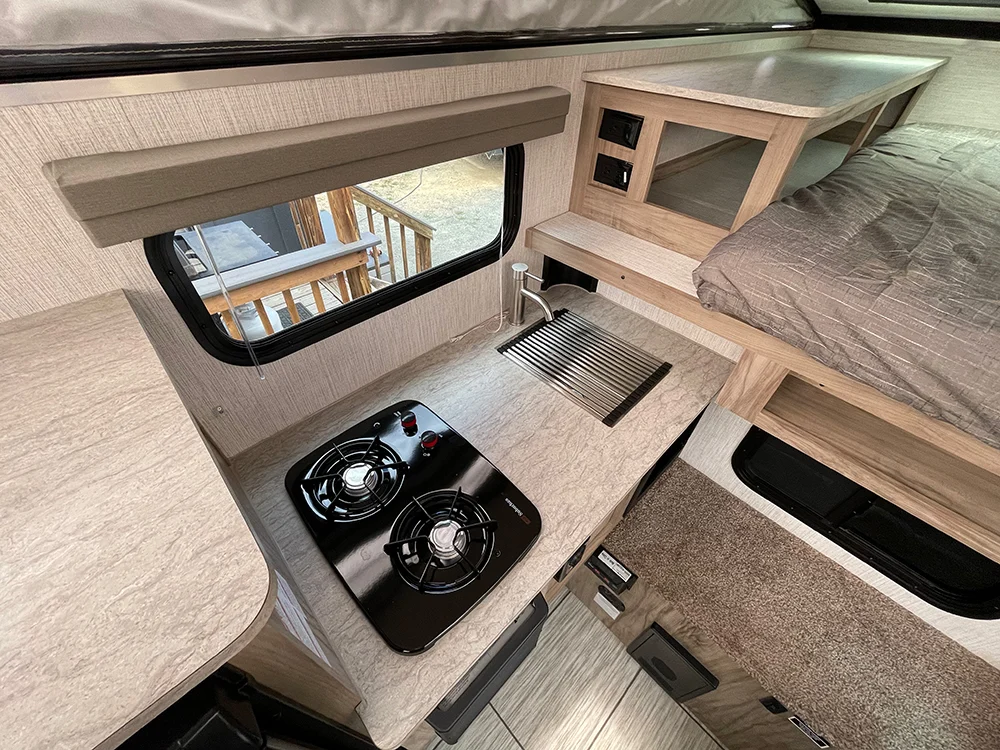 No Toilet but…
Some areas where you can find dispersed camping, there will be a trailhead nearby with a vault toilet. Pooping in nature can be a fun experience (we provide you with a shovel). You have to make sure to dig fairly deep to cover your poopy. Another good idea for going number 2 in the backcountry is to use a bucket with a garbage bag inside. Be careful and don't spill. 😉
Power Hookups
The Tundra Rogue comes complete with solar power, battery, and propane.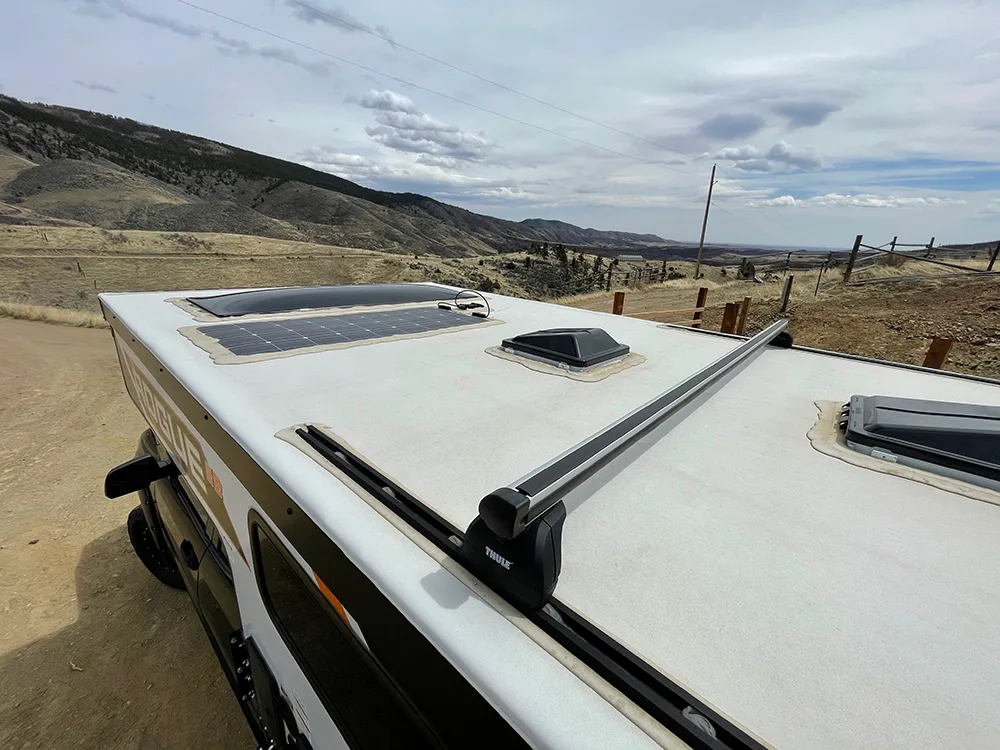 The propane allows you to cook on the stove, keep the fridge cold, and warm you up with the heater on cold nights! The Solar power helps top up the battery that's used for the lights, lifting and lowering the roof, and USB chargers. You've got what you need for a totally comfortable experience.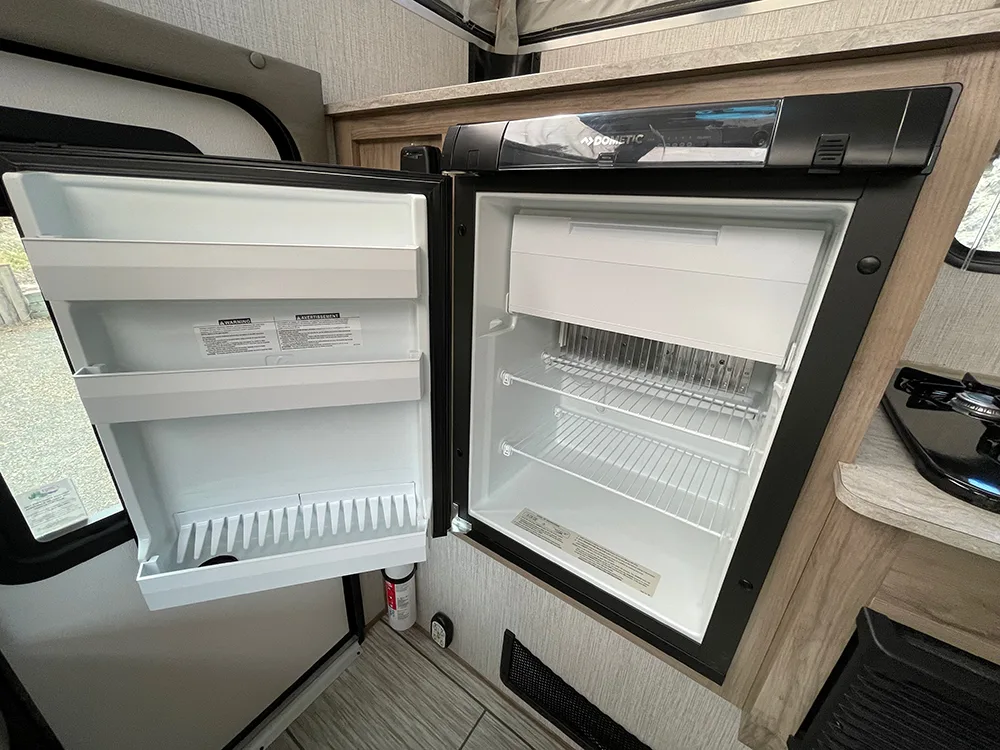 Take a look at all extras we include with your rental.
---
OPTION NUMBER 2:
Best Vacation Fort Collins
Maybe you're not sure about taking the adventure aspect of finding a campsite and driving an unfamiliar vehicle?
That's okay, we've got another great option for ya!
The Buckhorn Cliffs Luxury HipCamp allows you to camp on private property with full amenities and adventure including:
Remodeled Travel Trailer (sleeps six)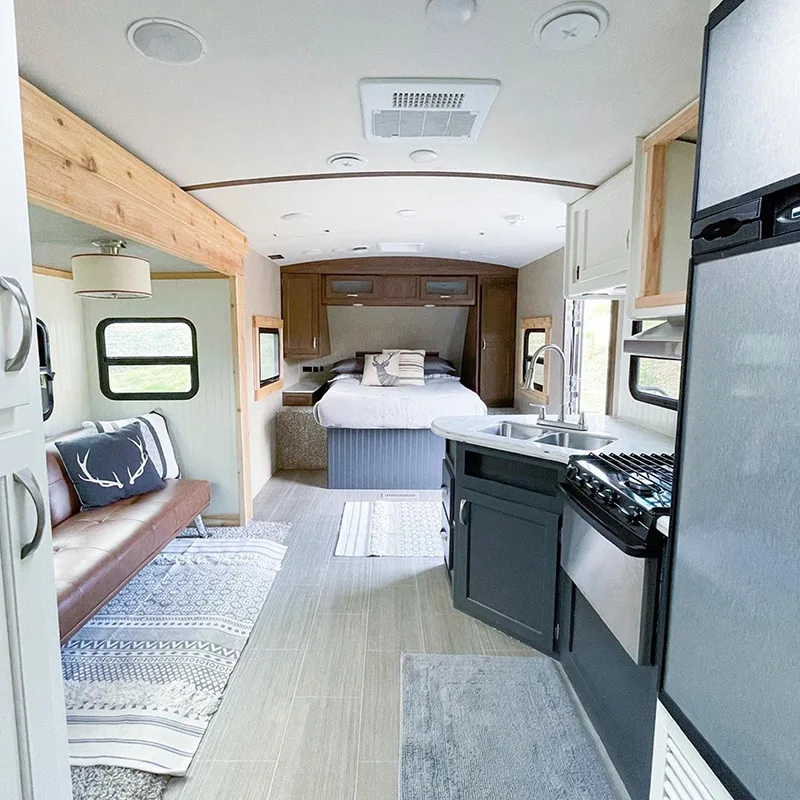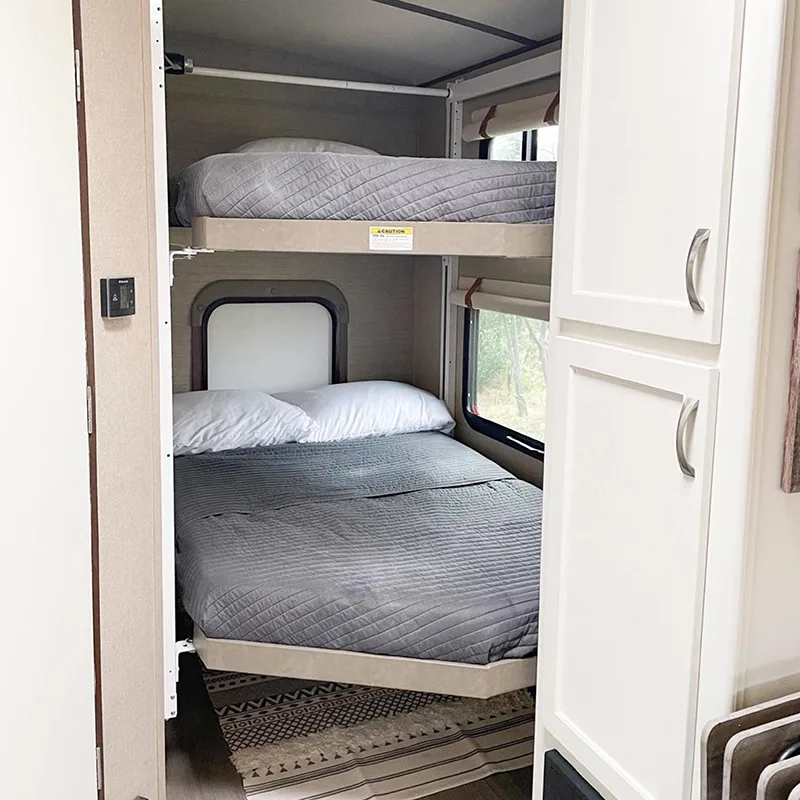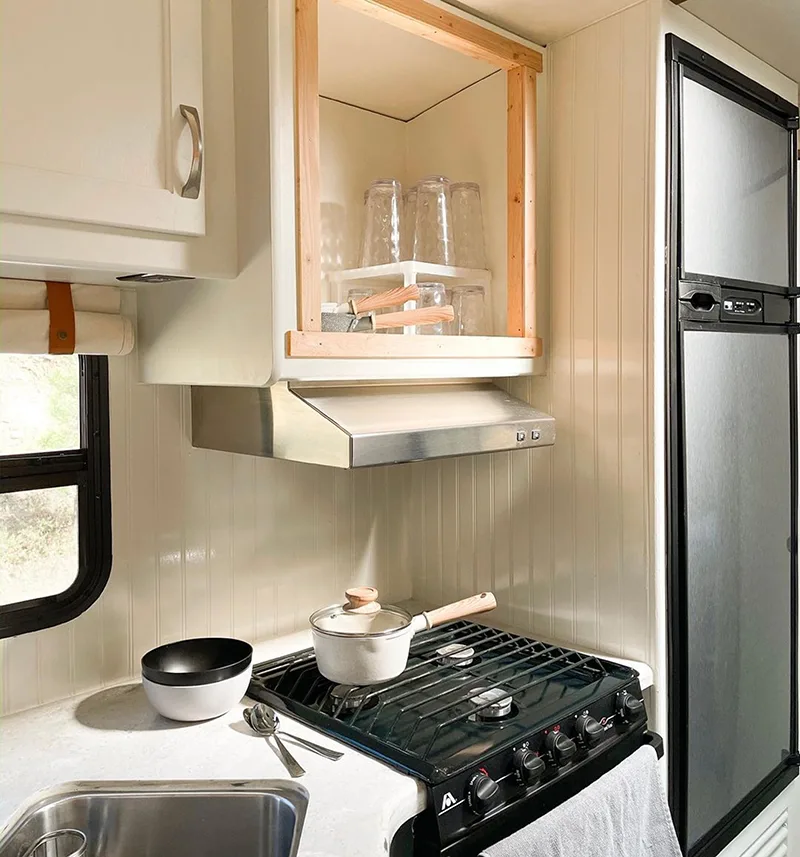 Enjoy rest and relaxation without having to lift a finger. Just like a hotel stay, all of the towels and bedding are included and are always fresh and clean. Not only that but all of the cooking utensils and equipment are also included.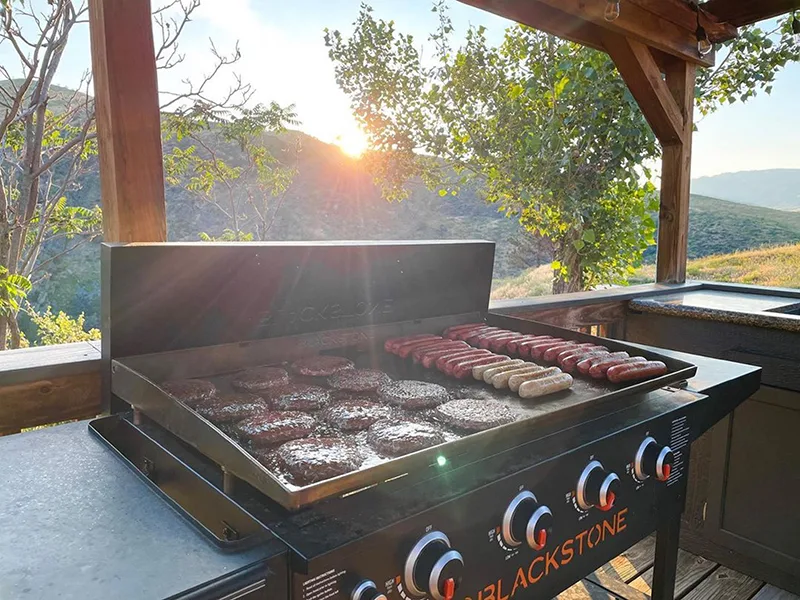 Private Land Exploration
When staying at Buckhorn Cliffs Luxury HipCamp you'll also have access to the incredible views and exploring options of the cliffs, creek, waterfalls, swimming hole, and fly fishing.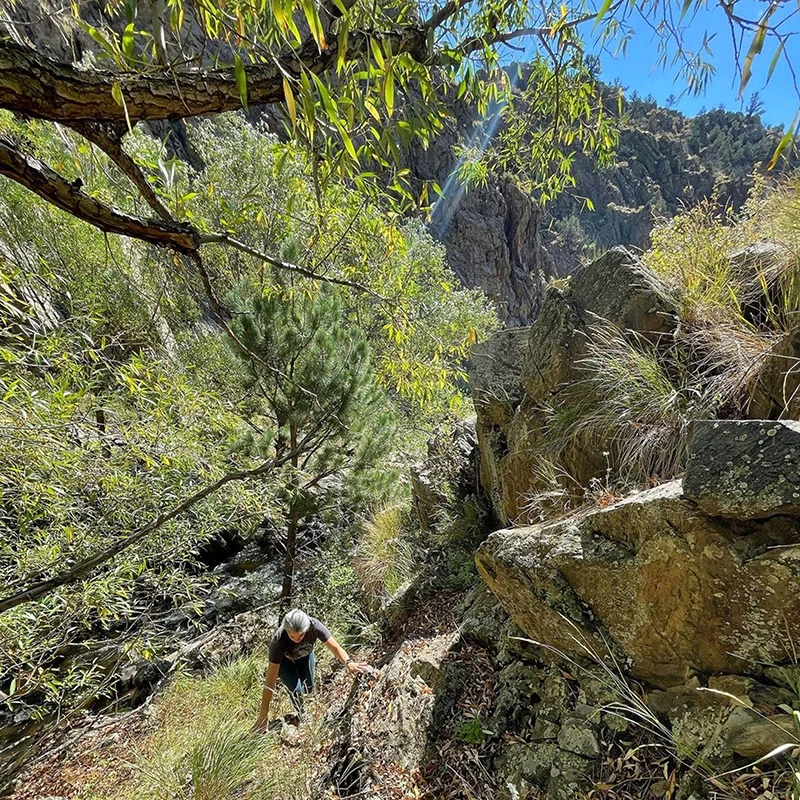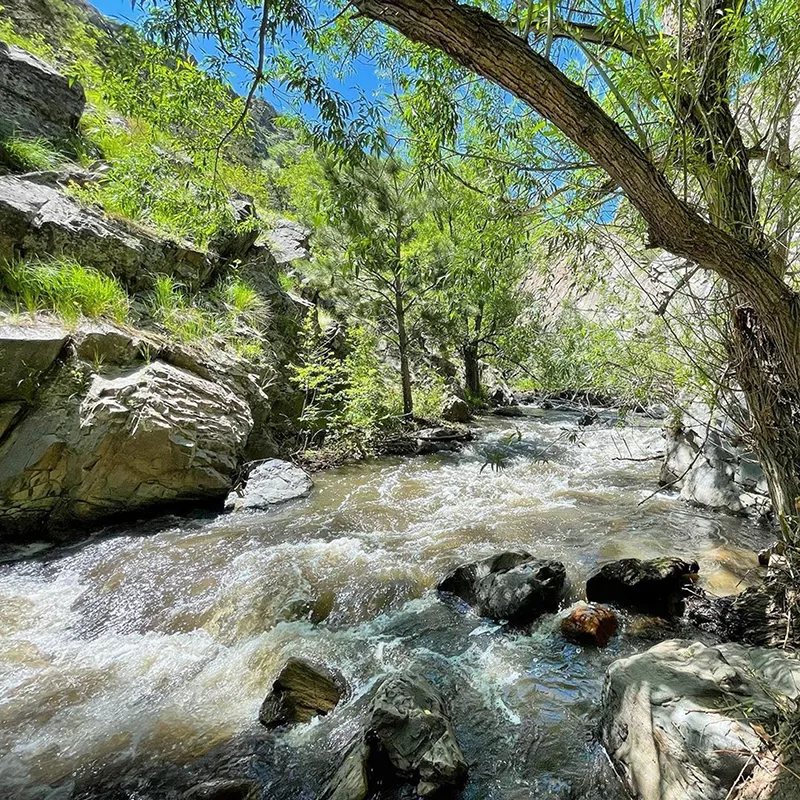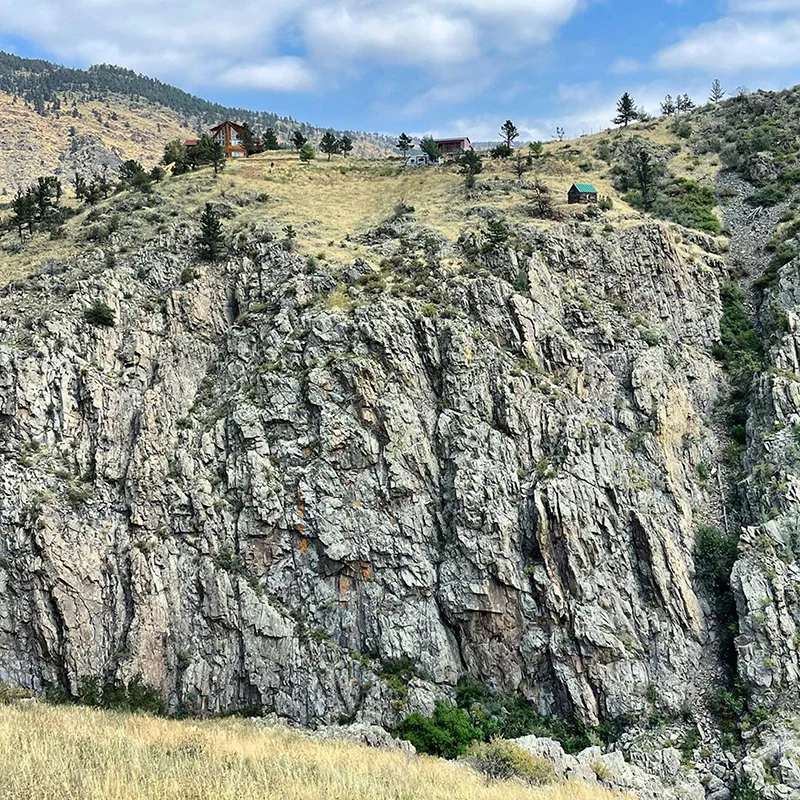 At night, sit back and listen to the rushing water below while you unwind, gazing at the stars.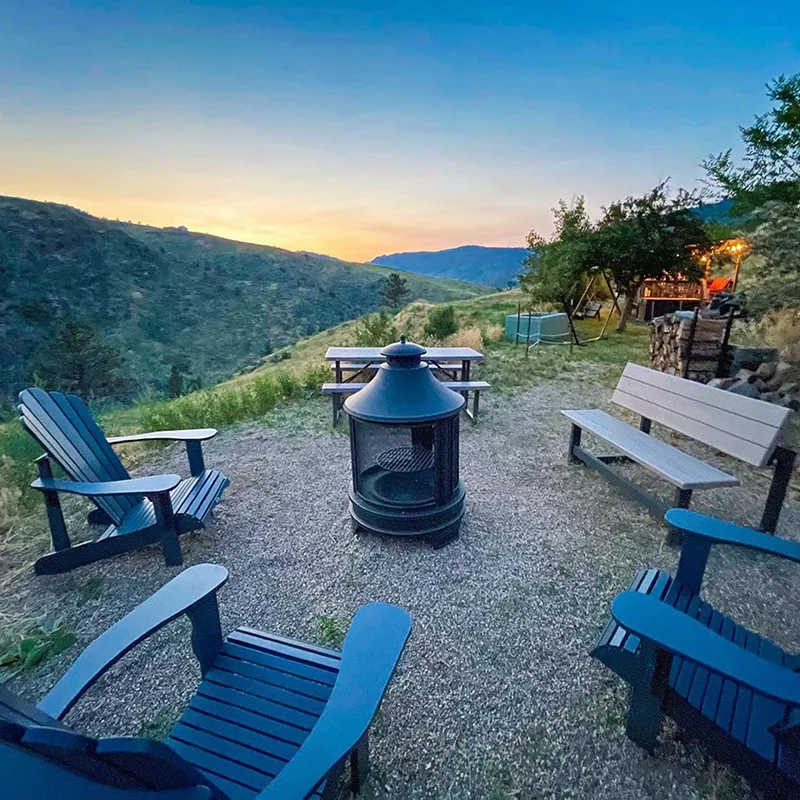 This popular, private land vacation Fort Collins escape is located just 20 minutes from Fort Collins but feels like a million miles away. Quiet, no crowds.
And of course, what makes a campsite… luxury? A hot tub of course!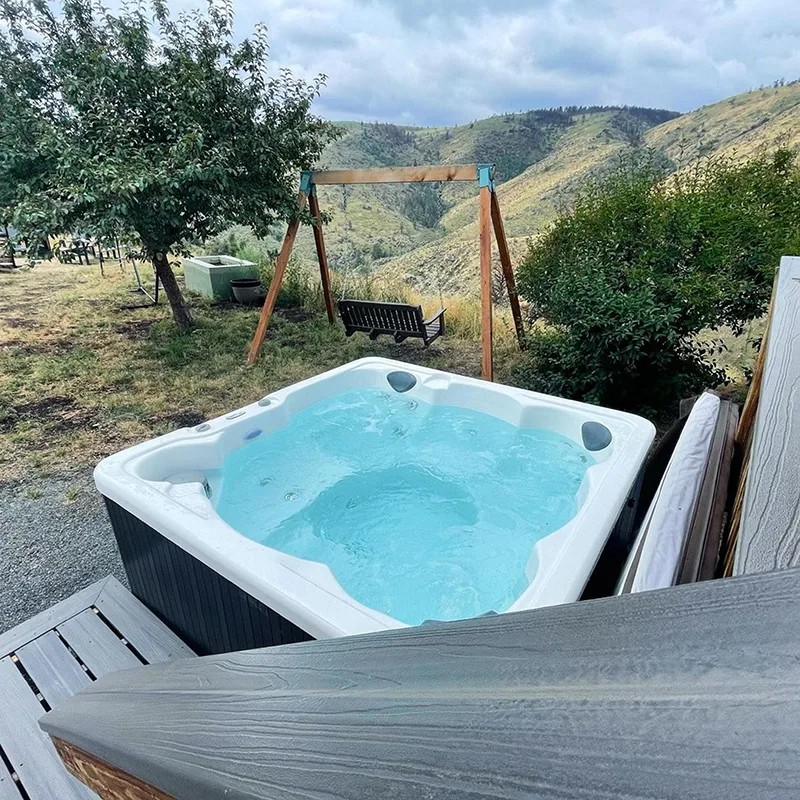 Check out all the details and book your stay.
Just peaceful relaxation with some intense mountain exploring (if you want).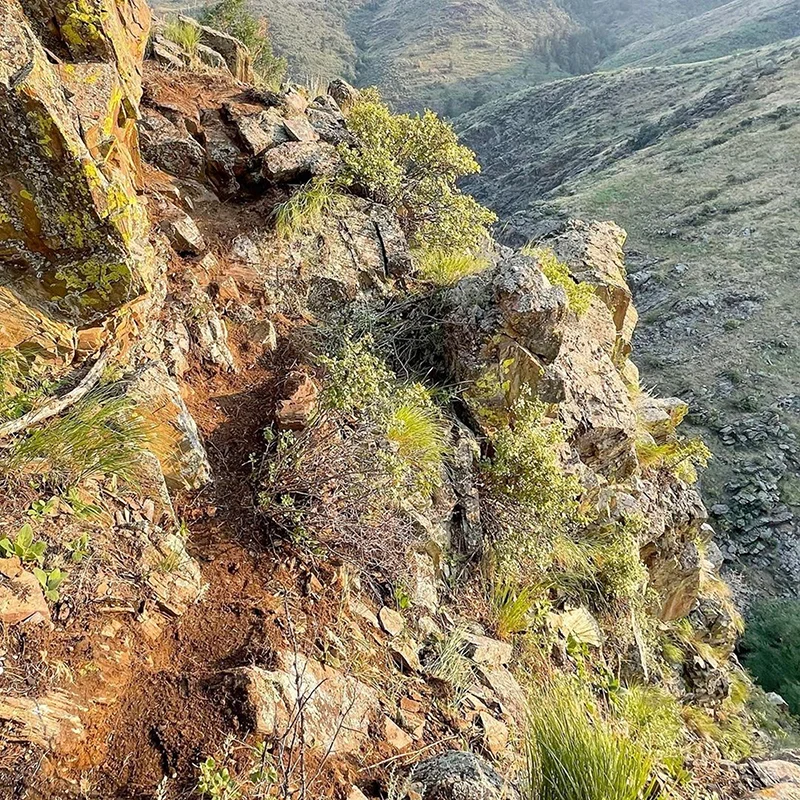 Well there you have it, two incredible and unforgettable unique travel experiences. No need to pay for airfare and all of the monster expenses associated with travel.
Get to know northern Colorado like never before.
---
Pick Your Northern Colorado Adventure
Tundra Rogue Truck Camper Rental (truck camper rental to take exploring)
or
Buckhorn Cliffs Luxury HipCamp (full accommodations private land camping experience)
---
Want to add to the adventure? While you're here picking up your truck camper or staying a couple nights at our luxury HipCamp, you'll have the chance to meet and feed our Scottish Highland Cattle.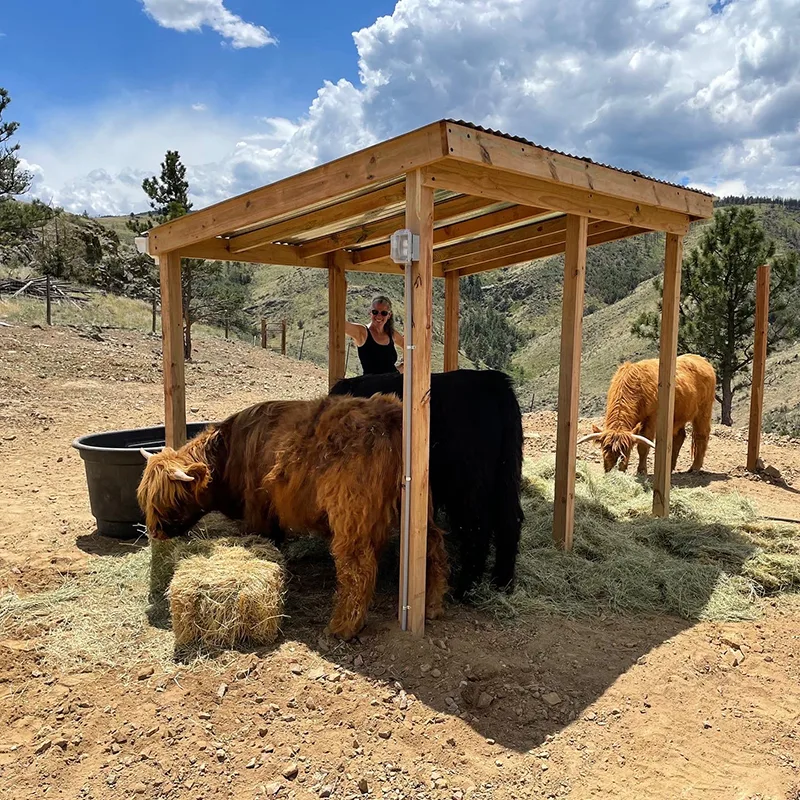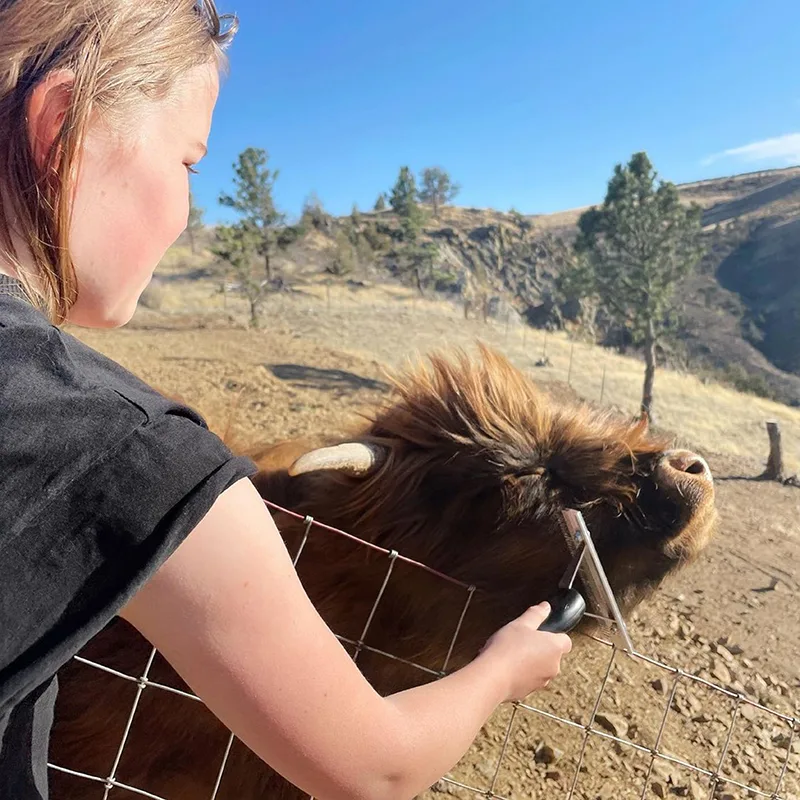 While visiting Northern Colorado make sure to visit Old Town Fort Collins, and Horsetooth Reservoir!
Pin it: